Liverpool edged a seven-goal thriller over Salzburg to open their Champions League account, and the occasion was not without a healthy measure of drama.
The Reds' love affair with thrilling Champions League encounters continued with a 4-3 win over Salzburg.
Jurgen Klopp's side had raced to a three-goal lead in the opening term through Sadio Mane, Andy Robertson and Mohamed Salah, before the Austrian side wiped out the deficit to leave the Reds desperately searching to re-establish their lead.
Salah would be the man to ensure all three points remained at Anfield as Liverpool held firm in what ended up as a game of two halves.
Here, This Is Anfield's Joanna Durkan (@JoannaDurkan_) is joined by Liverpool writer Liam Grimshaw (@LFCLiamGrimshaw) and Brian Irvine (@btirvine) to delve into the positives and negatives from the encounter and discuss the midfield selection against Leicester.
The good…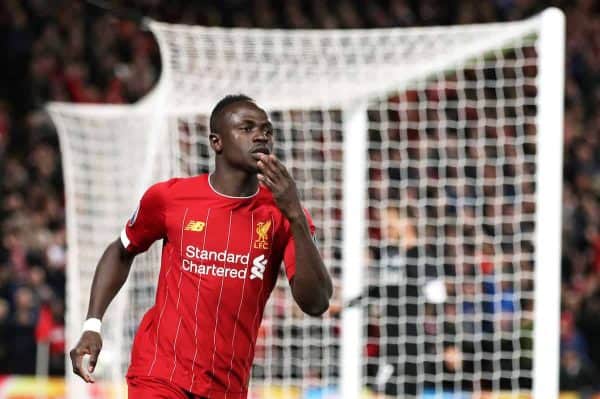 LIAM: It's a difficult game to get your head around. We ran the entire first half; their first goal felt like a consolation more than anything.
We were clinical and played some very silky football going forward. Defensively, we didn't really look challenged, Virgil pretty much swept any counter-attack away.
And once we got the all-important fourth goal it was good to see us finally take the sting out of the game.
In the end, I thought we deserved the win, Salzburg's goals simply came from individual errors or losses of concentration.
We just made everything much more difficult for ourselves by giving them a path back into the game.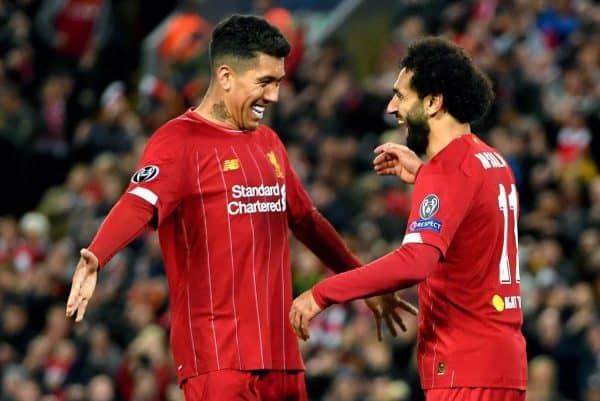 BRIAN: From a neutral perspective this would have been a fantastic game of football.
In the first half Liverpool produced some sensational, exuberant play.
It saw the Reds at their inventive best; the slick interplay was really something at times—on this evening's evidence it seems to be only a matter time before an opponent will catch a proper thrashing.
In the first half Robertson and Fabinho were standouts for me.
Robertson, of course, capped his first 45 with a cool striker's finish, and Fabinho was equally calm in possession, sharp in the tackle, always looking to keep things moving positively.
The other goalscorers in Mane and Salah, it's all been said before—they can make the sublime appear simple.
A few stoppages for high feet aside, the game was allowed to flow well thanks to a mainly anonymous referee.
The result is the main thing at the end of the day with Liverpool's superior edge and experience being enough to avoid a late capitulation, which in previous seasons may have been the case.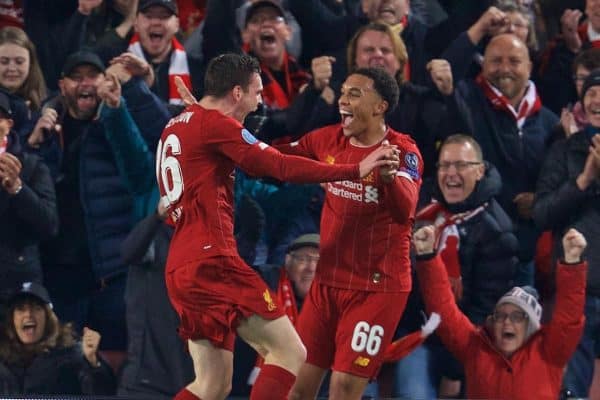 JOANNA: It was the first time I was back at Anfield since that night against Barcelona, and while I certainly hadn't expected it to be, it was similarly dramatic.
The first half-hour we were relentless and looked as sharp as we ever have, toying with Salzburg and gleefully exploiting the space they provided our full-backs.
I was in prime position to see Robbo's goal unfold before my eyes and I've never seen anyone as determined to be on the end of a delivery—he knew exactly what Trent was going to do and it was Klopp's football to a T.
Not one soul in Anfield, of the Liverpool persuasion that is, could keep the smile off their face.
And while there were grumbles in the crowd throughout the second half, I have to say the reaction to Salzburg drawing level encapsulated how far we've come.
While there were nerves aplenty—the guy shaking in his seat next to me a prime example—there was no sign of the doom and gloom of yesteryear.
The bad…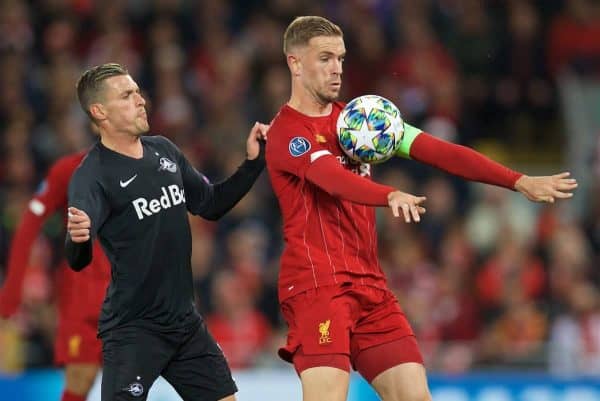 LIAM: I can't look beyond completely losing our heads for that 20-minute spell that allowed Salzburg to get back into the game.
It looked like we had no leaders on the pitch and even the most solid players (like Fabinho and Van Dijk) looked lost during that period.
Maybe the fact that their opening goal felt like a consolation is what caused our downfall, the players thought the game was done.
But credit certainly must go to Salzburg for coming back—particularly considering we hadn't conceded at home in Europe since PSG.
BRIAN: It's perhaps unfair to focus on negatives given how well the team performed at various stages.
I fully expect the second-half performance to be a lesson learned in that teams can't be afforded a way back into the game at this level.

What Salzburg lack in experience they made up for in being somewhat of an unknown quantity and having little expectation about the final result.
This, to me at least, played into some complacency when seemingly cruising.
Clearly it was evident Klopp's men had the ability to knock it up a gear to secure the win, yet not doing so when their blood was up was perhaps an opportunity squandered to kill the game off early and rest key personnel.
That said, losing control of the game instead of exerting their dominance shouldn't be repeated.
It's better for these things to happen in the early stages of the competition and within an isolated game—even more so should a team still be victorious.
If we as fans have learnt anything about Klopp under his stewardship, it's that he rarely fails to learn from past experiences and everything this team goes through seems to be used as scenarios to draw from in future fixtures.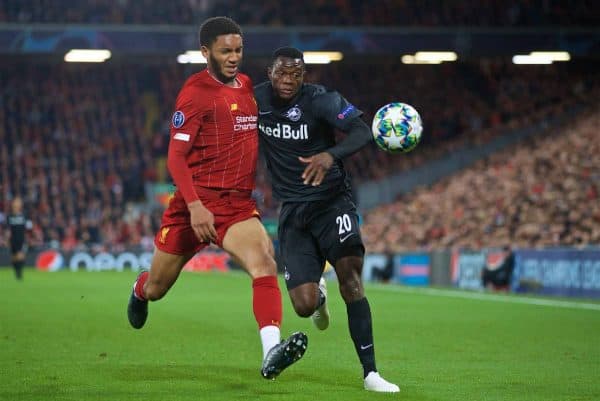 JOANNA: I certainly agree that the pillars in the first half were a shadow of themselves for much of the second as we strayed away from everything we had previously done well.
And for me, it felt like a lot of that control was lost in the middle of the park as we initially struggled to adjust to their change in system and complacency was a slight issue, like we showboated more than we needed to.
Also, I'll never understand why people leave the ground in their masses so early especially when the game is still on the line—getting home late is part and parcel of going to the game.
Finally, let's try not to have one of those scoreboard premonition things again like when it read 3-3 after Salzburg's first goal: it was certainly funny, but I'm not keen for games to pan out that way moving forward.
And what midfield combination should Klopp turn to against Leicester?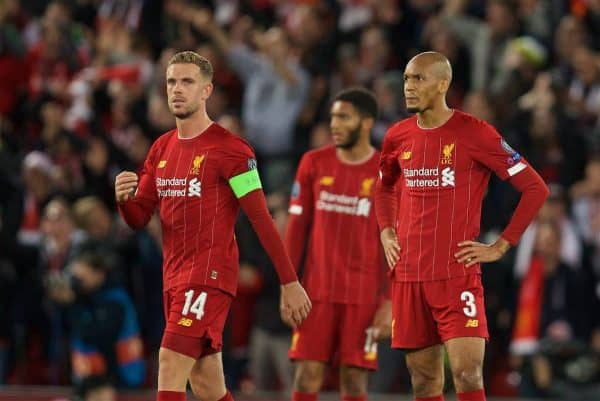 LIAM: I was surprised Klopp went with that midfield, I thought Oxlade-Chamberlain or Keita might get some minutes under their belt and we'd see last night's trio start on Saturday.
I think he should go with Fab, Gini and Chambo, but in all honesty I can see him going with that same midfield or even replace Henderson with Milner.
BRIAN: I agree with Liam in the fact that I could see Klopp pretty much sticking with the same midfield as Wednesday.
Our midfield options all still appear to be getting back to full speed gradually via substitute appearances, and I can't see anything to suggest anyone is pushing for a league start just yet.
Oxlade-Chamberlain is maybe the closest, but I think he'll start on the bench and it'll be the usual trio of Henderson, Wijnaldum and Fabinho.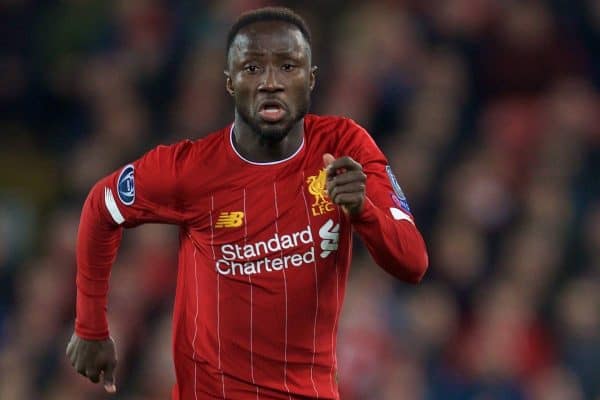 JOANNA: I don't necessarily think a reactionary decision needs to be made based on the second-half performance, but like Liam, I was surprised that Klopp did not opt for Ox or even Keita.
Hendo was not near his best and I suspect he would be the most likely one to drop out for Leicester's visit having again been withdrawn more than half an hour on the clock.
We need to inject some balance into the middle of the park and that could also come with starting with a 4-2-3-1 formation having ended our last two games with that system.
Keita, should he be ready, would be the player I would push for, but I wouldn't put it past Klopp to turn to Milner in a situation like this having proven to be a calming figure for much of his stint on Wednesday.