In Jurgen Klopp's four years as Liverpool manager, the German has reached a final in every European season the Reds have competed in, set a new club record points total, and transformed the playing squad.
When Klopp was unveiled at Anfield on October 8, 2015, he was presented on the famous pitch in front of the Main Stand which was being re-constructed behind him. It was a symbolic sign of the road ahead.
'From doubters to believers' he has firmly achieved, via some highs and lows in his four years on Merseyside.
High: Liverpool Maul Man City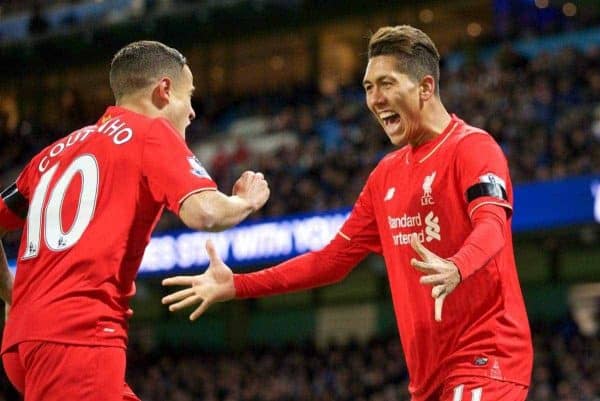 Klopp's impact was noticeable during his opening match away to Tottenham, but the first time Liverpool really put on a show came six weeks in.
The Reds produced an attacking masterclass at Man City, with their high-energy pressing and slick football a joy to watch.
To go to the Etihad, against a strong City side, and eventually dismantle them 4-1 had supporters hugely excited about the future.
It was also the first time Roberto Firmino exploded onto the scene, dovetailing magnificently with compatriot Philippe Coutinho.
Low: Humbled at Watford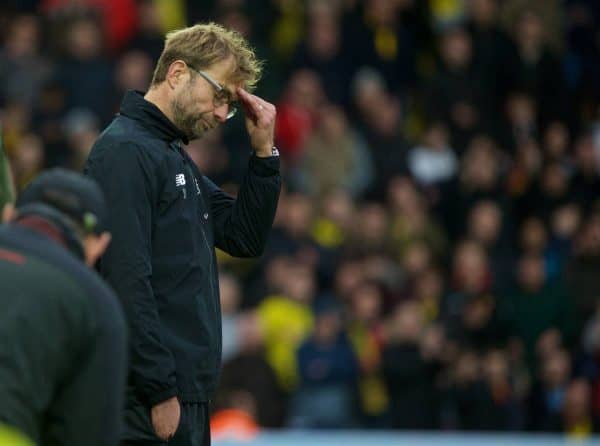 Just a month after their brilliance in Manchester, Liverpool travelled to Watford expecting to pick up all three points.
What followed remains one of Klopp's poorest away days as Reds manager, as his side crumbled to an Adam Bogdan-inspired 3-0 defeat at Vicarage Road.
The manner of the display was worrying, with so much fight and quality lacking, and it was a sign that the German still had lots to learn about both his players and the Premier League.
Low: Wembley Heartache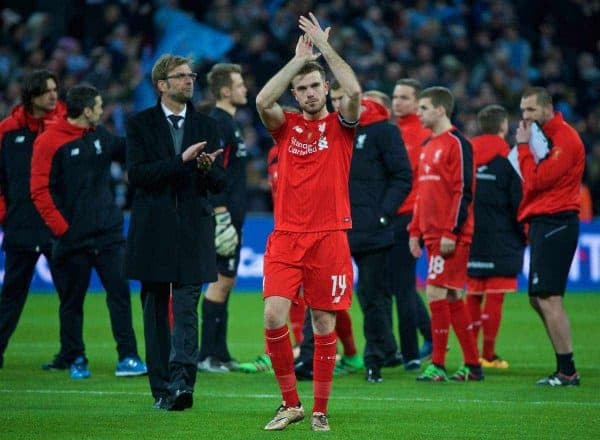 Liverpool found themselves in their first League Cup final in four years back in February 2016, with Klopp 90 minutes away from a trophy in his first season in charge.
Unfortunately, City avenged their aforementioned humiliation in the league, winning on penalties after Fernandinho and Coutinho exchanged goals in normal time.
Although far from the most important competition in any season, missing out on silverware was a big blow to Klopp, whose reputation as a nearly man in finals became the narrative.
High: Reds' Incredible Dortmund Comeback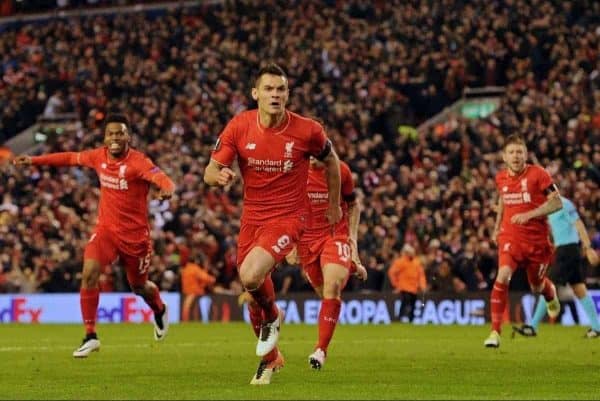 The 2015/16 Europa League run was an entertaining one, with victory over rivals Man United in the last-16 a big moment.
It was the quarter-final second leg against Klopp's former club Borussia Dortmund that will forever go down in legend, though.
Trailing 3-1 on the night and 4-2 on aggregate with 25 minutes to go, Liverpool produced a miraculous comeback, culminating in Dejan Lovren's last-gasp header sealing a 4-3 win.
Klopp's celebrations were memorable and there was a feeling that the charismatic manager was starting to bring back the glory days.
Low: Beaten in Basel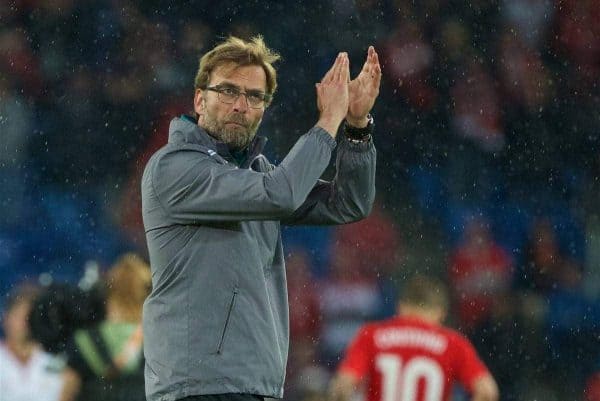 A win over Dortmund and a subsequent triumph against Villarreal in the semi-finals set up a meeting with Sevilla in Basel.
It was to be a second defeat in a final in three months for Klopp, however, on what was a disappointing evening.
Daniel Sturridge's beauty had seemingly set Liverpool on their way to victory and a place back in the Champions League, but they fell apart after the break and lost 3-1.
It was Klopp's fifth defeat in a final, but he delivered a rousing speech to the players post-match, telling them: "Two hours ago you all felt shit… This is just the start for us. We will play in many more finals." He wasn't wrong.
High: Mane Joins from Southampton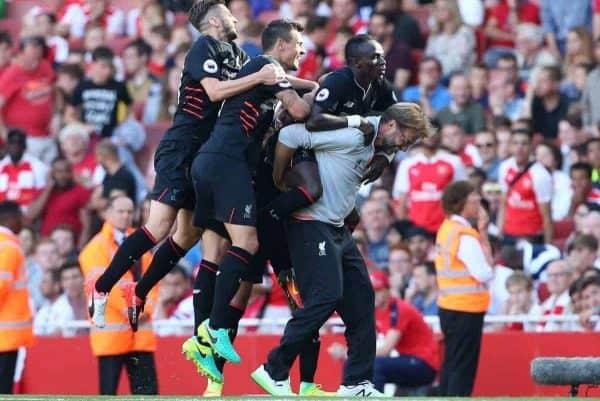 In the summer of 2016, many supporters wanted Liverpool to sign Mario Gotze, who represented a more fashionable option compared to fellow target Sadio Mane.
Klopp and his transfer team went with the latter, though, in what remains one of the Reds' most important signings of the 21st century.
Mane immediately felt special from his stunning debut goal at Arsenal onwards, with his speed and unpredictability transforming a one-paced attack.
High: Reds Seal Champions League Return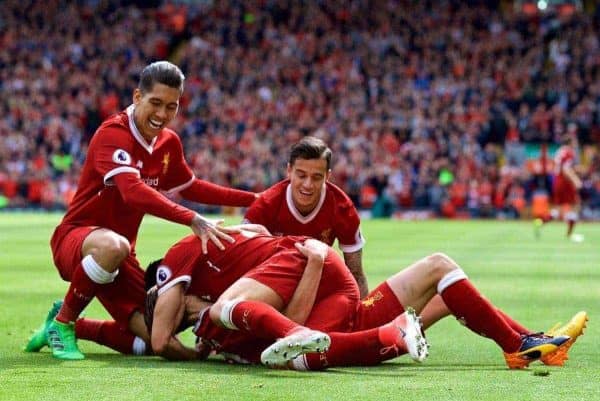 With no European football to contend with in 2016/17, Liverpool were able to focus solely on domestic action.
Although a strong start led to talk of a title push, Champions League qualification was always the primary objective.
The Reds were left needing to beat Middlesbrough at home on the final day to secure a return to Europe's top table and they did just that, winning 3-0.
It was an achievement that represented yet more huge progress under Klopp – Liverpool's points tally (76) was 16 more than they managed in 2015/16.
High: Salah Arrives from Roma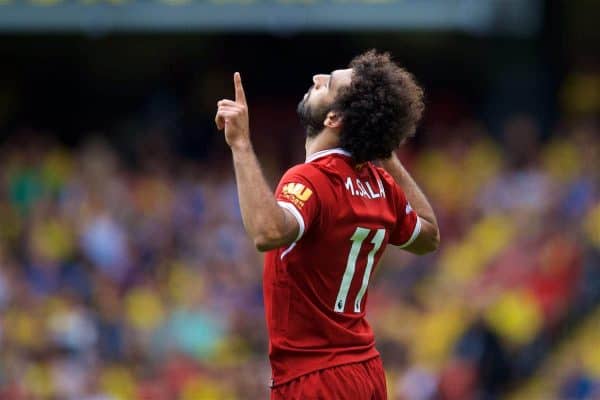 If signing Mane was Klopp's 2016 masterstroke, the same applied with Mohamed Salah the following summer.
The Egyptian arrived with a reputation as a 'Chelsea reject', but it was quickly clear that Liverpool had signed someone special.
Salah has gone on to smash numerous records over the past two years, scoring 77 goals in 116 matches and becoming a global footballing superstar.
His first season, in particular, was mesmerising, hitting 44 goals in all competitions and collecting the Premier League Player of the Season and PFA Player of the Year award.
Low: Humiliated by Spurs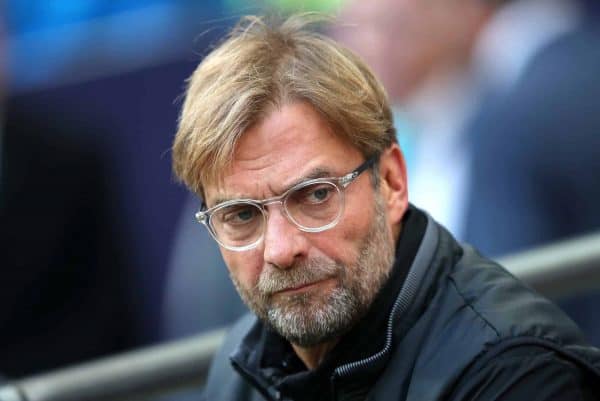 If there is one game that led to genuine questions being asked of Klopp, it was the 4-1 defeat away to Tottenham in October 2017.
Only three wins in the first eight league games was a disappointing return, but there was confidence that the Reds would be too good for Spurs.
Instead, a calamitous performance saw Lovren produce a horror show in the first half and Liverpool were swatted aside by their rivals.
At that stage, some supporters were questioning whether or not Klopp really was the answer after all, unfathomable though it may sound now.
High: Van Dijk the Game-Changer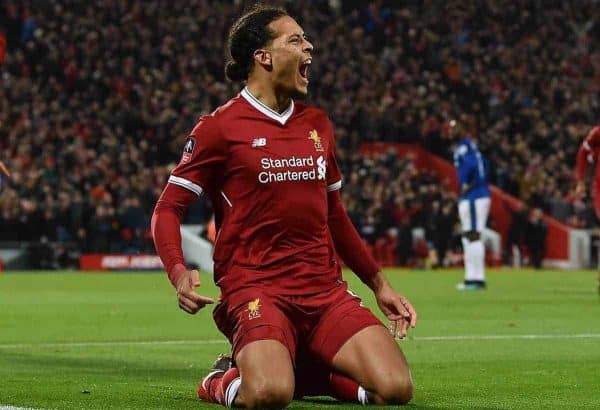 For all the magnificent attacking football in his first two-and-a-bit years in charge, Liverpool remained susceptible defensively under Klopp.
He knew that a truly dominant centre-back was required, and after missing out on him in the summer, he paid a then-world record fee for a defender to sign Virgil van Dijk in January 2018.
The Dutchman has performed at a staggering level from day one at Anfield – perhaps the most peerless run of form by any defender in the last decade.
It's no exaggeration to say that Van Dijk has taken Liverpool up a huge gear almost single-handedly, with his £75 million price tag now a bargain.
Great managers attract great players – Klopp and Van Dijk fit seamlessly into those categories.
High: Liverpool See Off City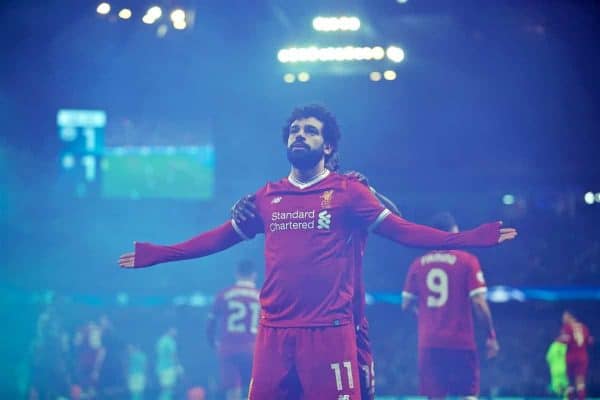 An epic rivalry has been building between Liverpool and City over the past few years and it sparked into life in 2018.
Pep Guardiola's side had beaten the 10-man Reds 5-0 in September 2017, only for Klopp's men to end their unbeaten league record four months later, in a 4-3 classic at Anfield.
It was the Champions League quarter-final tie that proved most memorable, though, as Liverpool won 3-0 in the first leg on Merseyside.
They then overcome an early City storm to eventually win 2-1 at the Etihad, with Salah's all-important away goal one of the best moments of Klopp's tenure.
Low: Agony in Kyiv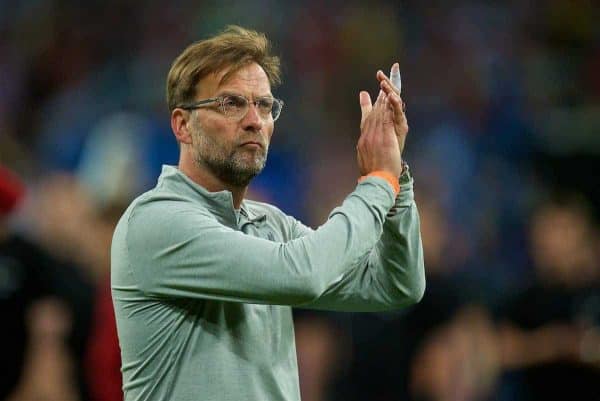 Having got the better of Roma in the semis, Real Madrid stood between Liverpool and European Cup number six.
Many neutrals fancied the Reds to beat a Madrid side looking for a third successive Champions League crown, but a cruel night in Kyiv unfolded.
Loris Karius' nightmare is well-documented, as is Gareth Bale's once-in-a-lifetime overhead kick, as Klopp suffered a sixth defeat in finals.
There were genuine concerns about how Klopp and his players would be affected by the result, but the boss himself had no such worries, signing post-match with friends: "We saw the European Cup, Madrid had all the f***ing luck. We swear we'll keep on being cool. And bring it back to Liverpool."
High: Anfield's Greatest-Ever Night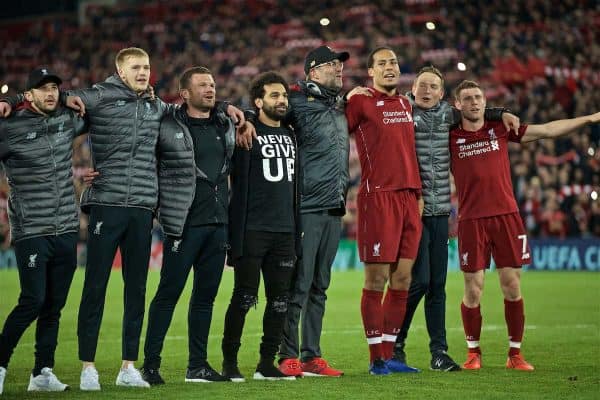 Rather than lick their wounds, Liverpool continued to be a force in Europe.
Bayern Munich and Porto were hurdled in the last-16 and quarters respectively, setting up a semi-final showdown with Barcelona.
An unfair 3-0 defeat at the Nou Camp looked to have ended Liverpool's hopes, especially with Salah and Firmino ruled out of the second leg.
Anfield produces magical nights, however, and what took place on May 7 will never be forgotten.
The Reds won 4-0 to book a place in their second Champions League final in as many years – the winning mentality Klopp instilled in his players was the driving force behind a comeback to eclipse even Istanbul.
High / Low: Title Pain But Record Points Gained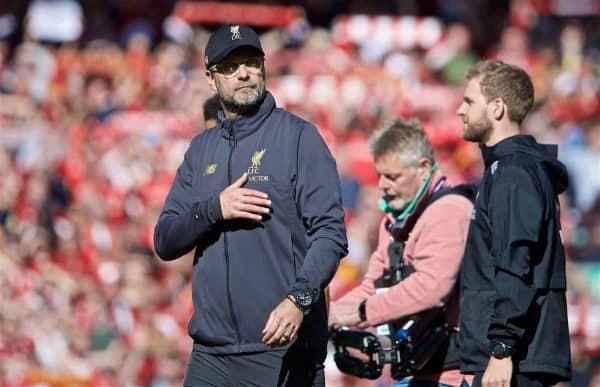 How can accumulating 97 points in the Premier League possibly leave you feeling low?
Liverpool put together an outrageously consistent league campaign, losing just once, but they had a wonderful City side locking horns with them.
Guardiola's men went on a freakish 14-game winning run to edge the Reds by a single point, as they missed out on title glory yet again.
For Klopp, it was a tough one to take, having masterminded an almost faultless season.
High: No. 6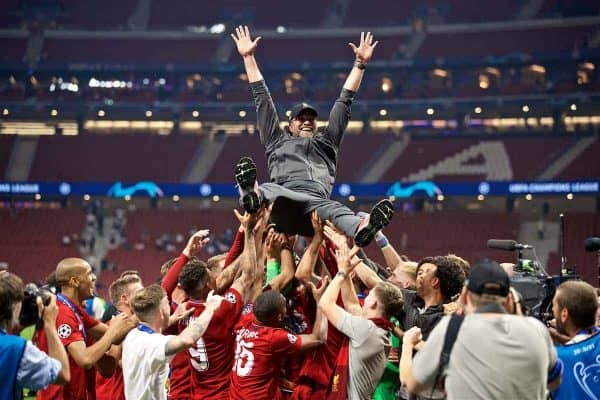 The disappointment of losing out to City had to be forgotten about when Liverpool faced Spurs in the Champions League final.
More than any other match in Klopp's four years in charge, this felt like a must-not-lose.
The Reds were professional throughout an admittedly forgettable final, winning 2-0 and clinching a sixth European Cup.
It was the greatest achievement of Klopp's career, earning him legendary status at Liverpool and ending his own personal run of seven final defeats in a row.
If he can win the Premier League title this season – eight wins out of eight and an eight-point lead represent a promising start – we may just have to start discussing statues…