Liverpool had to come from behind to take a point from Old Trafford and a 1-1 draw preserves their unbeaten start but ends the Reds' 100 percent record.
Man United 1-1 Liverpool
Premier League, Old Trafford
October 20, 2019
Goals: Rashford 36′; Lallana 85′
---
No Mo but Ali's back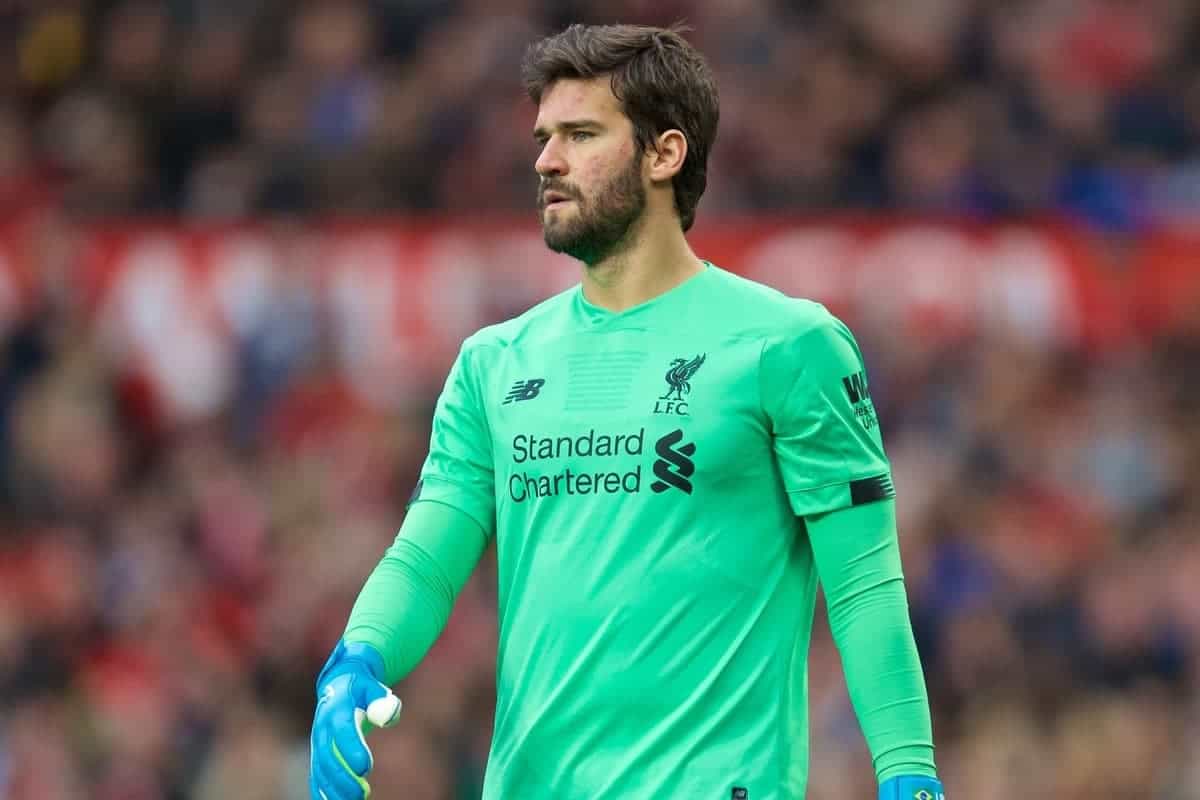 Jurgen giveth, Jurgen taketh away.
After a long old spell sidelined, Alisson made his comeback for a first league appearance since the opening night of the season—a welcome return for our No. 1.
But, in the same teamsheet, Mohamed Salah was missing.
After two weeks without action, given he wasn't called up by Egypt, and no indication whatsoever that he wasn't available for the upcoming game, it was something of a surprise to see no Mo in the XI, though Jurgen Klopp seemed to also suggest it would be touch-and-go to see him midweek in Europe.
There was not much Alisson could do about the goal and in general play his distribution was good, but the loss of Salah's runs in behind—not to mention his personal shoot-on-sight policy—would have been welcome in this one.
A slow start or Old Trafford travails?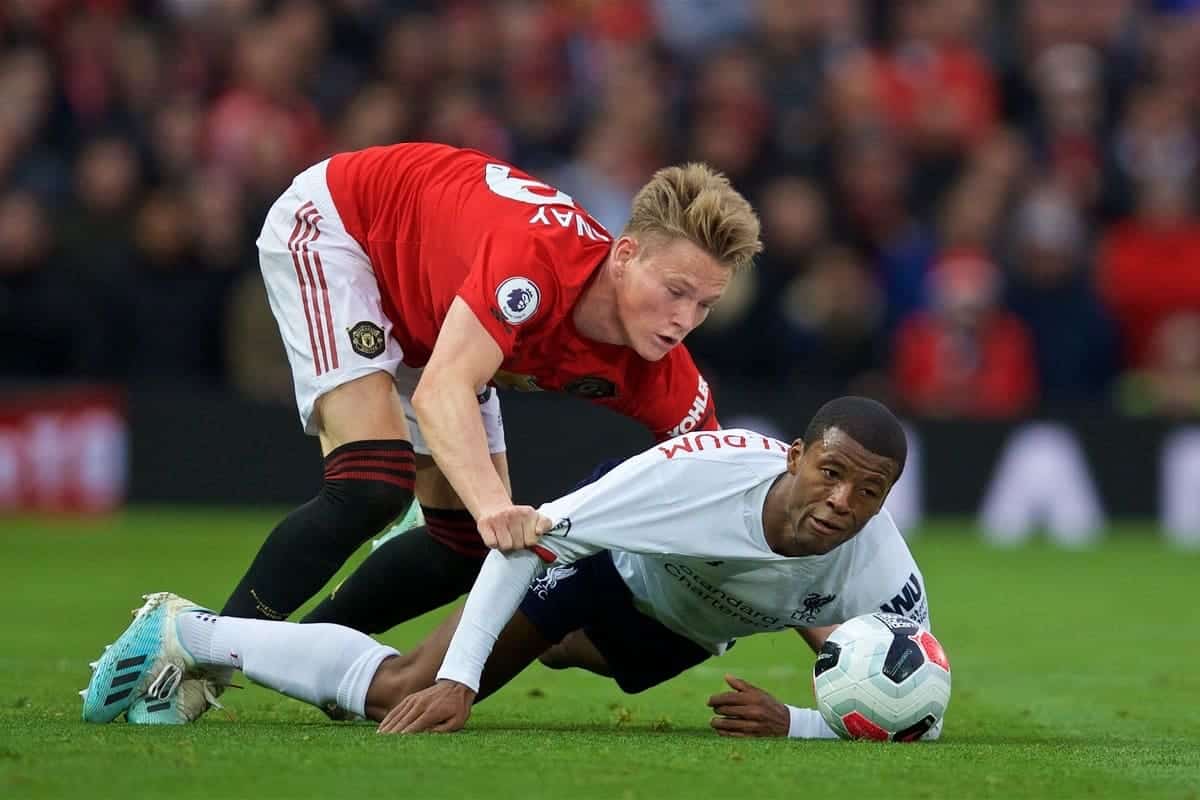 Maybe it's the international break interrupting our flow. Maybe it's the staggered return of players over the past few days. Maybe it's linked to us not having been anywhere near our best in a few games, in fairness.
Or maybe it's just because we went to play Man United away.
Liverpool seem to regress in mentality and technical execution when it's time to step out onto that pitch, when it's time to show that particular opponent how much better we are—and the first 45 minutes were yet another representation of that.
This United side has been garbage, yet didn't really struggle to defend a relentless wave of Liverpool attacks, didn't have to work particularly hard to launch a few wing plays to create a few half-chances.
Liverpool needed to be a lot more aggressive, a lot more proactive, much faster on the ball and more clear-thinking with the final pass.
Whether or not Klopp gave a half-time rocket is unknown, but a change in system and a reshuffle of attacking personnel clearly indicated he was far from happy with the first-half exhibition pace.
The Reds barely started playing until well past an hour of this game, picking up the tempo and starting to move United's defence around, and it was almost too late by then—certainly too late to win the game.
Here, the mentality should have been nothing more than start fast, batter them into submission and take the three points.
Starting off with a cautious approach, a laid-back buildup style and few players committed to getting in the box was entirely disappointing.
VARarrrrrr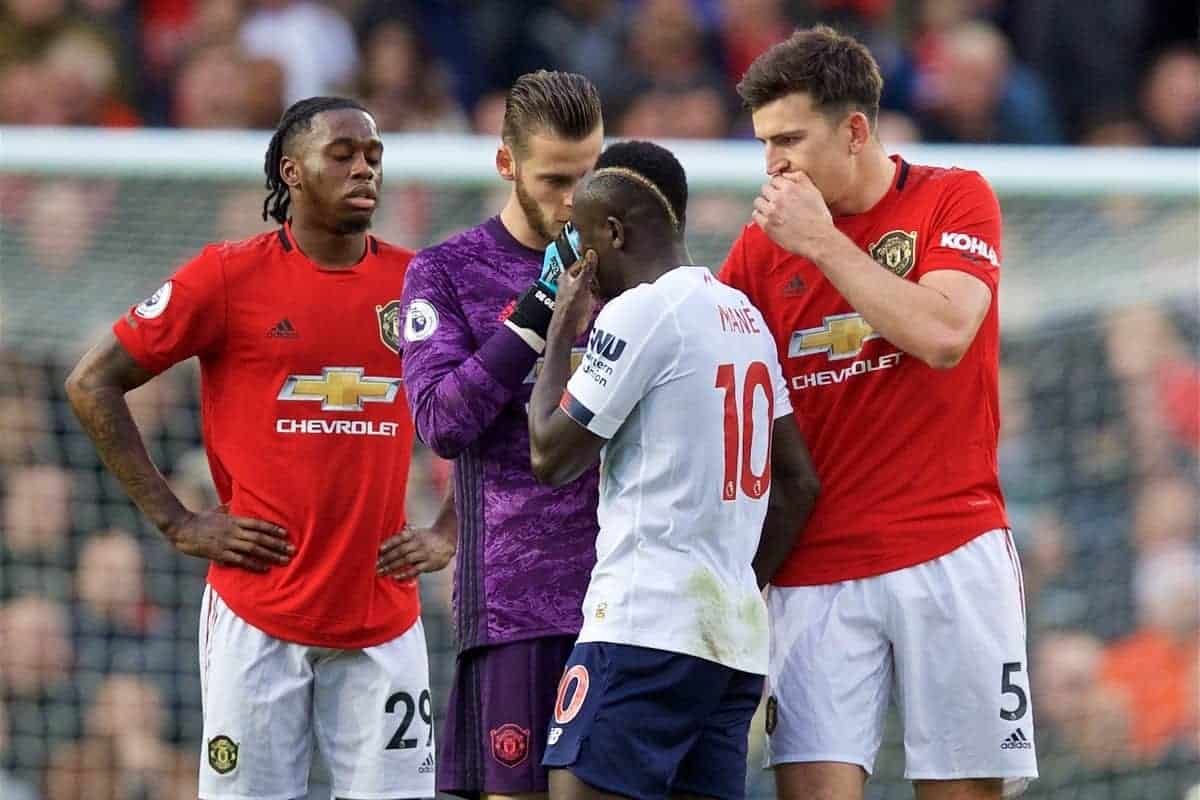 It was a foul. It's not the VAR's fault, really, that Man United's goal was allowed to stand.
Divock Origi was fouled, an in-situ human referee couldn't spot it from five metres away—despite that type of foul occurring about 10 times every game—and United went and scored.
Why wasn't it overturned? The shambolic state of the communications and consistency means, as ever, we don't know.
Was it too far away to count? Not clearly and blindingly obvious enough to someone close by? Too embarrassing to pull our refs up on continually?
Martin Atkinson, you were dreadful.

If there's no overturning any 50-50 or marginal decisions which lead to goals (or goals ruled out, in other cases) then there's very little reason for VAR to be a constant theme interrupting the game—just admit it's being used for offsides and (attacking) hand-balls, and keep it to that.
Stop the farcical reviewing decisions which are obviously wrong, then doing absolutely nothing about them.
Referees remain dreadful, and all the slow-mo replays in the world won't be changing that any time soon.
Fred's late shoulder-block, by the way: it didn't look a penalty anyway, but come on, 95th minute at Old Trafford to win the game?
Liverpool weren't getting that one even if he donned De Gea's gloves and palmed it away to safety.
Subs deserve praise

How many times do we need to sling over high crosses to one forward in the box, surrounded by three massive centre-backs, before deciding it's not the best approach?
It didn't look like the most offensive-minded of benches before kickoff, given two of the 'attackers' were attacking midfielders still getting back to full fitness and the other was, well, Adam Lallana.
No striker, no real wide forward, nobody who was guaranteed to be sharp.
Good job they all put in their best appearance of the season when called upon, then—even if the aforementioned injuries mean there isn't a whole lot to compare it to, just yet.
Alex Oxlade-Chamberlain was bright, moved the ball quickly and got his head up well to shoot or loft passes in; he wasn't quite on the money with them, but it was definitely better than the horrific, endless, cross-high-from-deep approach which was witnessed from our entire right flank.

Naby Keita didn't have much chance to get involved, but his 10-minute cameo was full of sharp touches, incisive attempts to pass and good movement into attacking positions, even though he was nominally one of two in midfield by that time.
And Lallana. He's done largely nothing for two years, but thank goodness he picked this game to rediscover some semblance of end product. A nicely timed run, a good connection—that's all it took, and that's all he gave it. No turn-on-the-spot this time, nice one Adam.
He showed a few good touches and turns in more congested midfield areas, but his best contributions—goal aside, obviously—were his positional switches with Ox, Mane and Firmino.
How many times do we need to sling over high crosses to one forward in the box, surrounded by three massive centre-backs? Not sure, but the one low delivery we provided led to our goal.
Put it behind us, move forward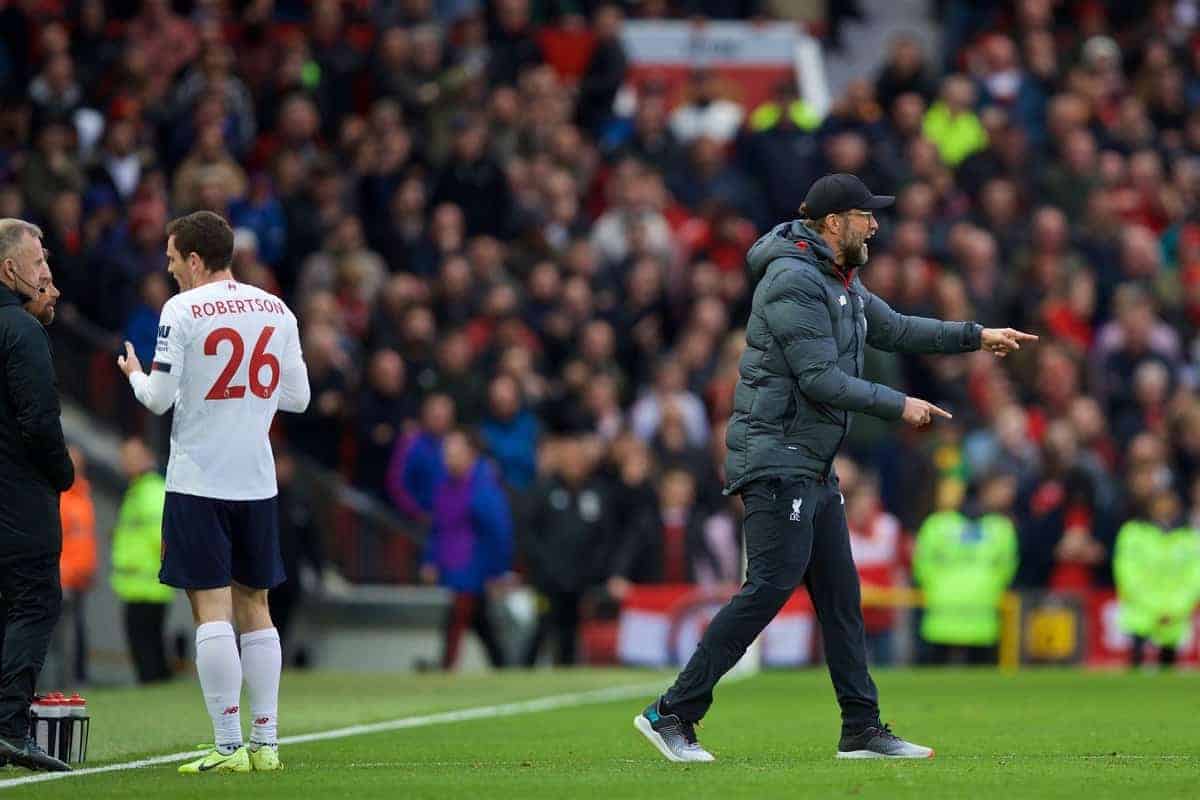 This was not our best game, fair to say. We played poorly, in fact, for a long stretch. The good news? United still couldn't beat us.
The bad news, though, was that with Salah out we needed the rest of the attack to step up and play a big part, but only Mane can claim to have put a good shift in.
Starter Origi continues to show he's not as effective as sub Origi, who tends to wreak a fair bit of havoc once the defence is tired and ready to stand off.
Firmino had his worst game of the season which, plotted on a graph and joined up to his best game of the season, is about as big a gap as the one in the points tally between Reds and Red Devils.
But now we move on, still unbeaten domestically, still with a six-point lead, still with a whole lot of games to get through in the coming weeks.

Back-to-back wins in the Champions League is an absolute minimum requirement, but we could do with the performances getting a little sharper, too.
Perhaps recent second halves have shown that the 4-2-3-1 lineup might be getting a recall, as well as one or two squad players who have had to be patient.
This wasn't the best restart, but Lallana ensured it also wasn't the worst—now let's go, improve and assure ourselves of our own talent and potential.