Liverpool's epic 10-goal thriller, culminating in a penalty shootout win, against Arsenal will live long in the minds of fans and media alike.
A ridiculous, end-to-end, non-stop encounter saw the Reds take an early lead, have to come from behind more than once and eventually score a last-minute equaliser to force the game to spot-kicks.
After Alex Oxlade-Chamberlain's cross was turned in by Shkodran Mustafi, the Gunners hit three without reply.
James Milner scored a penalty and gifted an Arsenal fourth just either side of the break, before Oxlade-Chamberlain hit a piledriver and Divock Origi netted a magnificent effort to bring it back to four apiece.
Joe Willock then scored a worldie of his own and looked to have put Arsenal through, before another Origi goal deep into injury time left the match tied inexplicably at 5-5.
With no extra time, Liverpool scored all five of their penalties, Caoimhin Kelleher saved from Dani Ceballos and Curtis Jones netted the all-important winner.
Here's how the media assessed a ludicrously memorable Anfield night, which keep the Reds' positive outlook intact.
Journalists highlighted Klopp's faith in a number of young players…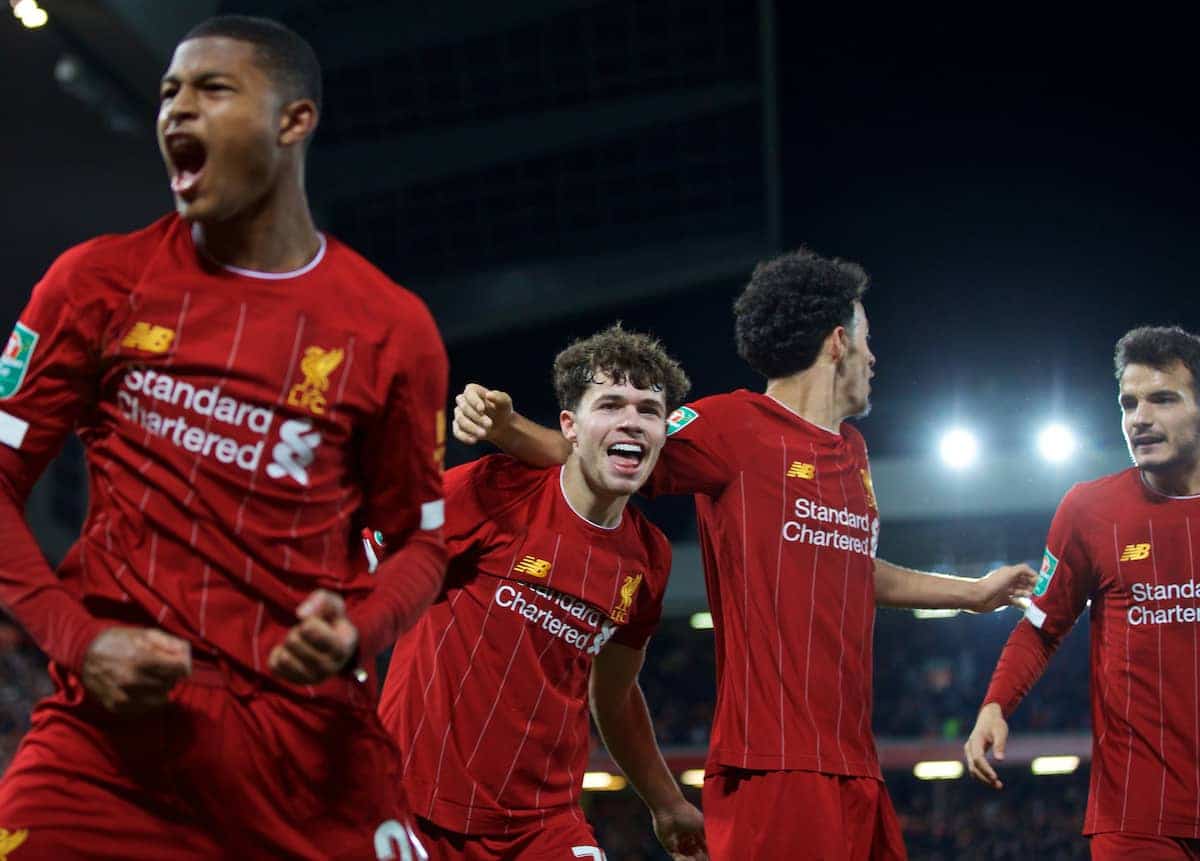 The Liverpool Echo's Ian Doyle noted the pressure that the youngsters were under, and applauded the way they refused to buckle when it seemed defeat was on the cards:
"The younger members of the Reds' scratch line-up were acutely aware the Carabao Cup represents their best chance of regular first-team football this season. And, their appetite whetted by a raucous Anfield crowd – six were making their first competitive appearance on home soil for the club – they didn't want it to end."
Writing for the Independent, Mark Critchley pointed out how this was an extremely inexperienced Liverpool team on show, young in senior appearances as well as in years:
"Both managers made wholesale changes – 11 each, in fact – with Klopp naming his youngest starting line-up in nearly three years and it was one of Liverpool's four teenagers that had a telling hand in the opening goal after only five minutes."
This Is Anfield's Karl Matchett felt that being under the intense glare of a full Anfield crowd for a match which really mattered would be a big building block for the future—and it was clear that some players thrived on that:
"The pressure and being at Anfield for such a fixture should only be a positive for their futures—and Neco Williams simply grew into the game, more and more, and came up with a vital cross for the late equaliser."

And Goal's Neil Jones pointed out two of the youngsters who really rose to the occasion, especially in the second half when the Reds needed a hero or two:
"The Carabao Cup is dead, is it?

[…]

"Try telling Curtis Jones, the home-grown hero whose nerveless penalty sent Jurgen Klopp's side through to the quarter-finals.

[…]

"Their desire was summed up by a debutant. What a performance Neco Williams turned in at right back. It was the Welshman's cross, well into added time, which allowed Origi to sweep home the leveller for 5-5."
An incredibly open game drew admiration and enjoyment in equal measures…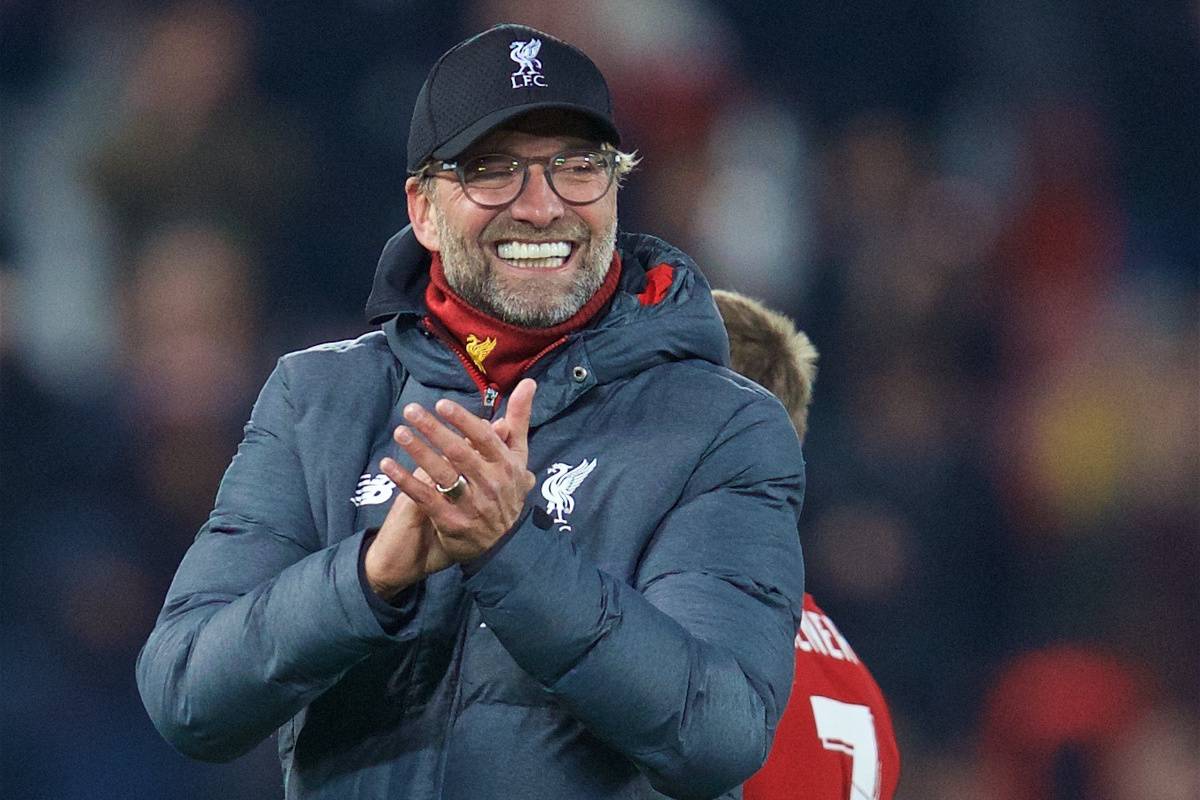 For the Mirror, David Maddock recalled goal-laden games between the two teams of years gone by, with this fixture even eclipsing a Premier League classic as Liverpool went for the title under Rafa Benitez:
"Even by half time, there were echoes of that crazy Andrey Arshavin 4-4 game between those two sides back in April 2009."
Jones pointed out that the supporters enjoyed the back-and-forth encounter immensely; even without victory being assured, this was a welcome and entertaining respite from the non-stop stress of must-win games in the bigger competitions:
"Anfield is usually a tense place, so precious are Premier League or Champions League wins. This was different. This was…fun.

"These were two much-changed teams, and two teams for whom defence was barely even an afterthought, but what entertainment they delivered. If there's a madder game this season, it'll be worth watching."
Sam Wallace of the Telegraph lauded the madcap nature of the game as a whole and Liverpool's involvement in it, far removed from the team's usual stately procession toward victories:
"As the champions of Europe, and the leaders of the Premier League, Liverpool are supposed to be above such peripheral concerns as the Carabao Cup but when you have shared ten goals over 90 crazy minutes in a wonderful absurdity of a match then why not win it on penalties?"
And Paul Gorst of the Echo felt the game highlighted the worthwhile nature of the League Cup at a time when some say there is too much football, too many competitions and one should be scrapped:
"A crazy, chaotic 5-5 draw in normal time showcased everything great about English football's secondary competition. Played at night with no disruption to Premier League schedules and the opportunity for fans to view players on the fringe, as well as ones for the future, there is a lot to be said for the Carabao Cup. Particularly when it serves up drama like this."
Origi earned big praise for coming up with key goals when Liverpool needed him to once again, but not all the seniors impressed…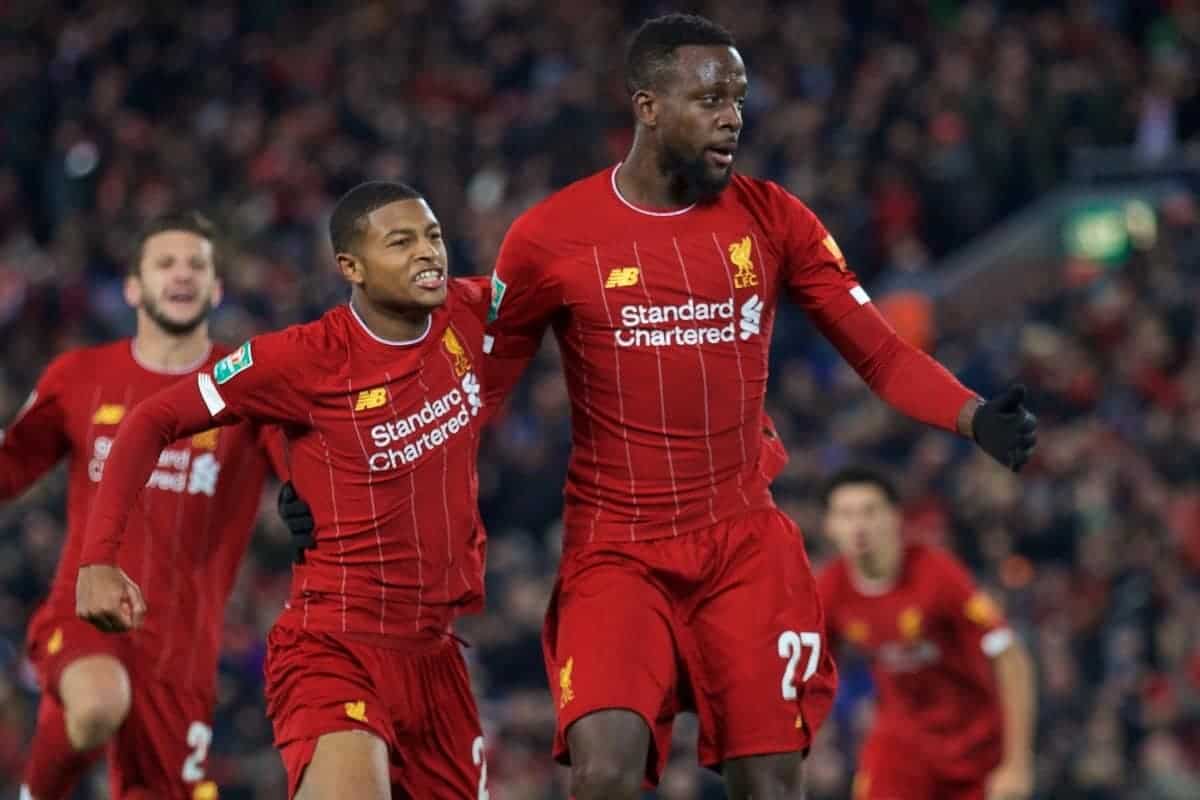 It's not the first time that Origi has come up trumps for Liverpool, nor the first time this year that he has scored a brace when the team needs him most, as Jones pointed out:
"Origi, of course, knows exactly where to be when his team need him.

[…]

"[He] delivered, though, and his desire in the second half seemed to lift those around him – including the crowd."
But the same journalist felt that others missed an opportunity to push for a more regular place in the lineup, overrun by the pace of the game:
"Adam Lallana was swamped at times in his new holding midfield role, while Naby Keita departed early, perhaps with another injury, after a low-key 55 minutes. Alex Oxlade-Chamberlain scored a worldie, but didn't do too much else."
Critchley pointed out that even the most level-headed of players were affected by the crazy nature of the fixture:
"Years of experience are no barrier against mistakes. At the start of the second half, Milner made perhaps the most egregious error of the evening, under-cooking a pass to Kelleher."
And Matchett felt that the team missed the guidance and delivery provided by the vice-captain in the earlier third-round tie against MK Dons:
"James Milner was quiet, gifted a goal away with a short back-pass just as the Reds were clawing their way back into the match and couldn't provide service from left-back."
And the resilience of the team, regardless of which players are involved, was praised as it saw the Reds through…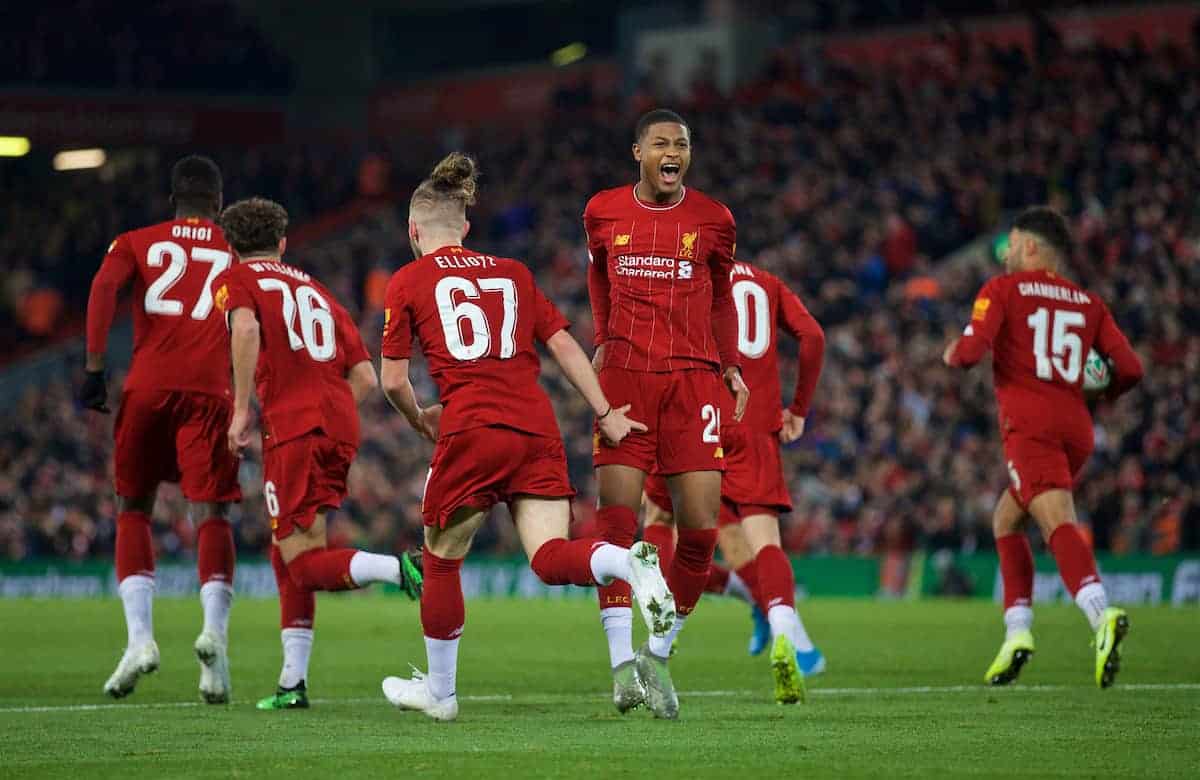 Jurgen Klopp's spirit and drive has permeated all levels of the club, says Doyle, so much so that everybody plays in the same manner as everybody else:
"Whether it's a Champions League semi-final shorn of key players, a tight Premier League game going into the closing minutes or a Carabao Cup team made up of squad players and, by the end, featuring five teenagers, Jurgen Klopp's outfit simply refuse to accept when they are beaten.

[…]

"What a remarkable story. What a remarkable night. Klopp's "mentality monsters" have done it again."
The power of Anfield and the jealous nature of the Reds in not wanting anybody else to enjoy playing or winning there these days was highlighted by Matchett:
"Losing at Anfield is frowned upon these days, and the Reds fought every second of the game to avoid that scenario."
Wallace likewise pointed out how the youthful team was able to bounce back from in-game mishaps:
"Although there were mistakes and set-backs, this largely junior version of the full first-choice Liverpool comeback machine just never gave it up."

And finally, Jones feels the determination and desire to win every single game is now a constant throughout the entire club, something instilled in players just by pulling on the shirt and accepting the demands placed upon them as a result:
"It was set to be a chastening night, one to be filed as 'a learning experience'.

"But something has happened at this club, something which makes accepting defeat an absolute no-no. You never give up if you wear red. The first team don't do it, so why would the second-string and the kids?"