Jurgen Klopp has refused talk of Liverpool's meeting with Man City being a 'must-not-lose' fixture, instead insisting it is "a 100 percent want-to-win" game.
The champions of Europe will meet the champions of England on Sunday, where the Reds will be presented with the opportunity to extend their lead atop of the Premier League table to nine points.
It's a game with various potential implications for the fate of both Liverpool and Man City, but Klopp has refused to be drawn into it being one which will hold lasting significance to the standings come May, as "the rest of the season is influenced by the rest of the season and not one game."
With the knowledge of a congested fixture list on the horizon, the boss is keeping his feet firmly on the ground as the wider football world analyse and discuss every facet of where either team can gain the ascendancy.
But that is not to say Klopp does not have all three points on his mind as "it's a 100 percent want-to-win game" for the Liverpool manager who praised both his and Guardiola's teams for consistently pushing each other to the limits.
"We pushed each other to a really high level. City played the year before I don't think with proper pressure behind them – a 100 point season and I couldn't have more respect for them with 98 points in the year after," he told Sky Sports.
"We were the reason for that, we pushed them really hard and the reason we had 97 was because of City, because we had to keep in touch.
"I don't see it like this [a must-not-lose game]. For me, it's a 100 percent want-to-win game, 100 percent with all I have. This 'must-win' thing I never understood because that doesn't change the chances.
"For us, as a team, to prepare a game like this you have to do the right things again and again and again. So, knowing everything in the game, being brave, playing football, defending for your lives, all that stuff.
"[The external talk] does not have a real effect on us, that's how it is. I can imagine it's the whole week that the world is talking about 'we must not lose', I think I heard, and 'they must win' or something like that. I don't really care.
"We want to win, and we try everything to make that happen, which is difficult enough. Then after that, we will see how the situation is and will use that situation. If it's more positive than now or less positive than now, that's how it is. The season will not stop after this."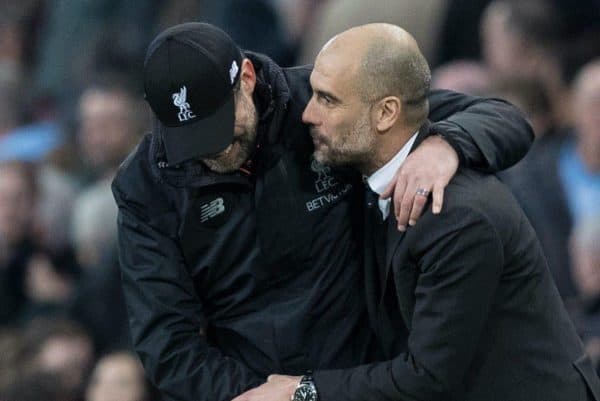 In recent years the two sides have come to blows in both the Premier League and Champions League, where a number of tight tussles ensued.
It is something which Klopp is not expecting to change on Sunday against a side who he claims presented him with "the biggest show of respect" having altered their playing style to combat the Reds in their meeting at Anfield last season.
"In the past couple of years we both gained a lot of respect for each other," Klopp explained. "Not that I never had respect for Man City or Pep Guardiola teams, I had and I had to have.
"But last year's performance of City at Liverpool was probably the biggest show of respect that I ever got, one of my teams ever got, that's how it is. They played differently to what they usually do.
"But that's football and we all have to make a plan for one game – and in this specific case a game against one of the best sides in the world, if not the best. That's really exciting and that's a job I really like, to think about what we can do.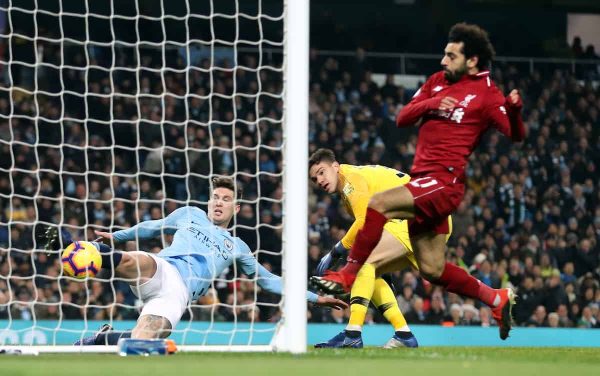 "We play at home and even there the game [at the Etihad] we lost, we lost – people should not forget – for 11 millimetres or whatever that the ball was not in. Otherwise, it's another draw and I think on that day it would have been deserved.
"They are tight games, that's how it is when high-quality teams face each other. I expect a tight game. How it will exactly be? I don't know."
The German also touched base on Guardiola retracting his 'diving' comments on Sadio Mane, his tactical foul barb on City, the League Cup and Club World Cup conundrum and Sean Cox's first return to Anfield since suffering life-changing injuries in a senseless attack by Roma supporters in April 2018.
"It's wonderful…18 tough months for the family, for himself, for his friends and now coming back and obviously that he wants to be back, that's really nice," he said.
"I'm sure our supporters will make a really special occasion for him and if I have the opportunity, whenever around the game, I would really like to see him."