Liverpool missed out on the chance to rest players in the final Champions League group game, after a 1-1 draw with Napoli sparked plenty of fan reaction.
The Reds were well below their best at Anfield on Wednesday and lost a major opportunity to ease their own fixture congestion issues.
As such it means a result is needed in Salzburg next month, to ensure Liverpool make the last 16.
Dejan Lovren cancelled out Dries Mertens' opener, but there were major talking points surrounding the team selection from Jurgen Klopp, Fabinho's injury, another game without a clean sheet and plenty more besides.
To discuss the match and what comes next, This Is Anfield's Karl Matchett (@karlmatchett) spoke to Dave Hendrick and Trev Downey (@downeytrev) from the Anfield Index podcast.
The good…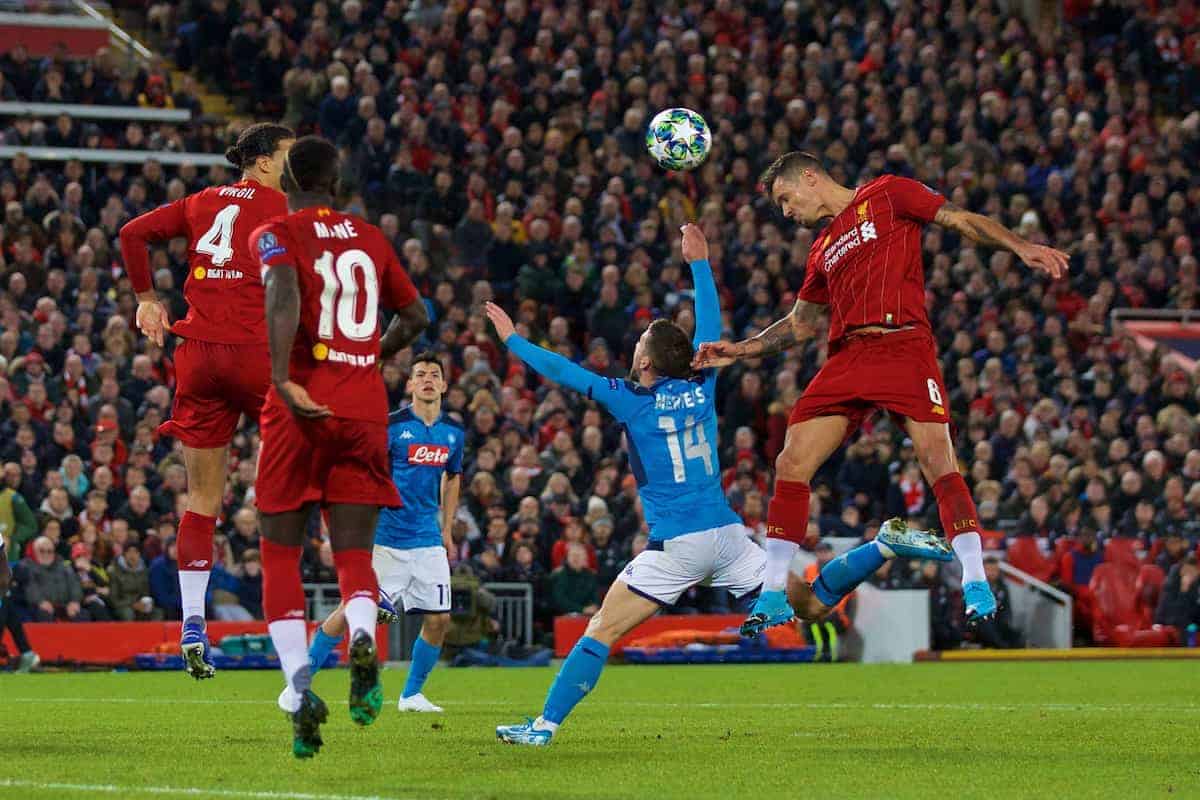 Dave: Alex Oxlade-Chamberlain and not a whole lot else. Lovren had a good second half and his goal made up for his mistake leading to their goal but the rest were largely poor. Us being top of the group is good.
Trev: The goodness was in scarce supply on a night which saw the Reds impaired by the manager's initial selection, the injury to Fabinho and the sub-standard performances of so many individuals.
There could be no faulting the effort of Klopp's charges but there weren't many who could hold their hands up in the aftermath of the disappointing draw.
Safe in the knowledge that a certain fellow Navan man is contributing to this discussion, I'm going to mischievously put forward Lovren as the highlight of the night. The admirably, if unjustifiably, self-confident Croat thumped home a glorious header to rescue a point, made several fantastic tackles/blocks and was solid in possession as Liverpool (sort of) chased the win.
Of course, he was also significantly culpable for the concession of the Mertens goal but hey, Degsy's gonna Degsy.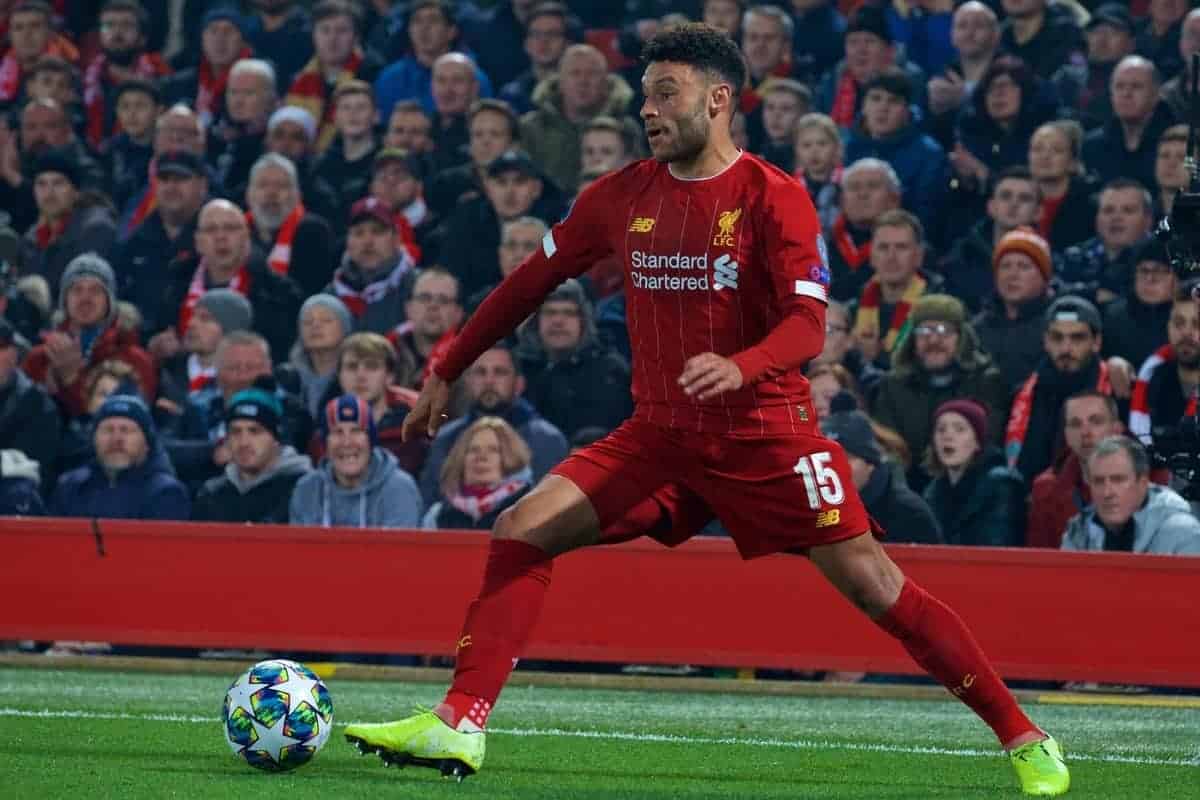 Karl: Agree with Dave on Oxlade-Chamberlain's introduction, and I'd also say Milner and Firmino came into the 'fairly good' category, with industry more than anything else. Wijnaldum was fine after coming on, too.
It's good that we did find a route to goal and avoid defeat entirely, but beyond that the good points are hard to pick out.
Our fate is in our hands? Maybe that qualifies. I'd say it's a good thing we probably won't have to play Napoli any more this season…
The bad…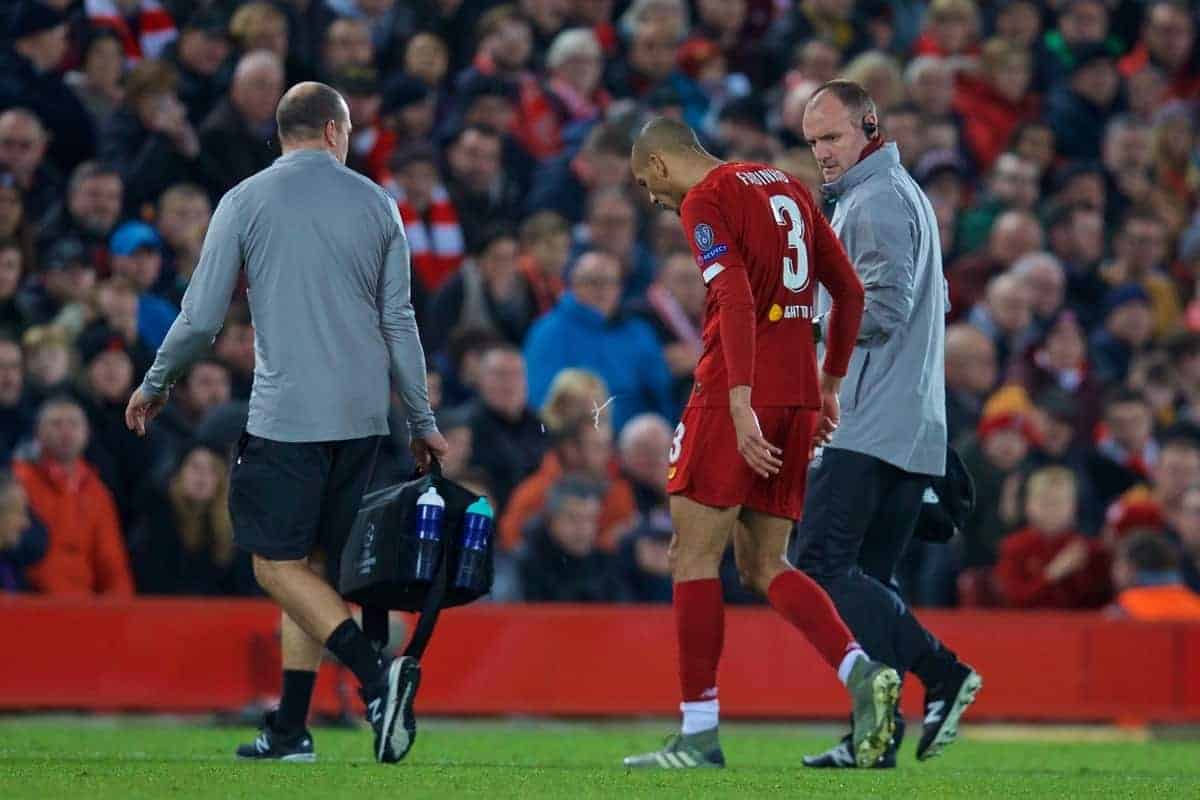 Dave: There were a few in the bad category.
Henderson and Milner starting together in midfield and both stinking the place out. The complete lack of creativity in the team without a 21-year-old right-back. Our most important player getting injured.
Having to go to Salzburg and get a result instead of sending the team that will play Villa to get some minutes together. The lack of fight. The stupidity of continually crossing against a team with three centre-backs who are great in the air, two of whom are undeniably world-class.
And the ref. Jesus wept, the ref. Mr. Big Hill had himself a night.
Trev: There were many things to grumble about on a frustrating evening but if the injury to Fabinho ends up being serious then there is no doubting that will be the worst aspect of the night.
On an equally ominous note, it should also be pointed out that the Reds are not playing well for whole matches and/or blowing teams away this season and, when one allies that to the unfortunate habit of conceding in almost every game, there is cause for the more sepulchral types in the support to get their doom and gloom on.
On a personal note, I was irked by the lack of atmosphere in the ground until some ten minutes after we'd gone behind. Annoying…and odd. Surely, we are not already jaded by success and surely, at this point, we trust these boys to rescue any scenario?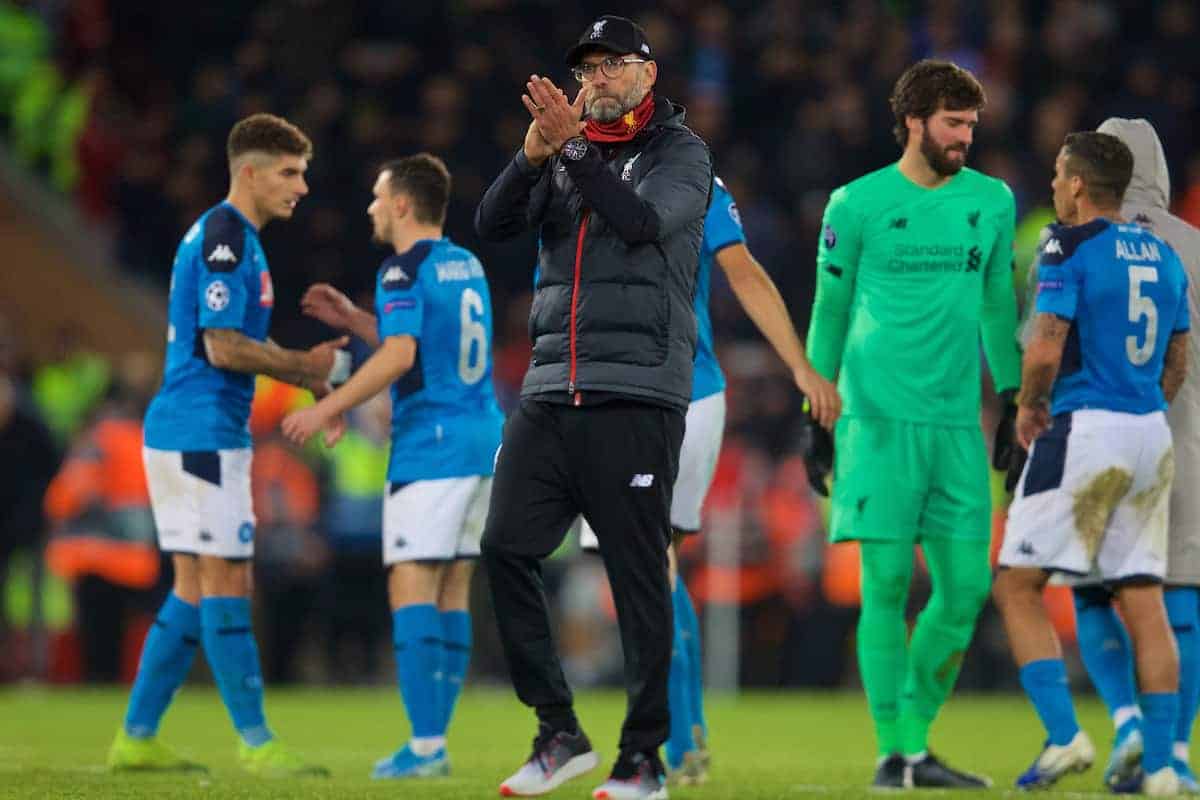 Karl: Trev is spot-on with the atmospheric question – the fans need to fire the players as much as the players can fire the fans.
We await Fabinho news, but at this moment of the season even a couple of weeks can mean about 20 games out, it seems.
Other than that, the worst thing on the night was Di Lorenzo launching himself over the hoardings, trying to make out Andy Robbo had done a Mason Holgate on him.
But questions have to be asked of that starting lineup. Other than the front three combining by themselves or Robbo sending over crosses, where was creativity meant to come from? And if there was a plan to open up teams, it certainly couldn't come from such a slow start.
In itself, that's a major concern of the last few months – we seem to start most matches in low gear at the moment and have to rouse ourselves, at times contributing to falling behind in games which we shouldn't. Which brings us to…
…and how much of a problem are the lack of clean sheets and how can the issue be fixed?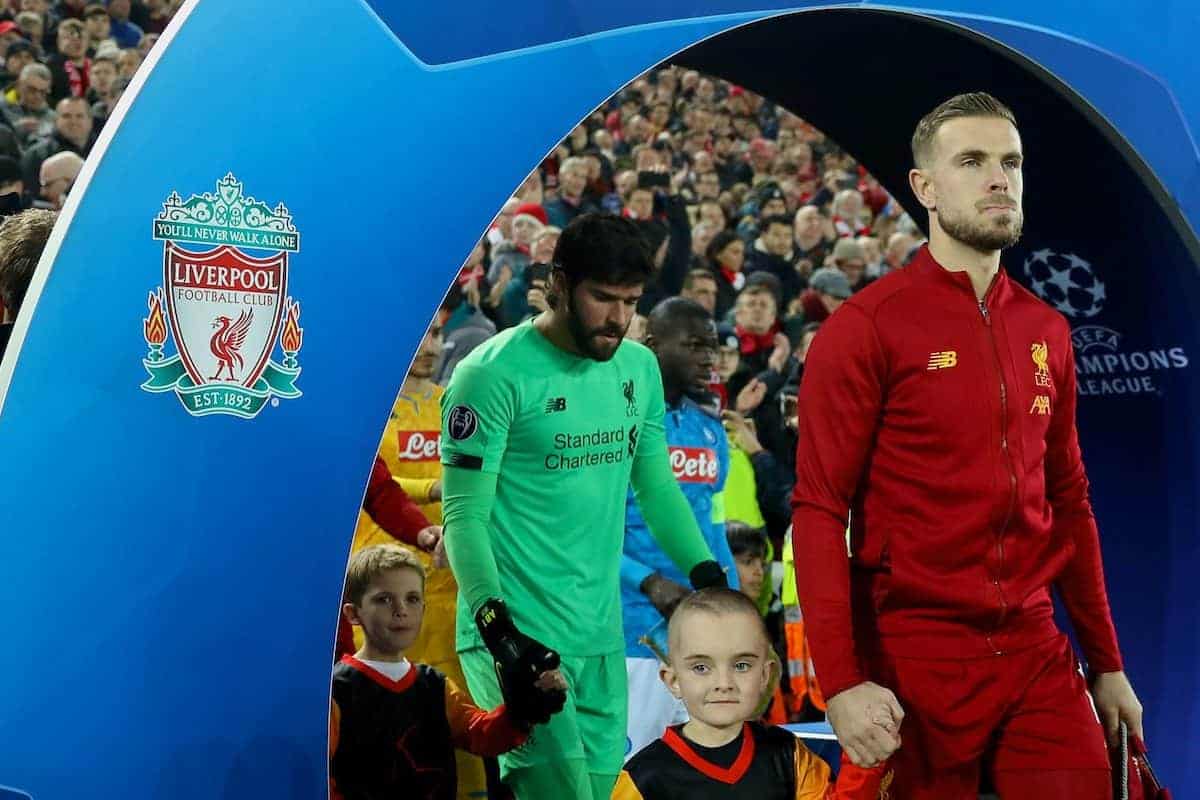 Dave: It is a problem. It's a big problem. The functional midfield that Klopp goes with is meant to make up for their complete lack of impact going forward by making us solid defensively, but they don't.
Henderson doesn't cover his fullback and has no positional sense and Milner is too easily caught out of position and doesn't have any recovery pace. Neither can track runners and it is those runners that cause us so many problems.
The lack of a settled back five hasn't helped, Alisson injured and then Matip injured, but the midfield is the big issue. We have the players to fix it in Naby and Ox but they need minutes and fitness.
Ideally, we'd go and buy a partner for Virgil who isn't injury prone or calamity prone as the current crop are. That, along with no longer persisting with empty shirts in midfield, would solve our problems.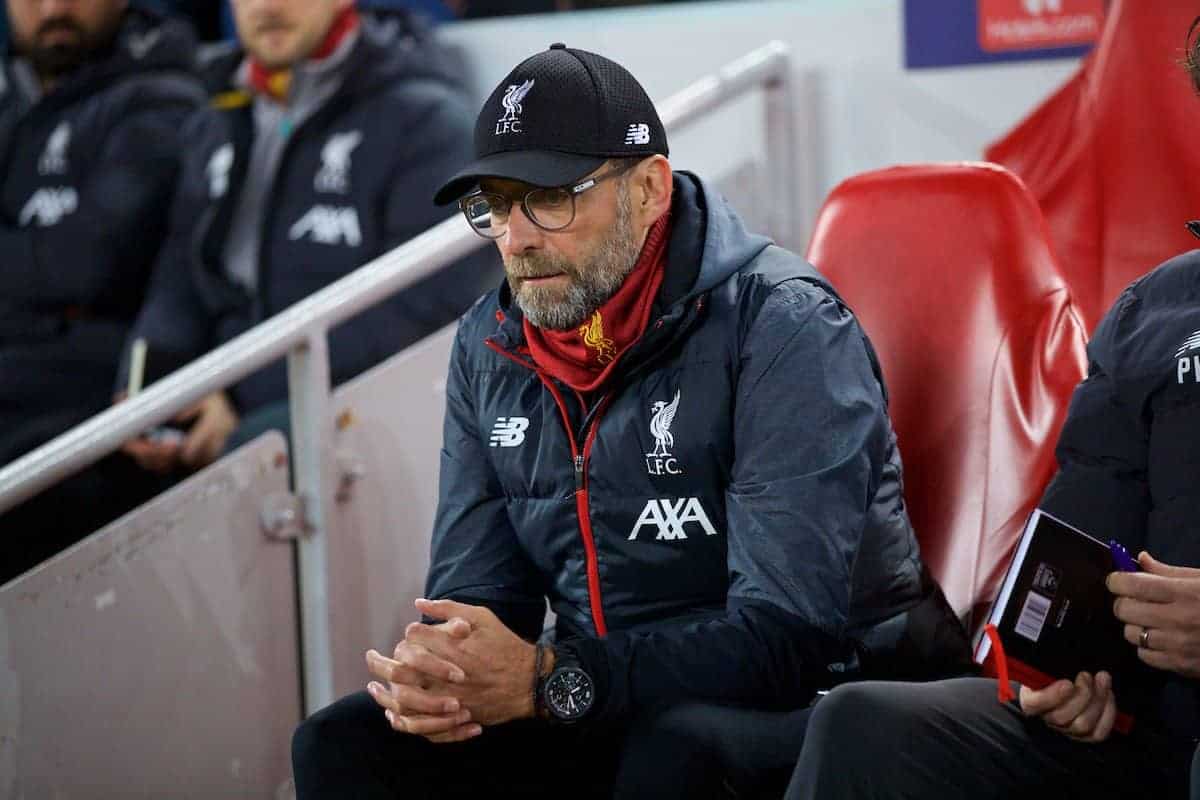 Trev: Conceding goals is quite literally the worst habit to develop in football, apart perhaps from hiring Jose Mourinho and expecting stability and calm to ensue.
This team had to endure several blows to its defensive rhythm, with key injuries to Alisson and Matip, so some allowance must be made for that. However, I would dearly love The Reds to just break this habit of allowing the opposition to score for a streak of seven or eight games, whilst simultaneously getting back to their free-scoring best.
Listen to me, bleating on about what I want like some sort of entitled millennial. It'll all be fine. Up The Reds.
Karl: Last season, the Reds had 14 games which finished either 0-0, 1-1 or 1-0 each way.
That should be more than enough to highlight the importance of not conceding in games when we are fighting for the biggest prizes, where the margins between success and failure are infinitesimally small.
We simply must improve.