The media were impressed by how Liverpool cruised to a 3-0 win at Bournemouth and praised Jurgen Klopp's rotation and Naby Keita's performance.
Klopp's Red Machine churned out a 15th win in 16 league games to further extend the lead at the top of the Premier League table.
Another slick attacking display saw three excellent goals scored, as Alex Oxlade-Chamberlain, Naby Keita and Mohamed Salah ensured the three points returned to Merseyside.
This is what the media made of a routine victory at Dean Court.
Reporters were impressed with how Liverpool made victory so routine…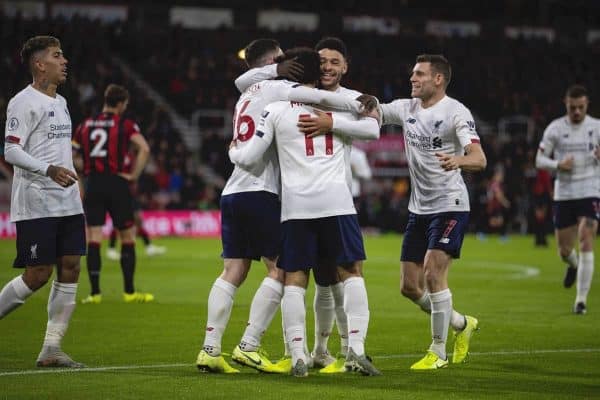 The BBC's Emma Sanders assessed that the routine nature of the win was most welcome after some nervy victories, and thinks the "dominance" of the display will have pleased Klopp:
Saturday's victory at the Vitality was so routine – though the early loss of Ake to injury weakened an already struggling Bournemouth back four.

But the Reds played with a swagger and a dominance which would have surely pleased manager Jurgen Klopp greatly.
The Telegraph's Jim White wrote a comical line on how Liverpool were so comfortable that Klopp's side could have played in slippers:
As the rest of the Premier League huffs and puffs in their wash, they are not so much marching on as embarking on a Christmas cruise.

Because this was not just another win for Jurgen Klopp's points-gathering machine, at times it was so comfortable it appeared as if his players were wearing slippers.
ESPN's James Capps thought winning with a rotated team was the perfect type of victory ahead of the vital Champions League clash against Salzburg:
With a crucial Champions League game against FC Salzburg just three days away, a simple win with an under-strength team was just the ticket.
Meanwhile, the Mirror's John Cross is seeing signs that Liverpool can become the new "invincibles", noting how the Reds' "air of superiority" makes them look unbeatable:
But every time they go to a ground, they arrive with a wonderful belief that they will not be beaten. When Arsenal did it in 2004 under Arsene Wenger, teams would say they were beaten before kick-off such was their air of superiority.

This Liverpool team has the same feel. You actually cannot see them losing this season. With that sort of confidence, you cannot see anyone beating them. Because they're beaten before kick-off.
Members of the media were once again full of praise for Klopp's squad management…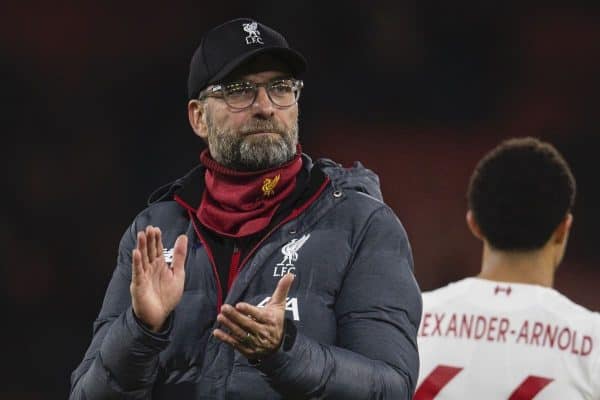 Capps was impressed with how Liverpool maintained the performance level despite another batch of changes being made:
Despite Jurgen Klopp opting to rest the likes of Sadio Mane and Trent Alexander-Arnold, this was an imperious performance that was full of quality.
Writing for Goal.com, Neil Jones thinks Liverpool's performance level has improved as a direct result of Klopp freshening up his starting XI:
It didn't affect Liverpool. If anything, they looked better than they have in recent weeks.

[…]

Those that came in looked like they'd been playing every week.
The Mirror's Neil Moxley explained how the competitiveness in the squad for starting XI places is spurring the Reds on and helping maintain the performance level:
To be honest, at this stage of the season Klopp can rotate a roulette wheel with the squad numbers and use a game of chance to choose his starting XI – and the result will still be the same.

[…]

As far as the players are concerned, they know also in that dressing-room that should their standards drop off, that they will not be immune to the axe.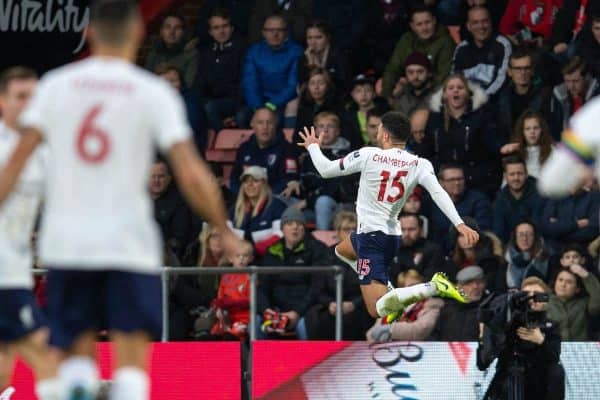 Cross commented on how the "unshakeable belief" Klopp has in his squad has rubbed off on the players:
But the loudest was "The Reds Are Top Of the League" and surely nothing can stop them now because they go into every game with unshakeable belief that they will win.

It's a wonderful feeling to have and should carry them to their first title in 30 years.
Discussing the players who have benefitted from Klopp's approach, the Guardian's Ben Fisher noted how Salah looks "reinvigorated", which inspired the Egyptian to act as the architect behind the win:
An irresistible performance by a reinvigorated Mohamed Salah, who Klopp declared is again firing at 100%, proved the catalyst as Liverpool extended their unbeaten league record to 33 games.
The media applauded another excellent squad effort, singling out Keita in particular…

Jones praised the way the whole squad is contributing currently, and provided some great numbers of the goal share so far this season:
Both Oxlade-Chamberlain and Keita decorated their performances with goals, smartly-taken ones too.

Liverpool have now had 16 different goalscorers in the Premier League this season. The club record, set in 1911-12 and 2015-16, is 17.
Cross waxed-lyrical on Keita's performance, assessing that it was an exciting demonstration of the "player Liverpool hoped they were signing":
But perhaps most impressive was Naby Keita as he really took his chance with Fabinho currently out injured.

Keita has struggled at times to fulfil expectations since joining Liverpool but, on this evidence, he is ready to seize his opportunity. A goal, assist and bags of energy. This was the player Liverpool hoped they were signing.
The Liverpool Echo's Ian Doyle wrote how Keita "oozed class" and showed the different dimension he adds to the midfield:
Keita oozed class, his touch confident from the start, gliding across the Vitality Stadium turf and always looking to move possession forward.

[…]

The Guinean has always offered a different dimension to the midfield. The problem has been a lack of fitness and self-belief to justify his talent. This outing surely bolstered both.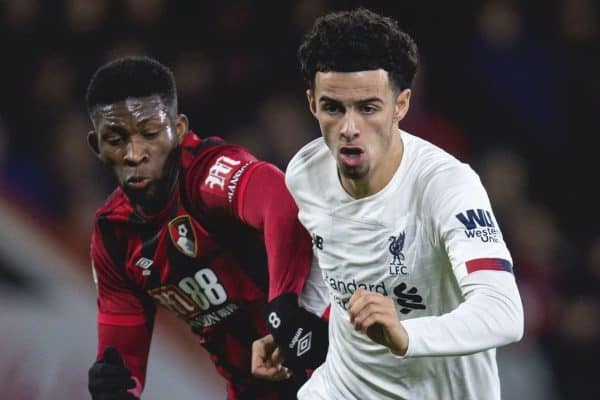 Echo colleague Theo Squires thought it was a performance boasting plenty of promise and stated that the No.8 now needs to build on it to launch his Anfield career:
With a goal and an assist under his belt, he'll return to Merseyside happy, guaranteed a hug from his manager and with fans satisfied to see the Naby Keita they believed their club were signing.

[…]

But, by taking a step in the right direction, it could prove to be a decisive one. Now player, manager and fans alike will all be hoping it isn't just a case of Keita's latest false dawn.
Finally, the Mail's Daniel Matthews thought Curtis Jones' late cameo was a real positive and a nice added bonus for Klopp on a great afternoon:
Their march goes on and the performances of Keita – in his first start of the season – and substitute Curtis Jones will give Klopp particularly satisfaction.

As their to-do list continues to pile up, he will need every member of his squad if they are to make this early advantage count.