Liverpool and Salzburg traded blow after blow, but it was the Reds who landed the knockout on a cold winter's night in Austria.
Winners of Group E it is then, in a sedate finish to a group stage where we sort of made heavier weather of it than we needed to. Our defence of the Champions League will rumble on into the new decade.
Going into this game, Red Bull Salzburg could boast a compelling domestic Austrian supremacy, to sit alongside their surprise Champions League endeavours.
Free-Scoring

A free-scoring team, in their previous five group games there had only been one half of football in which they hadn't found the back of the net, and that was the second half, away to Napoli, a game from which they took a point.
Salzburg were the real stars of Group E. The difference between going through and not can ultimately be condensed down to their 2-3 loss at home to Napoli. I hope they go on to win the Europa League.
It was always going to be a bit nuts in this one and Salzburg were unsurprisingly on the front foot from the very start.
Virgil van Dijk's defensive capabilities were tested early, while Alisson Becker was called into action swiftly. This was all within the first three minutes.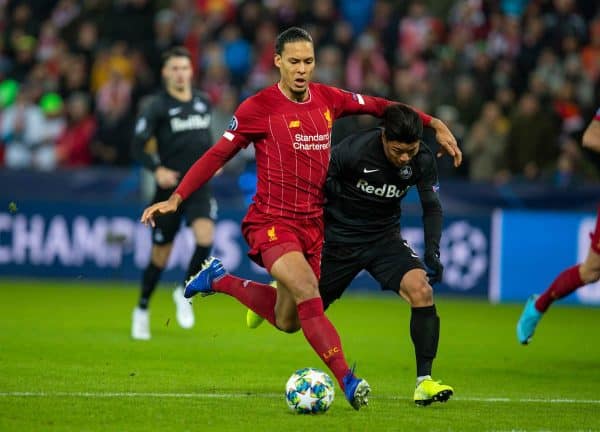 In response, Mohamed Salah had a decent opportunity to open the scoring saved. The first of a wild collection of spurned efforts, it should have been 1-0. Another scare soon followed for the home side, as Sadio Mane put one wide of the post.
Back came Salzburg. It felt like a footballing version of Rocky II. Punch, counterpunch, punch, punch, counterpunch, we all fall down. It genuinely could have been 2-2 inside eight minutes, yet somehow it was goalless at half time.
Eew, Gross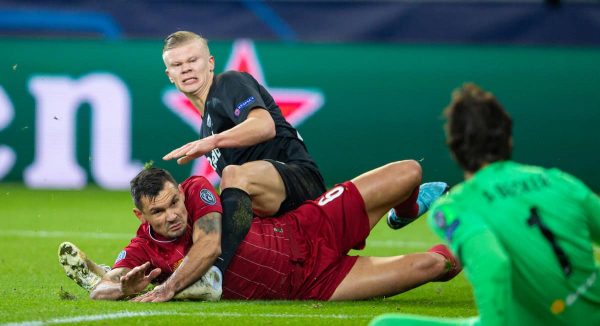 That mad 3-3 against Christian Gross' Basel, when we went out of the group stages in 2002/03 alarmingly sprang to mind.
It was with vague elements of a 5-a-side game that we perpetually switched from attack to defence and back again. At one stage we had three chances in one, Mane, Naby Keita and Trent Alexander-Arnold. None of them able to force the ball over the line.
With continued attacking intent, it was like two competitive neighbours who overdo it on the Christmas lights in a game of one-upmanship.
Alisson was imperious. He ate everything that was thrown his way with obscene ease. Midway through the first half he nonchalantly swatted at an effort from Erling Håland. The teenager would later take his frustrations out on a plastic water bottle in impressive Basil Fawlty style.
Salah chipped in with another poor miss before the half hour, followed by a free-kick which was well off target. It didn't seem likely to be his night at all.
Salzburg sent another effort straight at Alisson shortly before the interval, which Keita almost punished with a chance of his own, almost as the half time whistle was blown.
The second half picked up where the first half left off, Salah had yet another chance that might have been hooked by the VAR overlords had it found the net. Soon after he was stopped again with the keeper at his feet. This was promptly followed by Håland hitting the side-netting.
Unlikely Impact Sub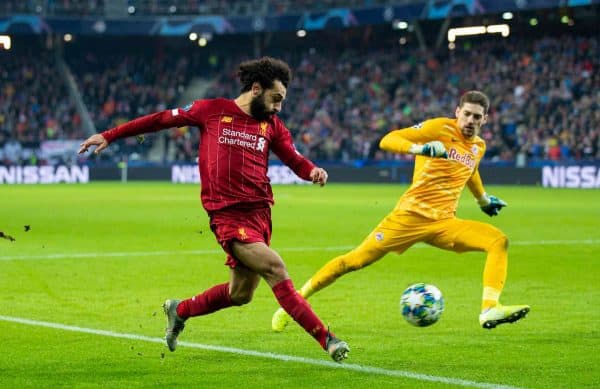 Dejan Lovren went off, Joe Gomez came on. Gomez would be well within his rights to plant his tongue firmly in his cheek and claim to be an 'impact sub'. The game was over within five minutes of his arrival.
Keita made it 1-0 with a guided header, then 100 seconds later Salah produced the moment of breath-taking skill that stopped the contest in its tracks. On his weaker foot.
There have been rumbles of discontent about Salah here and there lately, but the crux of it is, that given the amount of times he creates an opening, there will be occasions when he shanks an effort wide of the target or fails to lay a pass to somebody in a better position. Salah is focused and single-minded. Without that tunnel vision, he would only be half the player he is.
That truly stunning goal on Tuesday evening was his 82nd in a Liverpool shirt. The next time you're about to implode about a missed Salah chance try and remember the days of Fabio Borini playing in the same position.

The rebirth of Keita continued apace in this one. He produced another fine performance and the all-important opening goal. In the absence of Fabinho, Keita has the chance to grow into himself as a Liverpool player.
Yes, Fabinho and Keita are entirely different midfielders, but the pressure is now off the latter when he plays. He doesn't live with the tension of an indifferent performance keeping him on the sidelines for the next five or six games.
Keita is afforded the feeling of being important, rather than an incidental extra. If he avoids injury, then he has the scope to become the player the prophesy suggests he can be.
Job Done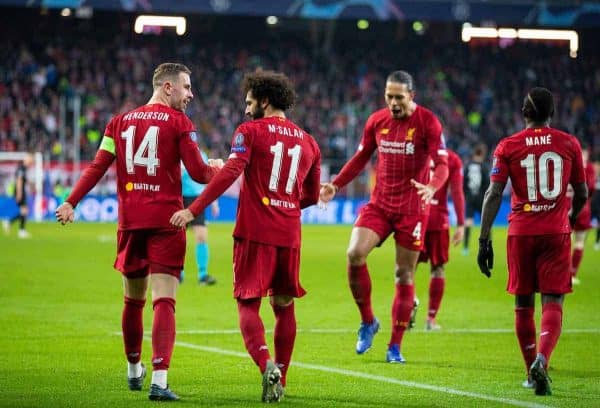 This was a massive result for the shape of the remainder of the season. No Thursday nights in the Europa League and a group stage won without extending ourselves.
Napoli will be bewildered that they can take four points off us, yet still only finish second. The sacking of Carlo Ancelotti can only be a result of him eyeing up other jobs. It seems that they are going to employ Gennaro Gattuso as Ancelotti's successor.
The draw for the last 16 is on Monday morning and we are unlikely to cross paths with Napoli again this season.
With the Champions League put into storage for a couple of months, it is back to the Premier League we go on Saturday, before the kids head for Villa Park and we take on the world in Qatar.
It might well be top vs. bottom at Anfield on Saturday, but Nigel Pearson will have had all week to cook up a recipe for awkwardness with his new charges at Watford.
We must remain vigilant and ruthless. Watford need to be dealt with as if they are Barcelona.
Up the Reds.
---
* Still unsure of what to get that football-loving family member for Christmas? Well, it isn't too late to order this book I've written about the wonderful randomness of the European Cup Winners' Cup here.