Danny Gallagher witnessed Sadio Mane's display against Brighton at Anfield first hand, where the winger's fire for success continued to burn brightly.
Midway through the first half at Anfield on Saturday, those in the lower tier of the main stand heard an audible thud as Sadio Mane hammered into Davy Propper at pace.
The Brighton man had frantically surged over to the left flank on a firefighting mission, tasked with nullifying a rapidly progressing burst from arguably Liverpool's quickest player.
Propper had the momentum, planting the full force of his shoulder into the moving frame of the 5ft 9″ Senegal star. Positioning was in his favour, too.
Arms windmilling like Bambi on ice, Mane held his balance. Somehow full pelt was maintained, before crossing back onto the correct side of the freshly chalked touchline, taking an elegant touch of the ball and leaving his challenger for dead.
Without even the slightest downshift of gears, the Liverpool No. 10 darted inside, manoeuvred another marker with a dropped shoulder before slipping in Alex Oxlade-Chamberlain for what was almost a goalscoring opportunity.
The response? A quick glance at the attempt, a cursory scratching of the chin before falling dutifully back into position, ready for the next press.
Those hungry for success have little time for anything less than perfect, and this season the man from Bambali is craving like never before.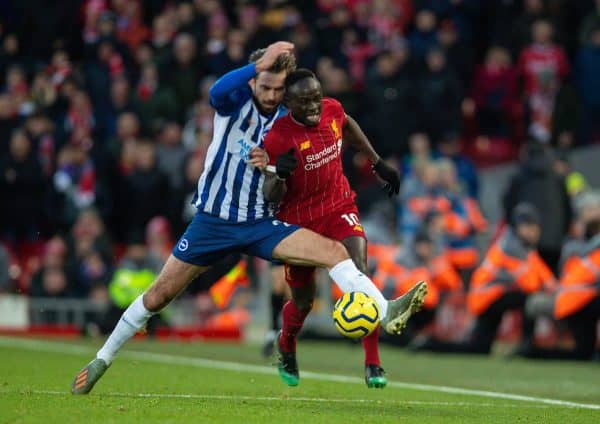 'Sadio Mane wants to win this title more than you,' went a little adage on social media following Liverpool's crucial victory over Manchester City at Anfield a few weeks ago.
It did the rounds once more, as Jurgen Klopp's side pulled off yet another away-day salvage mission, most recently at Selhurst Park. Another match seemingly destined to end in a draw snatched at the death.
There is a movement growing at Liverpool, one with apparent unstoppable momentum, and Mane is at its helm.
So far this season the Senegal talisman has displayed a passion and determination to win like never before. Of course, Mane is the very embodiment of the drive it takes to become a professional footballer, risking everything at a young age to travel from his small village to Dakar, for the minuscule chance of realising his dream.
It worked, and the fire inside the extraordinarily talented forward has since burned more intensely, season upon season.
In the present day of easily digestible social media clips and show-reels, the footage of the 27-year-old punching the air for the LFC TV cameras, smile as wide as the Mersey while heading down the Anfield tunnel after stunning City immediately hit the viral bracket.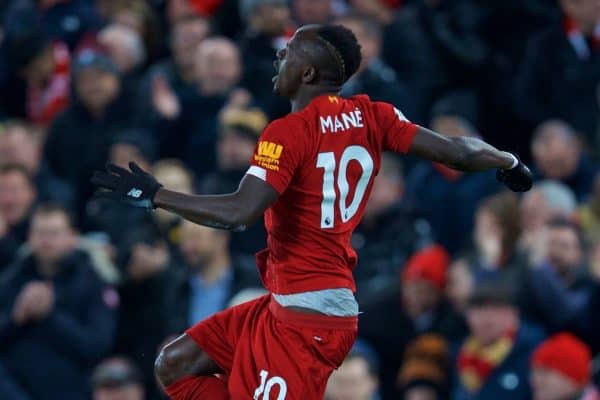 'Sadio Mane wants to win this title more than you.' Shared, liked, retweeted, beamed back and forth across the world.
In that game, Mane had both played exceptionally and exhaustively while also scoring. It's becoming almost as much as a certainty as water being wet. The consistency of Liverpool's driving force upfront is scary, and completely warrants the cries for him to be a serious Ballon d'Or contender.
Arguably the greatest player who has ever lived, Lionel Messi, has already revealed his Ballon d'Or vote was cast in favour of Mane.
Eden Hazard, meanwhile, recently told Le Parisien 'there would have been no debate' for Mane's claim for the biggest individual honour, had he triumphed in the AFCON final.
Mane, of course, came agonisingly close, only to see his nation lose narrowly to Algeria. Fortunately for the Reds, however, the heartache meant Mane returned to Melwood with fire in his belly like never before and a determination not to accept second best again.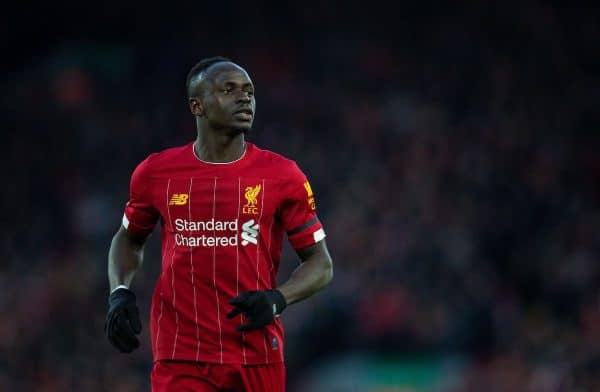 Mane has 1148 minutes of Premier League football in his legs for Liverpool so far this season, having scored eight times and provided two assists.
Statistically, he is attempting more dribbles than last season, and these are coming off with a higher success rate.
Though Van Dijk took centre stage against Graham Potter's Seagulls, Mane provided the grease to keep the Liverpool engine slick and fully functional.
Of his two shots, both were on target. His movement alone caused untold anxiousness, with defenders peering over shoulders both in and out of possession.
Only four of Mane's total 29 passes went astray in the match, while just two occasions saw the forward launch an attempted dribble with the ball and fall short in his efforts.
Most importantly, Mane ended the match with three chance creations to his name. In seasons gone by Liverpool struggled with a painfully apparent case of inconsistency – with individual players and the XI as a collective.
With lessons well learned and experienced gathered, the Reds are flying through matches with each big-name player bringing their all to the table.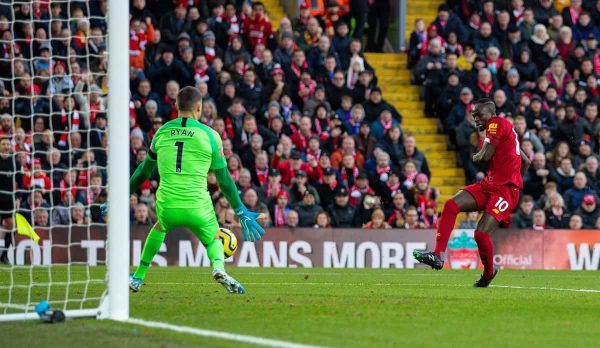 When he doesn't score – which is becoming a more and more an infrequent occurrence these days – Mane is creating, linking and dictating play.
The ball touched the neon green tips of his New Balance boots just 48 times during Saturday's match, yet the irrepressible No. 10 could well have scooped the Man of the Match award.
Klopp's bear-hug held a little longer at the full-time whistle, and for good reason. If anyone appreciates the full extent of Mane's seemingly limitless ability, it's the German.
Liverpool go on, finding way after way to win football matches, and their most consistent forward is leading the charge.
Next up, the Merseyside derby, a fixture Mane knows oh so well. Potential hero status awaits – not that an evening of individual brilliance will spur Mane. The humble star has eyes only for the main prize at the end of the season.