Liverpool were far from the best in the 2-1 win over Brighton, and the performance and result left a lot to discuss post-match.
The Reds continued their flair for the dramatics in their win over Brighton on Saturday, with a red card and a goal the way of the visitors set up a nervy final ten minutes.
Jurgen Klopp's side had established a two goal buffer with 24 minutes on the clock after Virgil van Dijk and Trent Alexander-Arnold combined with devastating effect.
Liverpool would then see complacency creep into their game as they took off their foot off the gas, ensuring Brighton remained in the hunt.
But ultimately, the Reds' first half work was enough to secure another three points and establish an 11 point buffer atop of the table after clinching their 13th win from 14 league games.
Here, This Is Anfield's Joanna Durkan (@JoannaDurkan_) and James Nalton (@JDNalton) are joined by Jonathan Higgins (@Jhiggins3) to delve into the highs and lows from the clash and discuss Alisson's red card and subsequent absence against Everton.
The good…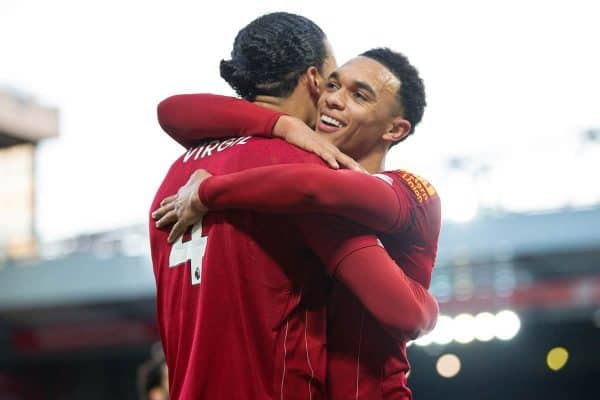 Jonathan: Ultimately the most important thing yesterday was that all-important three points, which were even more important after the dramatic late events at St James Park earlier in the day.
They aren't going to admit it but Jonjo Shelvey's late equaliser added more pressure coming into the game, but thankfully despite a late wobble, Klopp's men ground out another vital win.
Like so many times already this season, they simply found another way to win a game of football.
The colossus that is Van Dijk was immense at both ends of the pitch. We will find out shortly if his performances will be rewarded with the Ballon d'Or – but one thing for certain is that you don't need to see him posing with a shiny gold football to recognise his importance to this team.
Trent says Van Dijk owes him dinner after he assisted him twice yesterday and if the restaurant choice is based on the quality of both crosses then it could be an expensive bill for the best player in the world at the moment!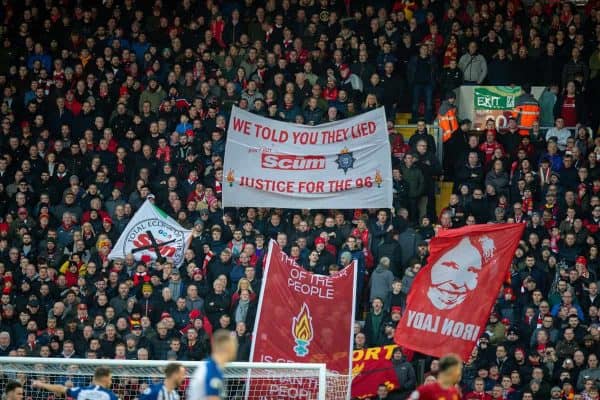 James: Notably, fans in the Kop spent the first six minutes of the game chanting "justice for the 96" following last week's news.
And it's pleasing to see that there are further plans to remember the 96 and support their families and friends during this difficult time ahead of Wednesday's Merseyside derby.
Liverpool's resilient performance was another typical of potential champions, and the delivery of Trent Alexander-Arnold for the two goals was perfect.
Brighton had only conceded one goal from a set-piece prior to this game, and here they conceded two in six minutes.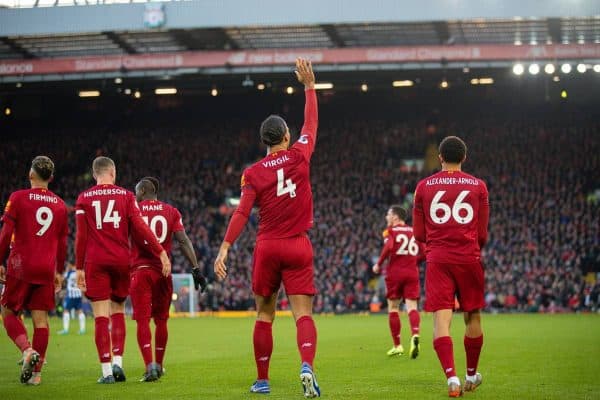 Joanna: It's hard to disagree with what has been said about Van Dijk – what a player he is.
While the performance as a whole was one which needs improving, as the Reds have done so often throughout the season so far they picked up another win and now move 11 points clear of Man City.
Never in my wildest dreams did I think a gap that big would open up at any point, but there's no way I'm getting ahead of myself!
And looking at how Klopp was dressed on the touchline, this time around I was slightly thankful I was all warm and cosy at home because after 10 years in Australia the cold is still something I am not quite used to.
The bad…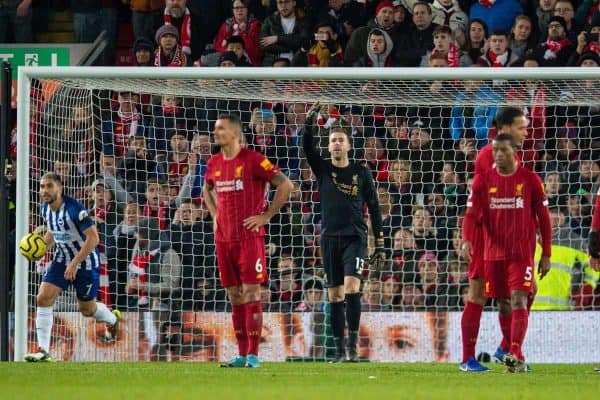 Jonathan: It has to be the way a comfortable two-nil lead turned into utter panic stations after an almost farcical few minutes.
Alisson becoming the first Liverpool goalkeeper to be sent off at Anfield since Sander Westerveld back in the 1999 derby, followed on by Adrian's wobbles were events we could have all done without.
Someday soon we might get a stress free 90 minutes!
Mohamed Salah and Roberto Firmino looked off the pace and were both justifiably replaced.
And the massive sigh of relief all around Anfield as Martin Atkinson blew the full-time whistle tells you all you need to know about this victory.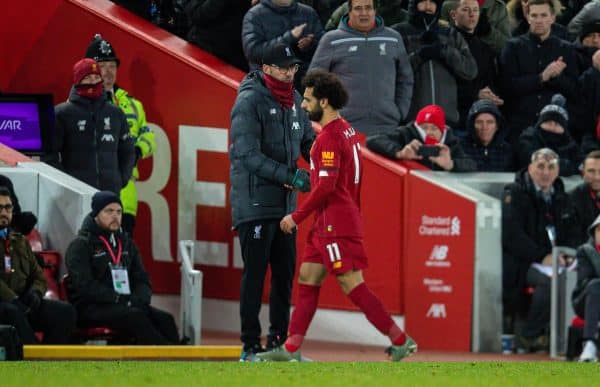 James: Though these mentality-giant displays are often considered the sign of champions, it might be good for the team to fire on all cylinders more regularly and show some clinical finishing to go with the high-octane pressing and tireless running.
Klopp commented after the game that his side could have made it much easier for themselves had they took their chances in open play as well as converting those set-pieces.
Liverpool are making a lot of extra work for themselves at the moment during a period of the season which is draining enough as it is, but it's difficult to pick faults in a team which is flying at the top of the table, even if they don't always take off on the pitch.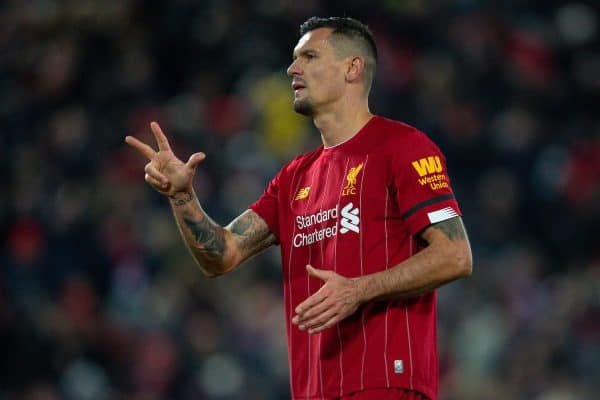 Joanna: The nervy finishes now seem part and parcel of supporting Liverpool, then again it's never not been a rollercoaster ride, but it would be beneficial to both my health and Liverpool's clean sheet record if such late drama came to a swift end.
After the game, Trent stressed that Liverpool need to eradicate the complacency that has been on show in recent weeks and you can't disagree with him there, as one day it could come at the ultimate price and as James noted it is creating needless extra work.
And I agree with Jonathan that Salah and Bobby were not at their best, but thankfully they did not need to be this time around.
And after his red card will Alisson be a big miss against Everton?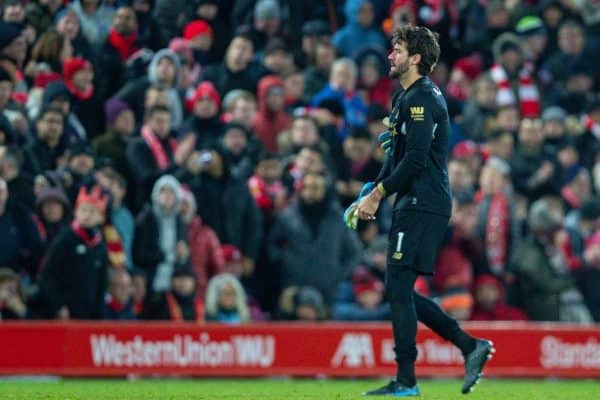 Jonathan: Repeating what we said at the start of the season you are always going to miss a goalkeeper of the quality of Alisson.
For me, he is the best goalkeeper in the world and particularly from a football possession point of view he is miles ahead of Adrian.
It was interesting during his run of appearances earlier in the season, we adapted our game slightly, with fewer passes back to the keeper and more a safety-first approach.
You could argue for a derby game this mightn't necessarily be a bad thing. No doubt Everton will try to target him from set-pieces, but Adrian is a seasoned pro and has played in many dogfight games with teams scrapping at the bottom end of the table and I have no concerns about him starting.
James: It was a clear-cut red and there can be nor arguments about the decision.
BUT the referee should have given Liverpool time to regroup having brought on a new goalkeeper, and blowing the whistle with Adrian not even between his posts seemed unfair at best.
Alisson will always be a miss, but he is the only Liverpool goalkeeper yet to keep a clean sheet this season, with Caoimhin Kelleher and Adrian both recording shutouts.
There will certainly be a few more jitters if the club are hanging on to a lead with Adrian between the posts than there would be with Alisson there.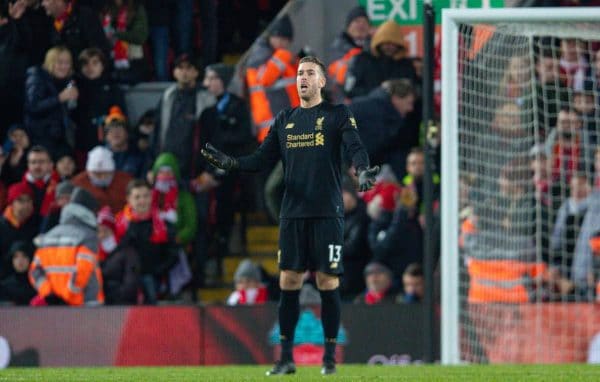 Joanna: My feelings towards the red card are frustration, it felt like a needless move by Alisson, but thankfully we had a substitution remaining and went on to hold on to all three points.
As Jonathan noted, there's no denying that the Brazilian is superior to Adrian and while he gave me heart palpitations in the dying stages, he has certainly earned the trust of Liverpool fans after stepping up earlier in the season.
With every game as important as the next, it is a shame now to see two vital pillars in Fabinho and Alisson ruled out for the derby – especially considering recent meetings have hardly proved straightforward.