Liverpool absolutely steamrollered Everton in the Premier League on Wednesday night, sending the blues into the drop zone and setting new club records in the process.
Liverpool 5-2 Everton
Premier League, Anfield
December 4, 2019
Goals: Origi 6′ 31′, Shaqiri 17′, Mane 44′, Wijnaldum 90′; Keane 21, Richarlison 45+2′
---
Klopp loves a random derby lineup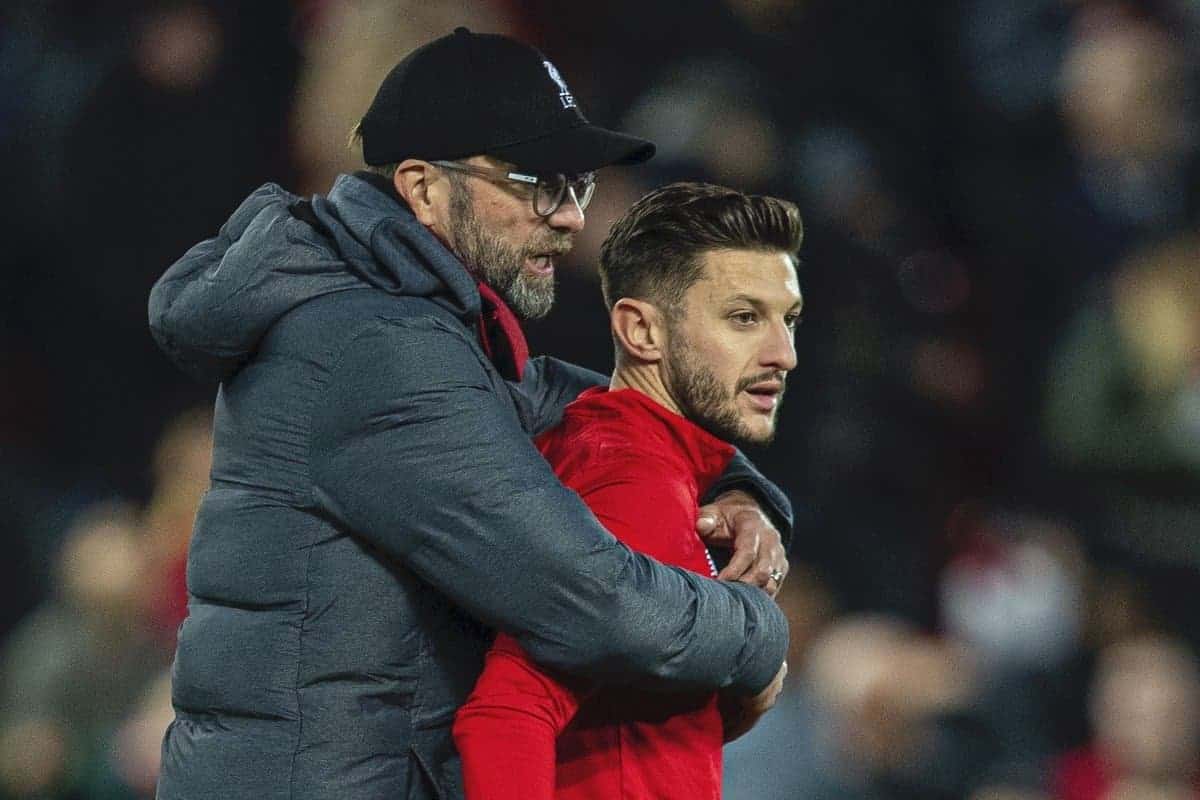 Top of the table, loads of points clear, going for the title, Merseyside derby. Natural to go with the strongest-possible side, no?
Not for Jurgen Klopp. He has never started the triumvirate of Mane-Firmino-Salah together against Everton, but even so this was reasonably wild.
Five changes, one forced through suspension, meant the Reds had only five players in the team who arguably started the season in the manager's mind as being in the 'best' team.
It added an element of unpredictability, for sure: in the mind of the fans, over whether the likes of Shaqiri and Lallana were able to hit the ground running and find form after not playing much of late, but also in the mind of the opposition as to who would play where.
Lallana has played in the forward line, as the No. 6 and in midfield; Wijnaldum has played deeper and higher up; Origi and Mane are interchangeable; Shaqiri has had most of his action in a 4-2-3-1, not a 4-3-3.
Was it that unpredictability, or merely good all-round play from the Reds, which led to such a fast start?
Unstoppable Sadio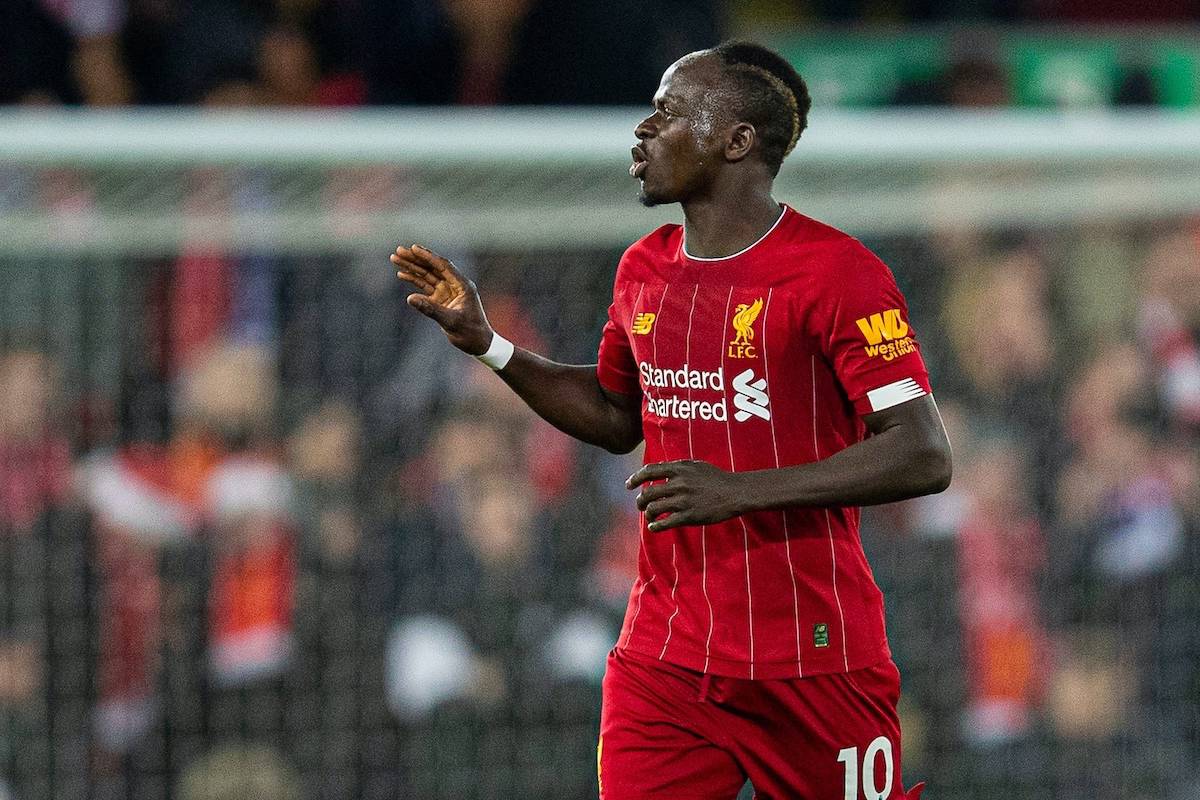 Just how good was Sadio Mane in that first 45 minutes?
Two assists, one goal and an absolute masterclass in movement, weight of passing and superb, close control.
The No. 10 was immense, a creative hub for the Reds as he alternately ran beyond Origi, pulled wide to maximise space and generally helped tear Everton to shreds.
Impressively, much of his on-the-ball work came with his less-favoured left foot, including his first-time finish and his unbelievable pass to Origi for the opening goal.
He certainly should have had a second of his own, rolling wide with ten minutes to play and rounding the 'keeper without shooting, but the chances he made and had just serve to show what a clever all-round performance it was.
Truly, a world-class performance.
Irregulars: taking their chance or not?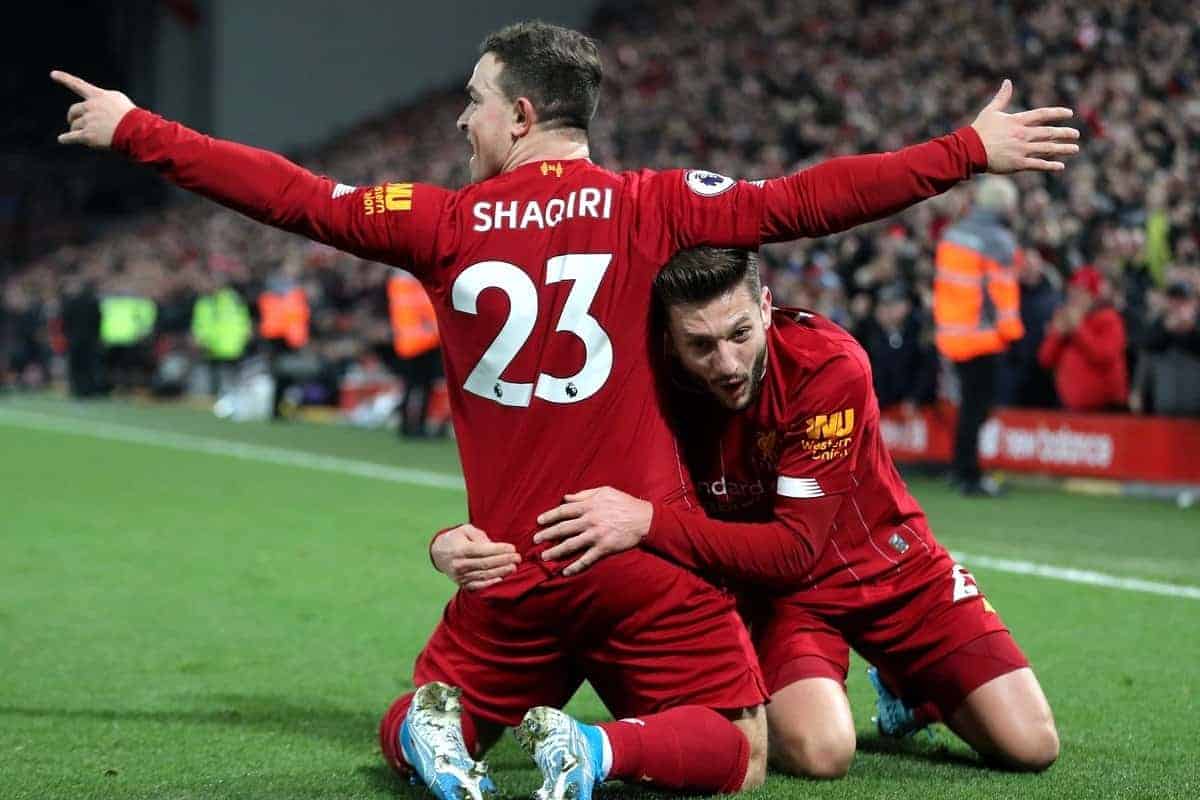 So in they came, how did they play?
Ally McCoist asserted, as he trotted off the pitch, that Adam Lallana had been excellent. Perhaps the game needs a re-watch to notice it, but he certainly wasn't overly involved or the key driving force behind the Reds' best periods of the game.
Certainly, Lallana worked hard, got through plenty of running and won the ball back well at times. But his use of the ball wasn't always the best—77.8 per cent accuracy, no key passes, no accurate long passes or crosses—and in the attacking penalty area he was lacking in his touch more than once.
Shaqiri was a marginal performer, in truth: excellent on the ball, but often a bystander in build-up play.
It's natural that his rhythm is not quite up to scratch, given the length of time he has been out injured, but last season his productivity was off the scale for a period – so his goal here is a hopeful sign that the same can occur again once he's fully fit and regularly involved.
Adrian did well enough—a couple of saves, a claimed cross or two, nice footwork—James Milner was sure-footed, very good with his recovery tackles and a perfectly steady performer… and Divock Origi.
He just loves playing Everton, doesn't he?
Destroyer of blues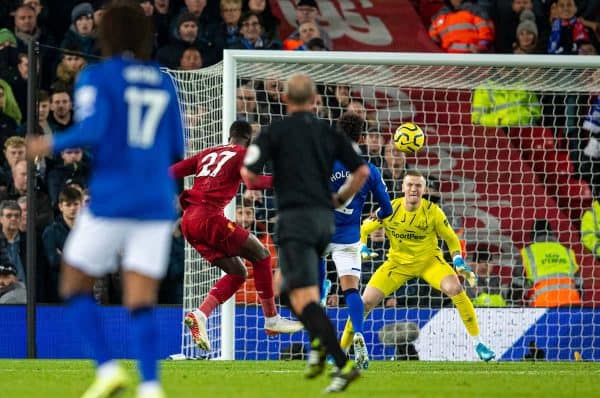 Last year he caused them heartbreak, this year he simply demoralised them from the first minute.
His first real involvement set the night in motion, taking two defenders out of the game and rounding the 'keeper with one sprint and one touch. Next touch, back of the net and 1-0.
That was the vital opener, but the technical level of his brace strike was unbelievable.
Sturridge, Suarez, Fowler…these are the types of forwards in Liverpool history who you would generally associate with that level of skill, touch and finish: a ball dropping over his shoulder, controlled on the run and lobbed over the keeper and in.
This was Origi full of self-belief, full of work rate, full of doing exactly what Klopp wanted from him tonight.
Just start him every time we play the Ev—they must be really looking forward to the FA Cup third round.
Records, milestones…and onto the next challenge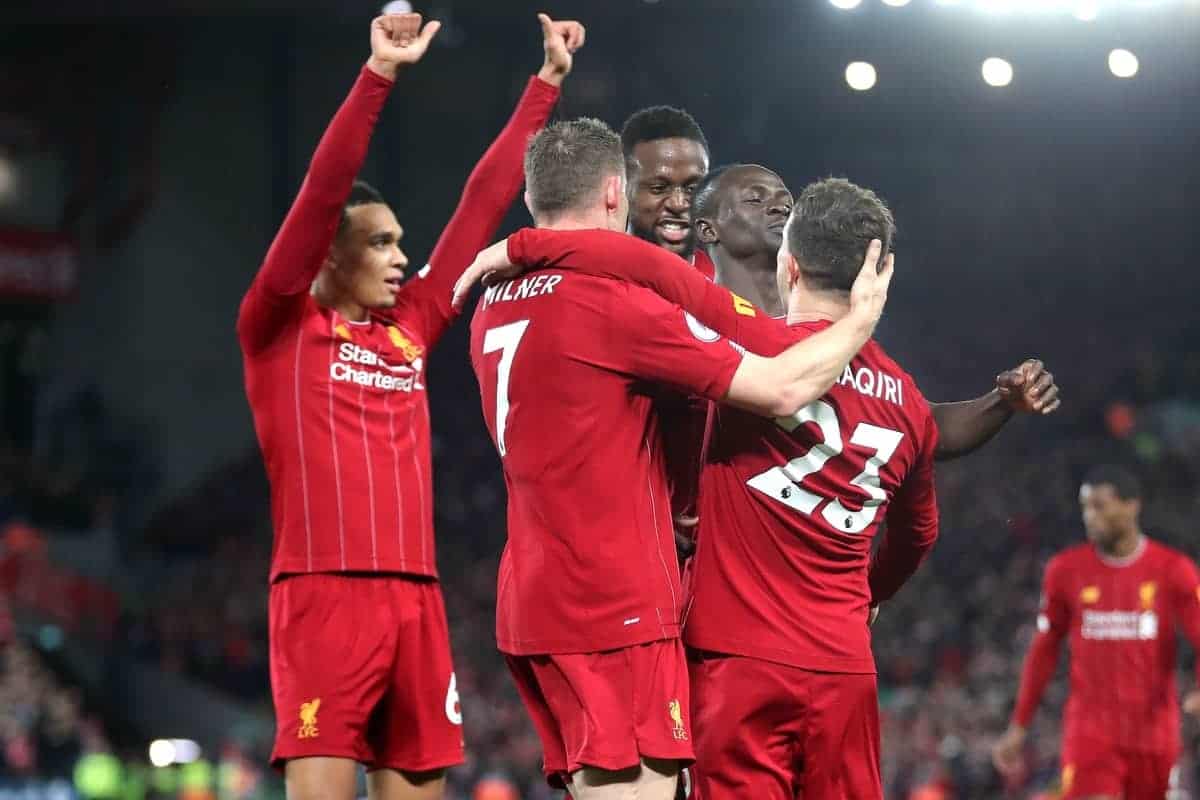 Jurgen Klopp now has 100 Premier League wins as Liverpool manager.
He has achieved it quicker than any other manager before him – just 159 fixtures, compared to Kenny Dalglish's 167.
It's also now 32 consecutive league games unbeaten, a record in Liverpool's entire history…oh, and the Reds have 14 wins from 15 this season now.
The eight-point lead remains intact, a whole host of players have been rested (out of choice or otherwise) and the enormous, massive confidence-booster which should be earned from this performance could be great for the rest of the month.
Now it's Bournemouth away – which might be tricky as they need a response following on from poor form of their own – and then Salzburg, a game we must get a result in to make the last 16 in Europe.
This season just keeps getting better, and just like last term, the derby at Anfield looks like being an incredibly memorable one for all the right reasons.