Andy Robertson has hailed Fabinho as Liverpool's "silent assassin," tipping the Brazilian as an early favourite for the Player of the Season award.
Fabinho has been an invaluable player for Jurgen Klopp this season, stepping back from his natural midfield role to excel as a stand-in centre-back.
While his future should remain in the No. 6 role, such is the level of Fabinho's performances that there is a convincing argument that he could be retained at the heart of defence.
In the absence of Joe Gomez, Joel Matip and, in particular, Virgil van Dijk, the 27-year-old has given the Reds stability at the back, leading by example alongside a variety of partners.
He has largely operated as the left-sided centre-back, which sees him play next to Robertson at left-back, and speaking from his position alongside Fabinho, the Scot has lauded him as "our best performer this season."
"He's a silent assassin. I think he's showed his versatility again, I don't think he looks out of place," he told Soccer AM.
"He's probably been our best performer this season.
"For me, if you were to give the award just now I'd give Fab the Player of the Season."
Alex Oxlade-Chamberlain joined Robertson in assessing the Liverpool squad's FIFA 21 stats, and added: "We call him the Dyson, hoovers up everyone's mess!"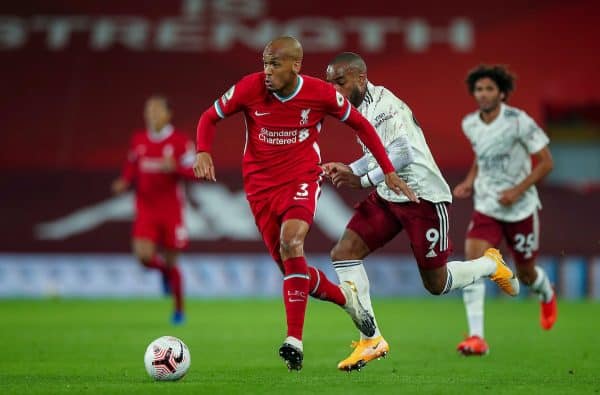 It is difficult to argue with Fabinho as the Reds' standout player this season, and that it comes from another of the candidates in Robertson shows how important the No. 3 has been.
Fabinho is likely to remain a centre-back for the rest of the campaign, despite the deadline-day additions of Ozan Kabak and Ben Davies, as Klopp can now trust him to hold it together at the back.
He could resemble the perfect partner for the aggressive, front-footed right-sider Kabak, giving Liverpool the height, strength, aerial ability and quality in possession they need in Klopp's high defensive line.
And when the time comes for Fabinho to return to midfield, his experience as a centre-back will likely only benefit the Reds further, allowing him to serve as a more well-rounded shield for the likes of Van Dijk, Gomez, Matip and Kabak.