A player of incredible consistency and resilience, Phil Neal's journey started from the lower leagues but ended as Liverpool's most decorated player in history, here is his story.
It's late in the Autumn of 1974 and a 23-year-old Phil Neal is lining up at right-back for fourth division side Northampton Town, against Rotherham. In the crowd that day was a short stout man, wearing a flat cap and sporting a long grey mack. It was none other than Bob Paisley on a scouting mission.
The new Liverpool manager had adopted the practice on such outings of paying on the turnstiles and viewing his targets as a supporter would. It afforded him the opportunity of gauging how the man on the street who watched the player week in and week out felt about them. He'd ask, "does the lad work hard, what's his attitude like?"
On this occasion, Paisley was honing in on a man he saw as cover for the back four, a versatile youngster, who during his 200 games for the 'Cobblers' had played in almost every position, including centre forward. Bob had even brought along a club director, Sidney Reakes, in the hope that he could persuade the board to part with £66,000 for the defender. Little did the pair know they were about to get a rare glimpse of just how versatile Neal was.
With Northampton's goalkeeper stretchered off after around 20 minutes, Neal was forced to pull on the green jersey and play the remainder of the game in goal. The Liverpool boss would later complain – with something of a twinkle in his eye – that "we came all that way to see a right-back, and you played most of the match in goal."
Reakes and Paisley had seen enough in that display to convince them that the youngster was worth the investment, and on Monday, the Northampton boss called his defender into the office and uttered the words that would transform Neal's career and life, "How would you like to go to Liverpool?"
A 'left' start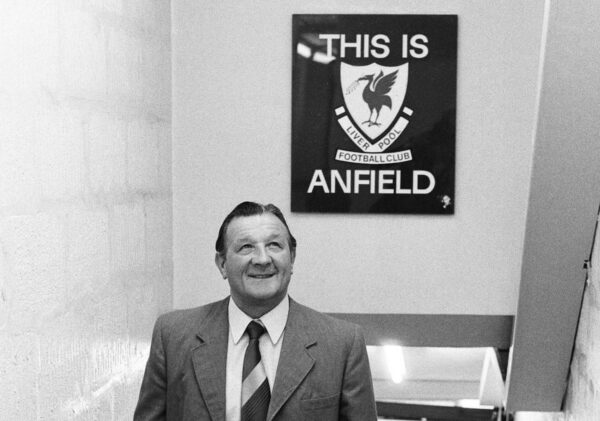 It was truly a seminal moment for the youngster and there could only be one answer. Having been a virtual ever-present in the bottom tier of league football, Neal had begun to wonder if he would ever make it at the top. According to one article in the Liverpool Echo in 1977, he had even considered quitting football altogether. This was the type of opportunity that comes along once in a lifetime, and he would sign for Liverpool in 1974, becoming Paisley's first signing as manager.
A month or so later and Neal is sitting in his digs close to Liverpool's training base at Melwood, it's derby day on Merseyside and the Reds are getting ready to face the Blues at Goodison Park. There's a knock at his door and it's the club's director of youth football, Tom Saunders, "We've got an injury doubt in defence lad, get ready we're going to Anfield to pick up your boots."
In truth, there had been no doubt at all. The Reds knew on the morning of the game that Alec Lindsay, Liverpool's left-back, couldn't play. However, such was the genius of the men of the boot room, they knew that telling their newest recruit hours before kick-off that he was making his full debut in a derby risked overwhelming him.
It worked, and as Neal arrived at Anfield the hustle and bustle around the ground simply excited rather than scared him. He would walk across Stanley Park accompanied by Saunders and carrying his boots in a tightly wrapped brown paper bag so as not to attract attention, mingling with supporters as they made the trip to Goodison.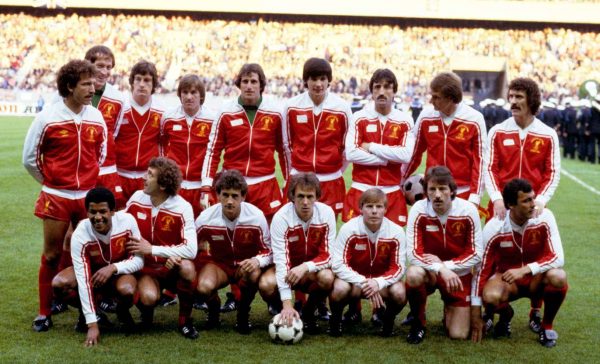 With an hour to go before the game, Neal was sitting in the Liverpool dressing room and soaking up the atmosphere when the manager approached him and with trademark understatement, simply said, "get your kit on, you're playing." With no time for nerves, the 23-year-old would be tossed into the tempest of the Merseyside derby and would give an impressive account of himself, a truly glittering career was born.
Though he was naturally right-footed, Neal would play a further 22 games for Liverpool in 1974/75 season, mostly deputising for the injured Lindsay. He would help the team to a second-place finish, narrowly missing out on the title to Derby County. It was this experience that taught Neal his most powerful lesson in football. At Liverpool, first was first and second was nowhere.
Having become too used to life in the bottom tier of the English game, Neal had been delighted with a runners-up spot at the summit of the sport. However, glancing at the despondent faces around the dressing room he could see this was a club that never settled for second best. It was a lesson he took to heart, and it drove him on throughout his career.
A record that will never be broken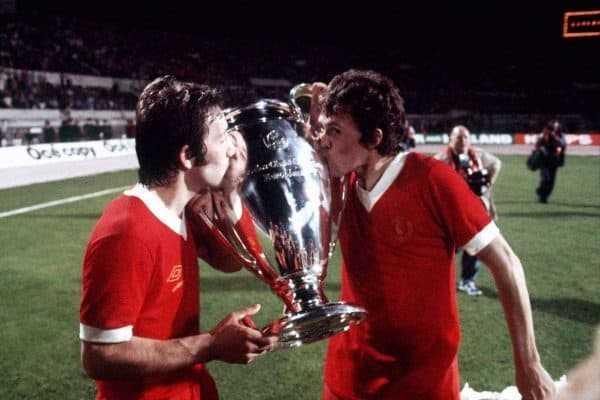 Paisley's Reds would take that all-important next step and claimed the league title in a dramatic showdown against Wolves at Molineux, in the final game of the season. With Liverpool's challengers, QPR, winning their game, the Reds were in second place. To clinch the title, they had to beat Wolves. However, in the 13th minute of the game, disaster struck when Steve Kindon put the home side in front.
For Neal, a second successive season of disappointment beckoned, but failure was unthinkable. The atmosphere surrounding the title decider had been incredibly tense, the air thick with anticipation and expectancy.
Tales of tens of thousands of Liverpool supporters making the journey have long since passed into folklore. There were so many of them inside the ground before kick-off that they encircled the pitch, with many sitting on the ground behind the goal. Phil Thompson would later tell of how scores of Reds marched through the home dressing room as they made their way into the ground. A vast sea of Scouse humanity, desperate to see Paisley win his first league title.
Neal couldn't take his eye off the clock as the minutes ticked away, convinced that Liverpool would miss out once more. He would wait until the final 15 minutes of the game before Keegan opened the floodgates. His strike prompted wild celebrations and pitch incursions, but when John Toshack and Ray Kennedy added a second and third, the players and the pitch would be swamped with Reds supporters.
The league title was won, and although he would be denied a lap of honour by those jubilant celebrations, Neal had arrived as a Liverpool player. In just over two weeks he would add a UEFA Cup winner's medal to his championship one, as the Reds completed a two-legged 4-3 victory over Club Bruges. He had now firmly cemented his place in Liverpool's all-conquering team of the '70s.
Unbeknown to him and his growing army of supporters though, he had now embarked on an epic run of consecutive appearances that will surely never be bettered. Between October 1976 and September 1983, Neal would play an astonishing 417 games without interruption. An injury in a match against Man United would see him out of the squad for a few matches, before he would return, making a further 127 appearances in a row. That's just three games missed out of a possible 544.
To put this into context, Neal went six whole seasons without missing a single game. In total, he turned out 650 times for the club and in the process would become Liverpool's most decorated player, winning 16 major honours for the club. His astonishing trophy haul would include eight league titles and three European Cups.
Known for his ability to get forward and set up attacks, Neal would also net 59 times for the Reds, earning him the nickname, 'Zico,' with Kopites comparing him to Brazil's goalscoring defender of the same name. It was a tribute that wasn't lost on the full-back.
"I'd like to thank the fans for the nickname they gave me, Zico!" he would later say. "He was a great Brazilian player and they started calling me by his name at a time when I was playing particularly well I guess and scoring goals – eleven I think in one season. But it was really down to them that I was roaring along because they gave me so much support and confidence."
Nothing will stop Neal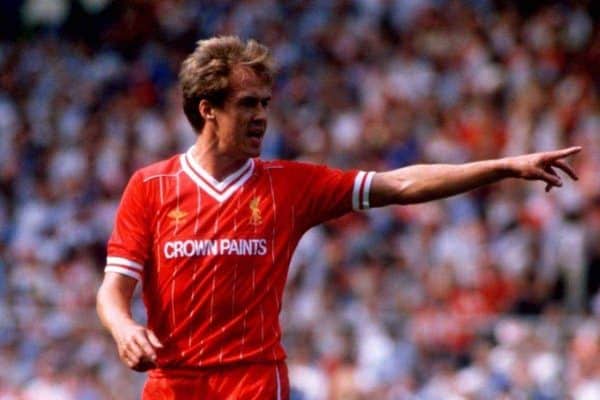 For football supporters of all persuasions, heroes are often strikers or supremely gifted flair players. They are rarely right-backs. However, when it comes to commitment to the cause, talent, consistency and sheer desire, there is nobody who comes close to Neal.
This desire would see him play through significant injuries, including a fractured cheekbone and a broken toe. His bravery would of course never be allowed in today's game, but for any player in Paisley's Liverpool team, missing a game through injury could spell the end of your Reds career. In an interview with lfchistory.net, he describes the lengths he went to avoid such a fate:
"There were two occasions when I could have missed a game. One was when I got a fractured cheekbone. Roger Davis the centre forward at Derby gave me an elbow […] Bob Paisley came to me on Wednesday and said: 'How are you feeling?' I said: 'I'm ok. I'm over the operation and everything else.' I chose to play against the specialist's wishes who said that I shouldn't play for a month.
"I got away with it. I got over a broken toe, but I had to play for six weeks with size eight-and-a-half on one foot and size seven on the other. Ronnie Moran made me a plaster cast on the little toe I had broken. It was uncomfortable with my normal-size shoes. I had to find some way to be still able to kick a ball, tackle and maybe have a little injection to keep the pain away for 90 minutes. There were little incidents when I could have missed a game but I was doubly determined not to."
For those of us who worship Liverpool from our seats in the stadium, in the pub or from our armchairs at home, nothing short of death would stop us from grabbing every opportunity to pull on that shirt and play for the team. We want and hope that every player feels that way too.
In Phil Neal, Liverpool supporters had that for 11 years.