In the aftermath of a second-placed finish in the Premier League, seven points adrift of Arsene Wenger's Arsenal, Liverpool set off on a French revolution of their own throughout the summer of 2002.
At the time, the club already had a large French contingent led by manager Gerard Houllier, who in the season prior had faced a health scare which put him out of action for five months as Liverpool rose off the back of the treble-winning season in 2000/01.
Bernard Diomede, Djimi Traore, Gregory Vignal, Pegguy Arphexad and – for a fleeting six-month period in the latter half of the 2001/02 season – Nicolas Anelka were the French cohort flying the flag at the club.
They were, by and large, seldom used, albeit there was evidence to argue that Anelka's loan spell from Paris Saint-Germain should have been made permanent.
The squad was in decent shape heading into the new season but did need sharpening, particularly in midfield and in the wide positions.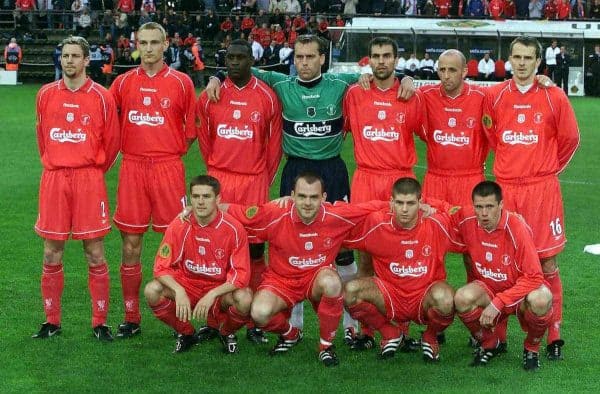 Defensively, Stephane Henchoz and Sami Hyypia were in the throes of their fantastic partnership, while John Arne Riise and Jamie Carragher provided plenty of quality on the flanks.
Steven Gerrard, naturally, was beginning to emerge as a phenomenal central midfield player, and Michael Owen and Emile Heskey were coming off a fine season together, with a combined 42 goals.
But there was a shortfall in quality as the squad deepened.
Vladimir Smicer and Milan Baros were decent if unspectacular, while Patrik Berger had a number of recurring injuries which ate into his game time.
Dietmar Hamann and Danny Murphy were great in midfield and were fine complements to Gerrard, but depth certainly was needed to carry the team through a league and European campaign.
Houllier and the board set ahead to fix these issues.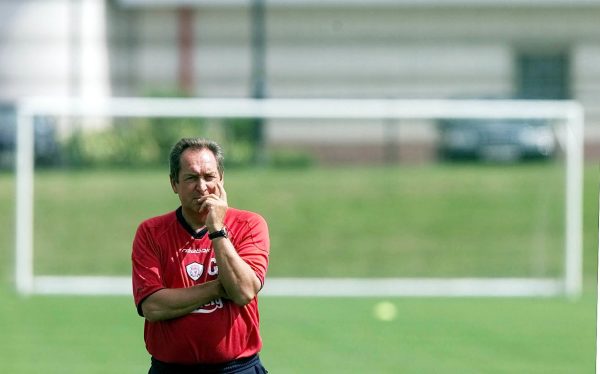 El Hadji Diouf and Salif Diao, who would become stars at the 2002 World Cup that summer with Senegal, joined from Ligue 1.
Bruno Cheyrou signed from Lille following a 15-goal campaign, expected to replicate that on Merseyside.
Alou Diarra was a combative midfielder with comparisons to Patrick Vieira, who had just lifted the Premier League title for Arsenal, and the hope was he would go on to perform a similar role for Liverpool.
Ultimately, the new signings would be burdened by impossible comparisons, high expectations and, sadly, a distinct lack of quality in one of the most underwhelming transfer windows of that era.
The World Cup maverick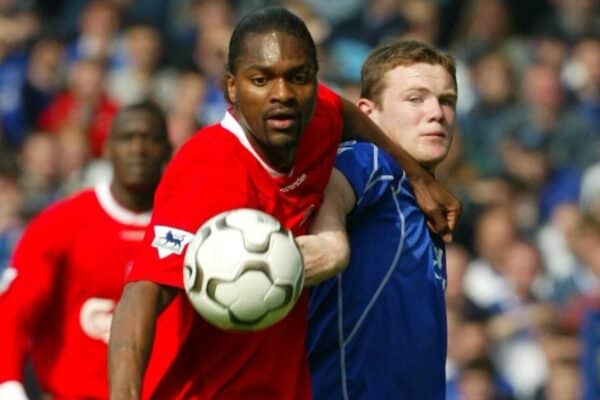 With the World Cup about to kick off in Japan and South Korea, Liverpool had already secured the services of little-known Salif Diao from French club Sedan for £5 million.
It would give Liverpool fans the chance to get an early glimpse of the 25-year-old – who had also helped the Senegal national team to runners-up in the Africa Cup of Nations earlier in the year – in action.
When Senegal defeated reigning champions France on the opening night of World Cup, Liverpool fans couldn't believe their luck.
Diao was a vital cog in the midfield engine of the team alongside the late Papa Bouba Diop, hassling and harassing the French class of Vieira and Emmanuel Petit.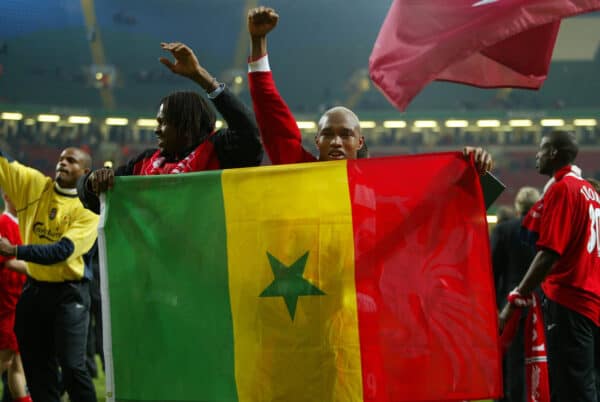 It was a World Cup stunner on day one, as Senegal – who weren't given a hope in hell against the might of France – landed the huge result that saw them bouncing into their second game against Denmark, one which gave Diao a busy afternoon in the Daegu sunshine.
He conceded a 14th-minute penalty which Jon Dahl Tomasson converted, but then struck back with a rare goal of his own in the second half.
Having started the move deep inside his own half, Diao belted 70 yards into the box to pick up the end of the move and slot home the equaliser.
It was an amazing goal that wouldn't have looked out of place in a Gerrard highlight reel. Sadly, it would never be replicated in a red shirt.
Later into the game, Diao saw red for a second bookable offence – a nasty, studs-up tackle.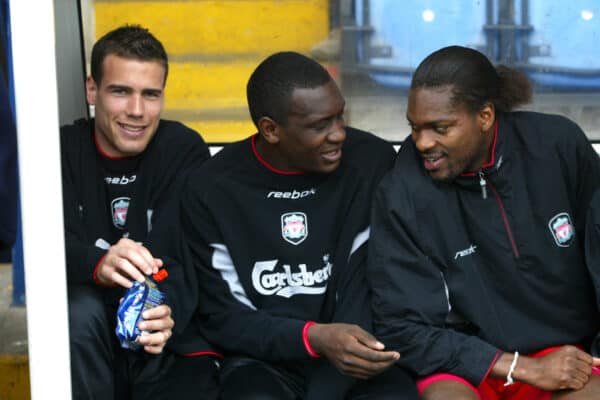 Diao's Liverpool career was far more uneventful than the World Cup had teed up.
Playing largely a rotational role in midfield and a utility role elsewhere, popping up at full-back and centre-half, he never really got going at the club and never fitted Houllier's plans, nor Rafa Benitez's.
A couple of loan spells sent him to Birmingham and Portsmouth, before finding a permanent home at Stoke where he went on to spend six seasons, including four in the Premier League, then retiring.
Houllier's 'Zidane'

Another pre-tournament arrival was that of Bruno Cheyrou from Lille.
The 24-year-old was arguably the biggest disappointment from this crop given his ridiculously lofty comparisons to none other than Zinedine Zidane.
Sadly for Liverpool, Zidane was embarking on the World Cup with France while Cheyrou – who had scored 11 goals in Ligue 1 the season prior – was nowhere near selection.
The lofty association with the Real Madrid superstar set up inevitable disaster for Cheyrou, especially as it came directly from his new manager.
Speaking at his introduction, Houllier was quick to laud Cheyrou:
"Bruno has got great skill, good vision and an eye for the pass.

"I don't make comparisons with Zidane lightly and I believe he can become an important player for Liverpool.

"Bruno has the same kind of touch and style that Zidane has. There's a lot of similarities between the two when they're on the ball."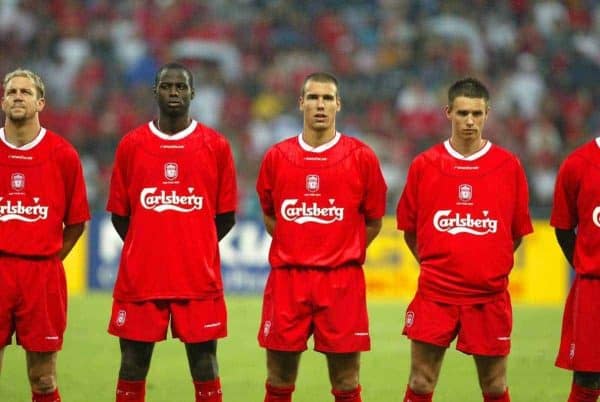 He would go on to caveat that with the fact that Cheyrou would need time to adjust to the Premier League, something which he failed to do.
Two seasons and just two league goals later, Cheyrou was shipped back to France with loan spells at Marseille and Bordeaux, before joining Rennes permanently on a free – providing no returns whatsoever for his initial £4.5 million fee.
The forgotten man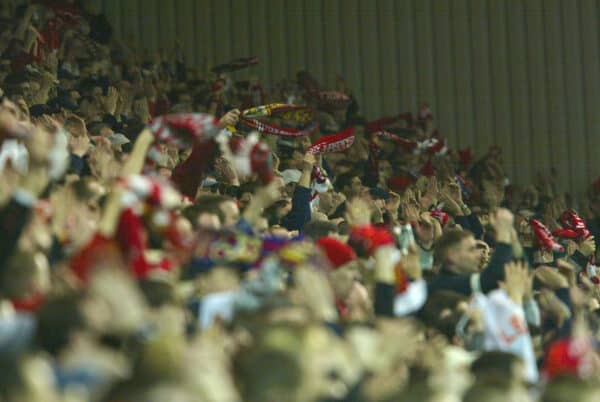 The addition of Alou Diarra from Bayern Munich would prove to be the least impactful out of any on this list, which would be largely frustrating in retrospect.
The Frenchman joined on a free transfer from the German club having thus far failed to make the grade in the Bundesliga.
Still just 21, there was plenty of scope for improvement, and with comparisons to Vieira due to his long frame and combative style in the middle of the park, hope was high.
Strangely, Diarra was immediately loaned out following his arrival at Anfield, and went on to spend the next three seasons in Ligue 1 with Le Havre, Bastia and Lens.
In the early comings of the 2004 season, Diarra was named by Raymond Domenech in the French squad and made his debut as a second-half substitute against Ireland in October.
Now a full international, Benitez would not rule out a future for Diarra, saying: "I think it's still early days for him, but it's good news for us to see a young player doing so well.
"If he continues to play well for his club and is in the national team, we will be reminding everyone he is our player."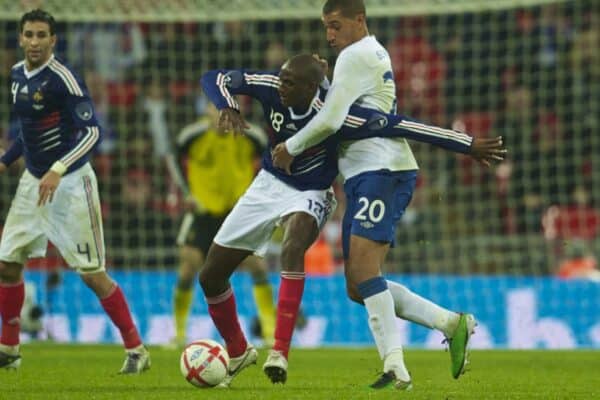 Unfortunately, Diarra wished to make his Lens move permanent and left in the summer of 2005.
He went on to have a fine career in French football, mostly at Bordeaux, tagging on a total of 44 caps for the national side and earning selection for the 2006 and 2010 World Cups.
It would be a case of 'what if' for Diarra.
Had he been given a chance to play at Anfield he could have put some shine on that summer's cohort, but he departed the club without a single appearance.
The villain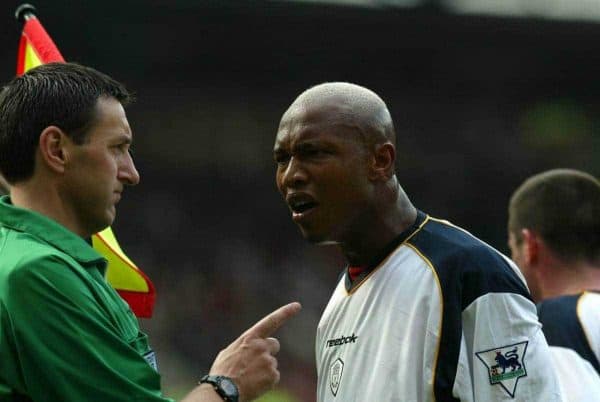 Just as El Hadji Diouf was leading Senegal through an incredible 2002 World Cup campaign, Liverpool were negotiating a transfer with Lens in the background.
They eventually struck a deal of £10 million for the 21-year-old, as the club seemed to show great forward-planning by bringing in a player whose stock was on the immediate rise.
It was Houllier's biggest outlay since bringing Emile Heskey to the club, so expectations were high.
Although his scoring prowess hadn't matured, there was hope that Diouf could slot alongside Owen and Heskey and contribute goals and quality in forward areas.
Alas, as has been well-documented, Diouf is often plugged near the top of any list that involves recounting Liverpool's worst-ever signings.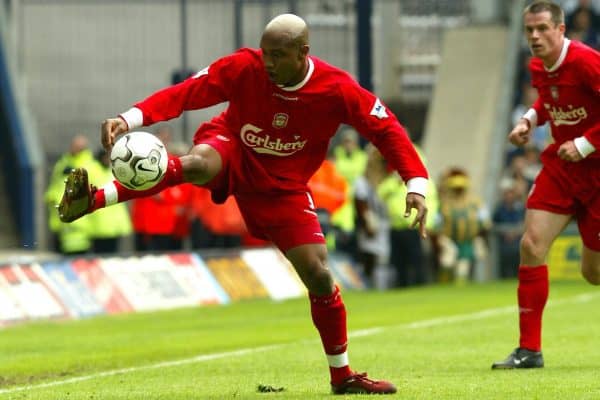 The striker struggled to find the net for Liverpool and he became more known for his spitting antics than effort on the field.
An incident against West Ham was brought to Merseyside police but later dropped, while he was fined and banned for spitting at Celtic fans during a UEFA Cup quarter-final.
Two seasons and six goals later – only three of which came in league action – Diouf was offloaded to Bolton where his controversies continued.
He'd go on to have a journeyman career throughout British football with Sunderland, Blackburn, Rangers, Doncaster and Leeds, but will always be remembered for his miserable spell at Liverpool and the disdain with which he is met by fans.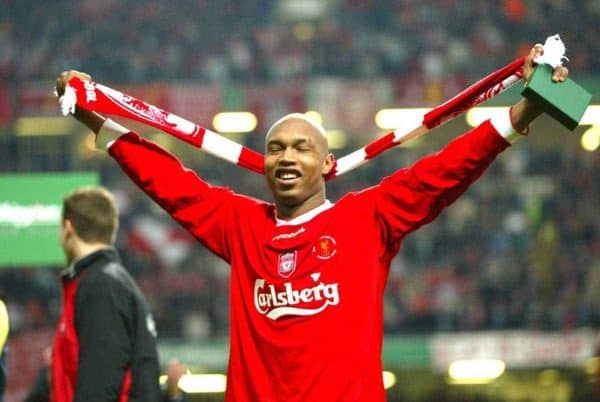 On the back of that four-pronged French raid, Liverpool slipped to fifth in the league and failed to get out of the group stage in the Champions League.
A League Cup victory did, however, add some shine to what was otherwise a very disappointing campaign on Merseyside.
The most expensive addition of that 2002 summer proved to be the one that had the most lasting impact at Liverpool, but for all the wrong reasons.
Diouf's demise perhaps best sums up what proved to be a failed transfer strategy.