Jurgen Klopp described Liverpool's 0-0 draw with Chelsea as a "little step," with a tweak in Cody Gakpo's No. 9 role helping keep a clean sheet.
"A mid-table clash that felt like a mid-table clash" was the verdict on Saturday's Anfield draw. It was a result that kept the narrow win over Wolves in an FA Cup replay as the Reds' only victory in the month of January so far.
Yet despite coming off the heels of limp defeats to Brentford and Brighton, and a lucky escape in the first Wolves game, the stalemate at Anfield showed signs of improvement.
Klopp said recently that "confidence is like a little flower," admitting "in our situation you want to get confidence back to build on it."
Getting a second consecutive clean sheet is a great way to start, and it came as a result of some interesting tactical developments.
Digging into this shows that Liverpool are getting more secure when they don't have the ball – and there are some steps to take to improve when they do.
"When the timing in our defending is not perfect, then we leave a gap open"

Much has been written about Liverpool's issues off the ball this season – not least by this writer – but let's start by warding off some lazy punditry and understanding the basics.
One of the first principles in football is that, when the opponent has the ball, the defending team should be as narrow and compact as possible. When that team then gets possession of the ball, they should spread out and make the pitch as big as possible.
This constant transition between contracting and expanding helps teams to manipulate both the ball and the opposition to their advantage.
When a team actively presses the ball, it creates gaps in their shape. Successfully stealing the ball or forcing a mistake means the pressing team can attack while the opponent is spread out (and therefore vulnerable).
But if the opponent plays through the press, those gaps leave the pressing team vulnerable.
Liverpool's press for several seasons was so effective that usually teams could not play through it, despite knowing that it was coming.
The word "usually" is there because this occasionally didn't go to plan, whether it be the 3-0 defeat to Watford during the title-winning campaign or the 7-2 against Aston Villa in 2020/21.




Liverpool's defensive struggles this season have been blamed on intangible factors, such as players losing their hunger or Pep Lijnders' book giving away secrets.
But these earlier examples show that the system has always been high risk, high reward. On the rare occasions it failed, it did so spectacularly.
While Liverpool have undoubtedly underperformed this season, teams have also been smarter about how they deal with their press.
Brighton's habit of 'baiting the press' before progressing the ball through midfield allowed them to create 'artificial transitions' that sliced Liverpool apart.




With Liverpool caught in a vicious circle of poor performances and low confidence, something had to change.
"In a lot of moments, really compact, really together, good challenges"

The approach versus Chelsea at Anfield showed that lessons had been learned from the Brighton defeat. The experimental shape used at the Amex was ditched, instead lining up in a 4-3-3 from the kickoff.
In a sign that perhaps Klopp reads 'This Is Anfield', Liverpool pressed with a similar structure to the 1-0 win over Man City.
Klopp described his use of Gakpo as "kind of a Bobby Firmino role, if you like." But while Chelsea's defenders had clearly been instructed to bait the press, Gakpo had clearly been instructed not to take the bait.



With Harvey Elliott and Mo Salah on the wings, and all three midfielders participating in the midfield block (rather than the usual tactic of pushing one into the forward line), Chelsea were forced into playing long balls over the press rather than trying to go through it.


Liverpool's defending at set-pieces remained shaky, which provided Chelsea's best chances of the game. But in open play, the shape was much more compact and much more effective.
"We didn't create an awful lot of chances, but we had them"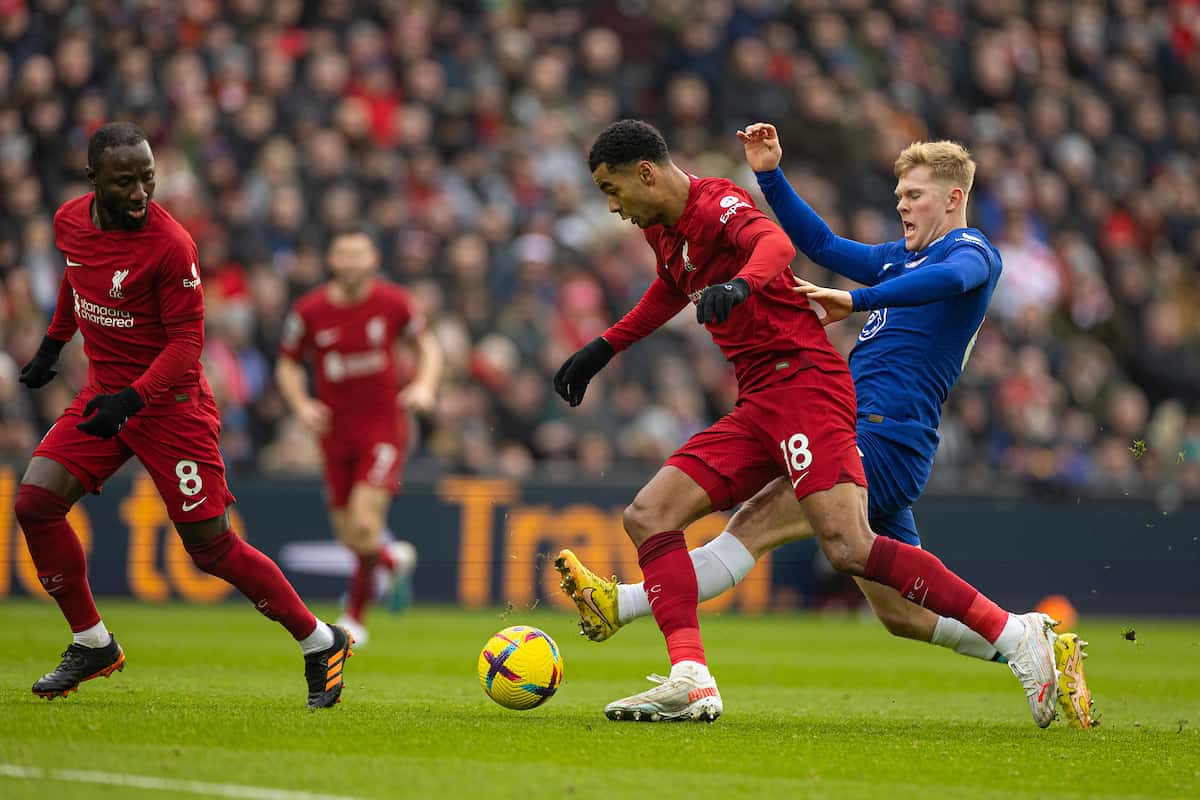 Since narrowly missing out on the title in 2018/19, Liverpool have evolved their in-possession approach – becoming more comfortable dominating the ball and unlocking defences rather than relying on counter-attacks.
A combination of quick, short passes and dynamic movement gradually pulls defences apart, eventually creating an opening.
This works by defying the general principle of spreading out in possession, instead coming short to exchange passes and tempt defenders out of position.
The absolute gold standard for this was Liverpool's stunning second goal in the 4-0 demolition of Man United at Anfield last season…




Before the Chelsea game, Klopp discussed his selection of Thiago and Naby Keita in midfield, describing them both as "not famous for sprinting a lot" and "exceptional in tight spaces."
The tactic of pulling defences apart with short passes plays to this strength, and also means there are bodies around the ball to counter-press if needed – reducing the chances of long-distance sprints.
This is partly why Liverpool's midfield has looked more compact in the recent clean-sheet performances.
Unfortunately, there have also been too many stray passes and not enough dynamic movement when in possession.
In the last two games, Liverpool have had less than 50 percent possession, despite being at Anfield for the Chelsea game. The home side also played 134 passes that failed to reach a red shirt, accounting for 25 percent of all passes attempted.
Time and again Liverpool gave up promising positions by either misplacing a pass or making the wrong decision.




With players like Darwin Nunez and Diogo Jota out of the starting lineup, Liverpool also lacked the kind of runs off the ball that complement this approach.
It's telling that even if the above example had resulted in a one-on-one, it would have been Liverpool's left-back shaping to shoot.
"We have to build on stuff"

Post-Chelsea, Klopp described the clean sheet as "a small step."
After conceding six goals in two games against Brentford and Brighton, it was vital that Liverpool sort out the defence. They duly turned in two improved performances and two clean sheets.
With that as a base, and attacking players due to return from injury, the Reds now have the opportunity to work on their attack.
Provided they can avoid stamping on their budding confidence flower, the next little step should be scoring the goals that turn clean sheets into victories.