There was much frustration regarding Liverpool's misfiring attack against Chelsea, but are the Reds' top-four hopes over?
It was another match to forget on Saturday afternoon, as Jurgen Klopp's side played out a dull 0-0 draw against the Blues at Anfield.
This is a shadow of the Liverpool team who so nearly conquered all four competitions this season, with the same issues on show every week.
Here, Henry Jackson (@HenryJackson87) is joined by Adam Beattie (@beatts94) and Rory Greenfield (@RoryGreenfield) to discuss the Reds' attacking woes and their Champions League hopes.
Early thoughts on Gakpo?

RORY: Gakpo has endured a challenging start to his Liverpool career, snatching at shots, being easily disposed and generally looking lost, so I understand why some are doubting if he's the right fit at the club.
Liverpool supporters are used to attackers making a near-instant impact, most notably Diaz, who was electric on arrival and was a key reason for Liverpool competing for four competitions last season.
The difference with Gakpo is twofold.
Firstly, he's coming into a Liverpool side whose confidence is shot and whose trajectory is spiralling – the exact opposite of 12 months ago.
Secondly, Gakpo is a different type of attacker to others in the squad, more comfortable in a supporting role than a focal point and it shows.
With Nunez returning, it should allow Gakpo to play his natural game, but it's clear to see he's not going to prove to be a saviour for a struggling attack.

ADAM: I agree with Rory that it's been a tough start for him, but I don't think he'd have got anywhere near this amount of minutes had it not been for the injuries.
We know that Klopp likes to take a look at players and give them time to bed in before making them a permanent fixture in the side, and unfortunately for Cody, he's been thrown in at a really difficult time and asked to quickly become a hero.
That said, he looked poor against Chelsea, as most did, and I was really surprised to see him stay down the middle when Nunez was introduced.
I would've liked to have seen Gakpo on the left and Nunez as the centre forward, but those decisions remain down to the manager and I'm still very thankful that is the case.
HENRY: It's silly to be too critical of him so early, but we do also need more from him.
At the moment, Gakpo certainly doesn't look to possess the x-factor of a Diaz – I'll be honest, I thought he was quicker than this!
But he's in a struggling team and is being played out of position at times, so I would only fully judge him once everything has clicked again.
The only Liverpool player to score in our last four league games is Oxlade-Chamberlain: where are the goals?!

ADAM: Not only are we short of goals, but we also aren't offering any encouragement that things are about to change.
The system looked a bit thrown together against Chelsea and the team played as if they didn't know each other.
The only hope we've got is that when these injuries do dry up we can return to some sort of normality in front of goal, but as of now I'm not sure I can say that with any degree of confidence.
We shouldn't be relying on Elliott to play wide left, or indeed out of position at all, and it really exposes the lack of solid options we've got going forwards at the moment.
Short answer: I've got no idea what a Liverpool goal looks like at the minute, and I don't know where the next one is coming from.

HENRY: I'm with Adam – playing Elliott on the left made no sense at all and predictably didn't work.
He doesn't have the pace to go on the outside on that flank, with cutting in from the right far more effective, and it made life easy for Chelsea's defence.
Liverpool have gone from being Europe's most cohesive attacking unit to looking like a bunch of strangers, regardless of the personnel.
A lack of service doesn't help, of course, but there were times yesterday when there was a horrible lack of movement, while the level of finishing is leaving a lot to be desired.
They look as toothless as Everton in the final third, which is about the most damning thing I can say!
Five games without a goal or assist, what's wrong with Salah?

RORY: He carried Liverpool's attack at times last season, but sadly as with others of late, appears to be overthinking things that once came naturally.
Salah works best on instinct – his dribbling has always been erratic but his pace, strength and sheer determination saw him terrorising defences time and time again.
He looks flat, scared to commit and a shadow of the player we all know, but he's far from alone.
Klopp will be hoping Jota, Firmino and Diaz return with a bang, because it's hard to see where the goals are going to come before then.
Darwin returning will help to create chaos, but nobody right now appears confident to capitalise.
ADAM: The best example of Mo's struggles came midway through the first half.
He picked the ball up just inside the box and a fully confident, in-form Salah tries to shimmy past Cucurella from there before bending one into the far corner.

Instead, without even entertaining the possibility of taking on the defender, he took the shot from an almost impossible angle and didn't give Kepa anything to think about.
It is indicative of the entire squad at the moment, it feels as though no one truly believes in their own ability and Salah is perhaps struggling as much as anyone in that regard.
HENRY: When Mo isn't finding the net, you know there are problems!
In truth, I don't actually think he has been remotely close to his best since last year's AFCON – he battled his way through the second half of last season but looked exhausted.
At 30, there are concerns that he has simply peaked as a footballer, but he is a physical machine and I expect this to be nothing more than a (slightly long-term) slump.
He does clearly look less of a threat, though, and some of his decision-making and final balls are not indicative of the world-class player that he is.
To be honest, I think there are far bigger problems than Salah right now. He will be fine.
Ten points behind Newcastle and Man United now, are Liverpool's top-four chances done?

RORY: This side needs something to change – a performance where it suddenly clicks and the players remember the quality they have.
As the game wore on, there were no signs of a winner coming. The more changes Liverpool made, the more disjointed they became.
As the full-time whistle blew, I was left wondering what's next. In the past, you'd have backed a Klopp side to go on a run until the end of the season, right now you're left questioning when the next win will come.
ADAM: Newcastle dropping points was a bonus, but we really aren't helping ourselves with these performances and the number of teams who are in with a sniff means that we have left ourselves with more to do than we seem capable of.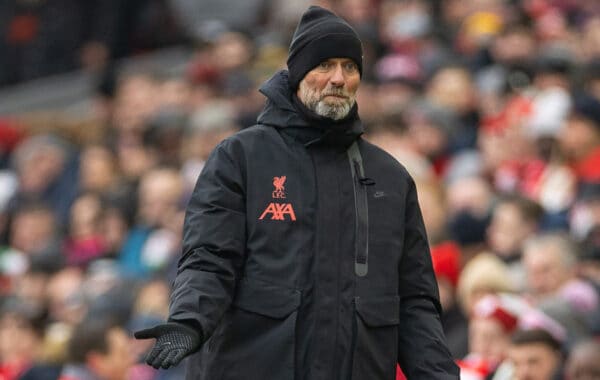 It is night and day from the side we saw last season and I struggle to see a route home for us that sees us finish above Newcastle and United, which is a depressing thought with so much football still to play.
The result in isolation isn't the end of the world, but we didn't show anything to indicate that we've overcome our recent struggles, and perhaps we took more from the showing at Molineux than we ought to have.
Being 10 points behind Newcastle is not what we bargained for after a season in which we very nearly won the lot.
HENRY: I've been optimistic that we'd get top four even during our struggles, until now.
The last few games have me think that Liverpool now need a miracle, because it's just impossible to see them rattling off five or six wins in a row.
Not only that, but Newcastle and United are looking strong and consistent currently. They look fairly nailed-on for third and fourth.
Granted, I thought the same in 2020/21, and we won eight and drew two of the last 10, with Phillips and Williams at the back, but this team feels broken at the moment.