Andy Robertson is one of six players in Liverpool's leadership group, with the Scotsman dishing the dirt on some of the fines that have been handed out to his team-mates.
Jurgen Klopp and a number of Liverpool's players have spoken of the fines system at the club in the past, with punishments handed out for wrongdoings such as having phones out during team meals and being late for flights.
Jordan Henderson and James Milner are the two players who Robertson says "make a lot of decisions," taking responsibility for handing out fines.
Speaking on the latest episode of the We Are Liverpool podcast, Robertson also revealed how Diogo Jota can be "a horrible man" when it comes to catching people out!
"There were a couple of silly ones in pre-season," he explained.

"In pre-season, because you're together for so long, people turn ruthless.
"Jota is a horrible man when it comes to fines! He is there waiting for the clock.
"We have this argument, say the bus is meant to leave at one o'clock, if you come 15 seconds late, are you late or are you not late?
"So me and Milly say you're late, because you're meant to leave at 13:00.
"If you show up at the game at three o'clock and 20 seconds in, you're late for the game aren't you?
"But I think some of the foreigners aren't too happy with that. They say as long as it's three o'clock on the clock then they're still in time."
Robertson also lifted the lid on Liverpool's leadership group, something Klopp introduced early into his time at the club.
There were previously only four players in the group, with that number expanding to six after Gini Wijnaldum's departure.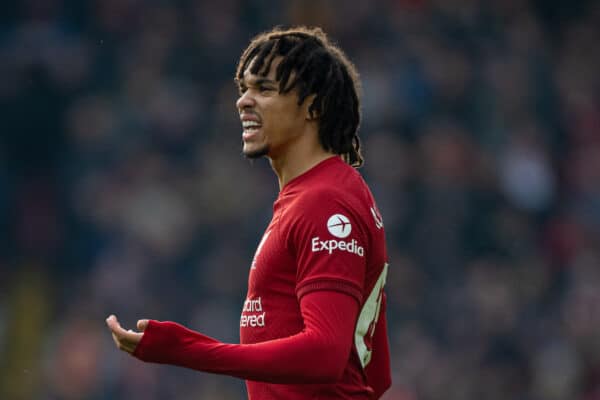 Despite only turning 24 last October, Trent Alexander-Arnold is one of the players who was voted into the group, but Robertson says that should not come as a surprise.
"Hendo, Milly, Virg, me, Ali, Trent, that's it," Robertson revealed.
"We had four. We had Hendo, Milly, Gini and Virg, and then Gini left and the gaffer wanted three more in, and the whole squad voted and we were the three that were voted in.
"Trent's obviously still young, but he's also a leader in every way. Every young lad that comes up to train with us looks at Trent and thinks 'I want to follow his career path'.
"Everyone in the youth academy looks at Trent. He's the poster boy for the academy.
"He sets standards. The way he goes about his business, the way he plays, his attitude, his mentality.
"If I'm a young lad and I'm coming through the academy, he's a perfect person to look at. The way he conducts himself off the pitch as well. I think a lot of the lads do look at that."
The leadership group are consulted by Klopp when making a number of decisions, with Robertson using last year's end-of-season parade as an example.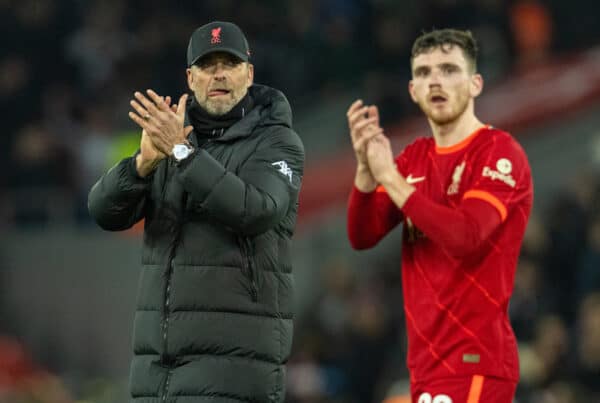 "The parade was one last season," he said.
"The manager took in the leadership group and said 'I think we should have a parade, what do you think?', and we all agreed.
"We all have different ways of leading. Hendo can carry the team, Hendo can look after everyone, that's always been the way. Milly can demand standards, Milly can give you a rocket if you need a rocket in a nice way.
"Virgil's always commanding at the back, he can talk. I can help the lads out, I can help the younger players.
"Trent's maybe a bit more new to it."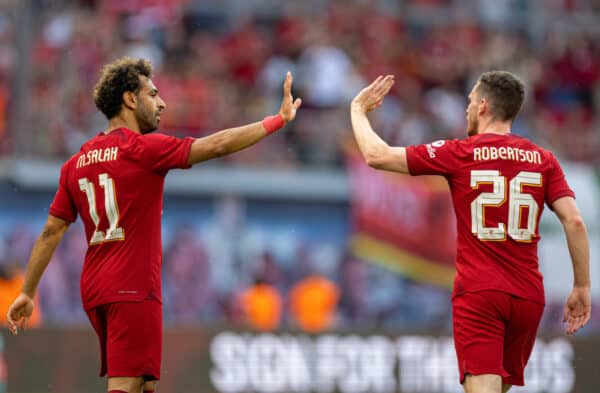 One player who is not part of the group is Mohamed Salah, but Robertson says the Egyptian does not need to be included for his leadership skills to have an impact on the rest of the squad.
"Mo has a say anyway," he added.
"Mo's the leader of his country. That's the benefit, we've got so many captains.
"When Sadio was here he was captain as well. You have international captains. Mo's one of the biggest leaders in our changing room without being in the leadership group.
"He helps us all. He sets standards by being one of the best players in the world."