There was a cutting and unforgiving chill at Anfield on Saturday afternoon that wasn't exactly balanced by much warmth being omitted from the performance on the pitch.
One step forward at Wolves in the FA Cup, it was one step to the side against Chelsea in a Premier League game that looked suspiciously like a turgid midtable goalless stalemate to the naked eye.
Eighth position, ten points adrift of the Champions League places, sat behind luminaries such as Fulham and Brighton, missing our alpha central defender, labouring without a glut of attacking talent, and too many players struggling for consistency, halfway through our Premier League campaign and we can only hope that it will prove to be a season of two halves.
Inconsistency continues to dominate Liverpool's landscape. 19 league games in and we have failed to win in three more games than we have won, and if you remove the mirage of a 9-0 victory over Bournemouth from our list of results, then our goal difference would reside at an unimpressive 0.
If Jurgen Klopp and his team were to be handed a midterm school report the synopsis might not quite be threatening 'see me' territory, but it would undoubtedly sit in the 'must do better' category.
It wasn't that Liverpool did much wrong on Saturday, and to be fair errors were at a premium, but there was a distinct lack of compelling forward propulsion.
Liverpool's conservative approach

This was a risk-free approach, but I get why. Just one point now from the last nine available to us, and confidence is still something to rebuild, rather than put on the line.
We worked hard across the pitch against Chelsea, and it was wonderful to see James Milner, Stefan Bajcetic and Naby Keita rewarded for their efforts at Molineux in midweek, leaning into Klopp's insistence that he isn't too loyal to other players.
The easier, safer, more predictable option would have been to bring Trent Alexander-Arnold (although he had been injured), Fabinho, and Jordan Henderson back into his line-up for this one.
While Milner can't defy his age for much longer and Keita's future surely lies away from Anfield, without playing as well as he can, Bajcetic will have taken a huge step forward in his development on Saturday. A game where he started impressively before being increasingly constrained by the yellow card he picked up, noticeably becoming more reticent in making interventions he would have done if not fearful of a second yellow. As learning curves go, this was an invaluable one for him.
Bajcetic's selection ahead of Fabinho was a ringing endorsement of his potential and abilities, while it also acted as a clear message to the Brazilian that he will need to return to the peak performances of his past to fend off the threat of the Spanish teenager.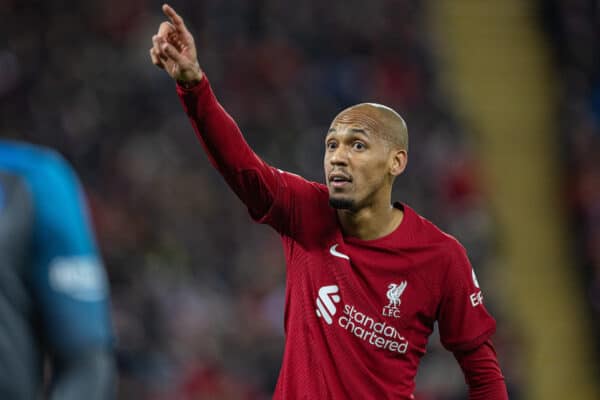 In a world of us craving new midfield recruitments, it is worth celebrating that we already have one component that can play an integral part of this much hoped for renewal.
The second half of the season
As the second half of our Premier League campaign begins (well, in two weeks' time – again against Wolves), there is comfort to be taken from the enveloping cold.
Of the ten games we will face on our travels, only three – or arguably two – of them will be up against teams with league title or Champions League aspirations behind their efforts; Newcastle, Man City and Chelsea.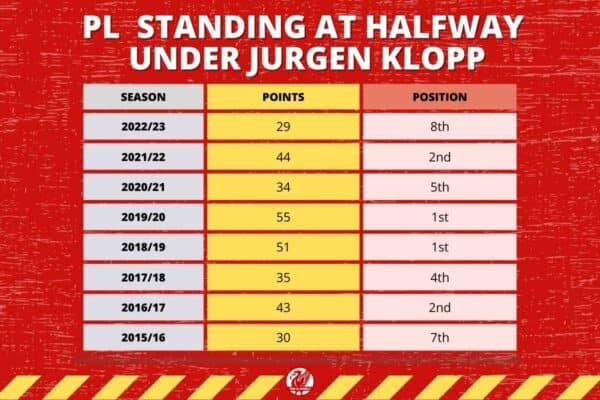 Meanwhile, at Anfield, for our sternest challenges, we will host Man United, Arsenal, and Tottenham, with the added needle of a Merseyside derby.
The visit of a bouncing Fulham, and towards the final acts of the season, Brentford and Aston Villa – who, with four months to go will be looking at the league table and feeling like European qualification is not exactly beyond them, although I wouldn't bet against those dreams having dissipated by the time May rolls around.
Not in a pleasing situation at the turn of the league season by any means, Liverpool's destiny can still be moulded within their own hands.
Klopp described Saturday as a small step forward, but we will need to start taking some bigger strides forward if we are to bridge the widening gap to a top-four finish. We are a team that can get its shit together as abruptly as it can lock itself into reverse, and we will need to get our shit together pretty rapidly.
As things stand, three of our next four league fixtures are on the road, and we have only one home league game this side of March, that being a Merseyside derby – which you know all too well probably has 0-0 written all over it. No matter how abysmal our blue cousins might be, you just know that they will arrive at Anfield with Sean Dyche as their newly appointed manager.
Beyond that, our next visitors will be the team from Old Trafford. These represent two opponents that are heavily invested in our misery.
Now faced with a fortnight off from league duties, Liverpool are handed plenty of thinking time, just at a juncture when we are in danger of overthinking our predicament.
On one hand we need to deal with football one game at a time, but on the other, the bigger picture can't be ignored either.