Jurgen Klopp will be aggrieved at the fact his side have to play a replay in the FA Cup but his side never felt deserving of edging the 2-2 draw against Wolves.
A strong XI from Jurgen Klopp, but there were similar issues from the start as Liverpool again conceded first and gave themselves it all to do. Did we mention, again?
Frustration was growing as the Reds' vulnerabilities were clear to see, one breakaway from Trent Alexander-Arnold gave a timely lift, though, as Darwin Nunez levelled the scores at the break.
Mohamed Salah, as he often has, was the one to edge his side into the lead with a strike that moved him seventh in the club's all-time goalscoring charts.
But it didn't last long as Wolves scored another comical goal to level the scores, and fans continued to question where the intensity, desire and midfield was.
With a replay now required, here is how fans reacted to the result and performance…
Midifeld, intensity – Where is it?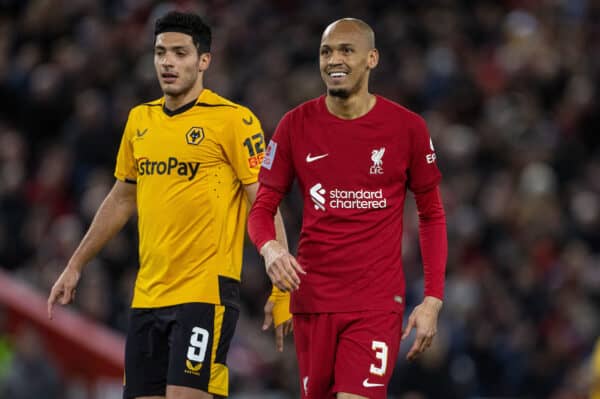 A new midfielder isn't going to solve all that is amiss with Liverpool right now but the personnel and the system currently in use was again in the spotlight, as too was the lack of intensity:
If we aren't bringing in a midfielder this month, we need to bin off using 4-3-3.

— Sam McGuire (@SamMcGuire90) January 7, 2023
The midfield is the issue, no matter how you spin it. The system isn't helping, but fundamentally it's too slow and weak.

Yes the intensity isn't the same in attack without Mane, but you can adapt to that. The defence would look far better with some basic protection too.

— Rory Greenfield (@RoryGreenfield) January 7, 2023
Your best three midfielders doesn't necessarily make your best midfield.

— Phil Blundell (@PhilBlundell) January 7, 2023
The very idea that we won't sign a midfielder is negligent. Owners/Klopp/Ward or whoever need to pull their fingers out and sign one. We've got no legs in there at all. Hendo's goosed, Thiago can't constantly get back and Fabinho's fallen off a cliff.

— Ste Hoare (@stehoare) January 7, 2023
Yet another goal conceded from a team being allowed to waltz through a Liverpool's midfield completely unchallenged.

— Joel Rabinowitz (@joel_archie) January 7, 2023
Not an ounce of defensive intensity in this Liverpool team and it doesn't change whatsoever

— Danny Corcoran (@calcio_danny) January 7, 2023
This goal is a perfect snapshot of Liverpool's issues this season. An outball not sticking and then being walked back through a non-existent midfield, leading to an opportunity for the opposition. https://t.co/oQW8mWGXVX

— David Lynch (@dmlynchlfc) January 7, 2023
You don't want to exaggerate, but Liverpool need nine midfielders. Three starters, three back ups and three for spare parts and intangible dressing room morale raising craic.

— John O'Sullivan (@NotoriousJOS) January 7, 2023
A future glimpse…

In saying that, target Matheus Nunes caught the eye after coming off the bench for Wolves, showing what Liverpool ARE missing:
Matheus Nunes showing Liverpool exactly what they're missing in midfield. Rolls Royce. Press-resistant, bundles of energy, confidence & guile on the ball. Has exposed Jurgen Klopp's rusty-looking engine room since entering the fray & taken Wolves to another level.

— Ryan Taylor (@RyanTaylorSport) January 7, 2023
https://twitter.com/SamMcGuire90/status/1611841055963357187?s=20&t=3PvrpVw4meeQ1g6kAMxvkA
Almost a dress rehearsal for Matheus Nunes, this.

— Stephen Killen (@_StephenKillen) January 7, 2023
Painful watching Matheus Nunes make mince meat of Liverpool's midfield there knowing Liverpool actively chose not to sign him last summer because they only wanted "the right player"…before signing Arthur Melo on loan deadline day.

— Joel Rabinowitz (@joel_archie) January 7, 2023
Another unconvincing evening. Matheus Nunes however was gliding at Anfield. If things continue ticking along nicely in the background, that could become a regular occurrence.

— Danny Gallagher (@Danny7Gallagher) January 7, 2023
Quite a performance from Matheus Nunes since coming on.

Enjoying his night at Anfield gliding past most of Liverpool's midfield options with ease.

— Hari Sethi (@Hari_Sethi) January 7, 2023
"Punch drunk"

There was plenty to digest after the draw, including Cody Gakpo's debut, Ben Doak's cameo and Liverpool's downfall:
Gakpo is a smart team player though doesn't seem box office like Diaz. Did some good things but also not a danger in offensive situations often enough. Was sprinting back to cover Robbo often. Needs to get into box more. Looks like an intelligent player you can trust off the ball

— Red (@TaintlessRed) January 7, 2023
That was pretty pathetic. Lucky to get away with a draw. Sterile in posession, midfield not working (which got worse with substitutions) and panicking at corners yet again. No signs of improvement.

— Paul Grech (@paul_grech) January 7, 2023
"Another poor performance and Wolves deserved to win tbh. This team's just lost all identity, I have no idea what kind of football they're trying to play anymore."

– TomK42 in This Is Anfield's comments.
One week till Brighton now. Right now it looks like Liverpool will be picked apart. Hard to see what changes without further investment.

— David Comerford (@Dave_Comerford) January 7, 2023
https://twitter.com/Mick_Moran_/status/1611844963838611458
Liverpool are like an old heavyweight champion punch drunk after years of punishment. Big, strong, scary, and capable of dangerous flurries, but occasionally they deliver a big uppercut to their own chin for no reason.

— The Tactical Times (@Tactical_Times) January 7, 2023
---
It was another painful watch for Liverpool fans with this side a shadow of their former glorious selves, with the soft underbelly exposed for all to see once again.
The result means Liverpool have another game added to the calendar this month with the replay to be played in the week commencing January 16 – but before then, there is plenty of work to do.