Is Jurgen Klopp stubborn to a fault? Can Liverpool take responsibility for their form and correct it? Their season depends on it.
Cause for concern, it was the method of Liverpool's defeat at Brentford that was more alarming than the outcome.
It was their second successive insipid display, and arguably one of the least Kloppian performances by a Jurgen Klopp team since his Borussia Dortmund side flirted with relegation in 2014/15.
Struck down by a sickness bug, after being prone for over 24 hours I climbed out of my bed for this one in the hope of a thoroughly medicinal Liverpool performance. I probably should have stayed under the duvet.
Up against opponents with a defined spring in their step, Liverpool were never going to be handed the type of gifts by Brentford that were proffered by Leicester on Friday. You can only 'wing it' a limited number of times in such a short space of time.
Repetitively swarmed over in midfield, counterpunched on the break, faced with a central column of red and white striped density when we did venture forward, all on an evening when the sliding doors moments mostly closed on us, this was footballing death by frustration.
Stubborn to a fault?

Brentford were meant to be vulnerable. No Ivan Toney and all that, we were told. The excellent Thomas Frank had other ideas, however.
Stripped down, he and his hardworking players mastered the basics better than Liverpool, and they consistently flooded the areas of the pitch in which Klopp's players usually do their most profound damage.
They impressively disrupted our circulation of the ball and starved us of time and space.
It was a masterclass in containment from Brentford, from which they sporadically sprang forth to threaten at the other end. All this from a formation that Klopp has never had the will to use himself at Liverpool.
Once seen as a revolutionary formation, 3-5-2 is viewed by many contemporary thinkers as old hat now; once the widely utilised German way of football, it was with a 3-5-2 that their national team won a World Cup and a couple of European Championships. Bayern Munich won the 2001 Champions League final with a 3-5-2.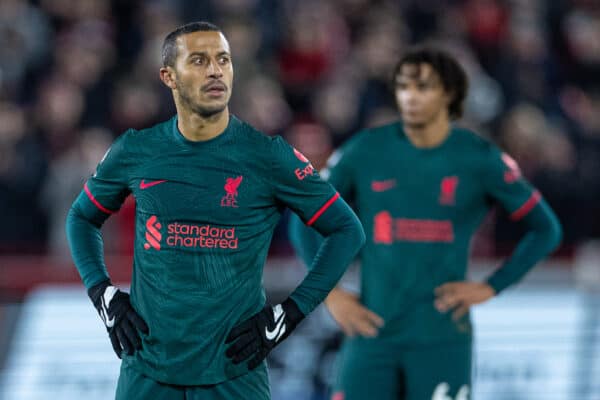 The world watched on, and a sizeable proportion of it opted for imitation, including the Roy Evans version of Liverpool. He came petty close to spinning something special with it.
Then came a jaw-dropping evening in Munich, in September 2001, where Sven-Goran Eriksson's England shockingly dismantled Germany in a World Cup qualifier to the tune of 5-1.
It marked the end of 3-5-2 as the preeminent formation for enduring success. German football rebooted itself and having taken on his first managerial post in February 2001, Klopp was in the right place at the right time to be part of this new movement.
Klopp's success has been based on pressing, meticulous organisation, and highly intense motivation. As magnificent as it is, it is also an exhausting concept. Hence the peaks and troughs that we experience; hence the peaks and troughs that his former clubs each experienced under his leadership.
At Mainz, they enjoyed the peaks of promotion to the Bundesliga, but also relegation. At Dortmund, there were Bundesliga titles won, a domestic double, and a Champions League final reached, but in his final season, they were bottom of the league at the beginning of February.
For such a broadminded individual, Klopp can be impressively stubborn at times, and he will persevere with his chosen path even when all evidence suggests another plan might be worth a punt, even if only as a short-term measure.
As flexible as he appears when the going is good, there is a seemingly inflexible side to Klopp when we hit turbulence.
Forgetting the fundamentals

Against Brentford, we were overrun in midfield for much of the game. When we did manage to press, we were faced with a forest of opposing players in a central column that we could never work our way around.
Our best moments came whenever Brentford deployed a high defensive line, and for that short spell after we scored when they opted to go narrow, thus handing Trent Alexander-Arnold the opportunity to play to his strengths.
What was concerning, was that despite having well over half an hour in which to procure an equaliser, we became increasingly less likely to attain one as the match wore on. We didn't press effectively enough, we weren't organised enough, and we lacked motivation.
The three basic rules of a Kloppian team.
Of course, it could have been a very different evening if Darwin Nunez didn't have that goal-bound effort blocked. Yet, we shouldn't be so delicate of constitution to lament 'what if' scenarios.
Liverpool must take responsibility for their predicament and fight to correct it. We can't indulge in our traditional sluggish start to the New Year for too long.
Next up, we face the visit of Wolves and the first hurdle in the defence of the FA Cup. This will be followed by Premier League assignments away at Brighton and at home to an equally dysfunctional Chelsea, ending January with another FA Cup encounter, should we get past Wolves.
The key for Liverpool will be adapting to the approaches of our opponents. Something we struggled to master at Brentford.