Liverpool have reached the knockout rounds of the Champions League for the sixth season in a row, but when does their European campaign resume?
Jurgen Klopp's side are doing their best to be without Champions League football next season, or European competition entirely, but, for now, they're still in the running for 2022/23.
The Reds meet Real Madrid in the first round of the knockout stages, a replay of last season's final and a team that Liverpool have lost against in five of the last six meetings.
The wait is now almost over for the return of the Champions League knockout stages, starting with the last 16.
When does the Champions League return?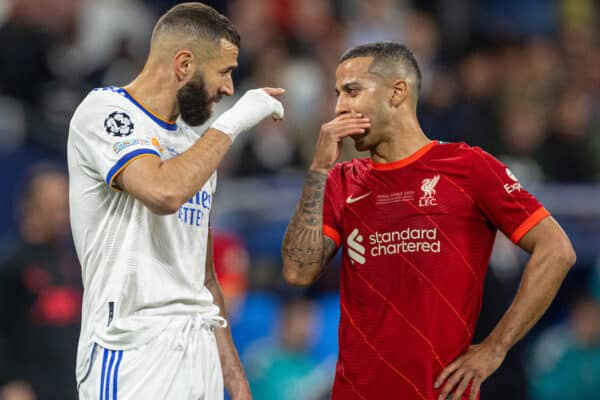 There is a fortnight blocked out for both the first legs and the second legs, in February and March respectively:
First-leg: February 14/15 or 22/23
Second-leg: March 7/8 or 14/15
Liverpool's first leg against Real Madrid is at Anfield on Tuesday, February 21, their second leg at the Bernabeu is scheduled for Wednesday, March 15 – both 8pm (GMT) starts.
Full last 16 draw

AC Milan vs. Tottenham: Feb 14, Mar 8
PSG vs. Bayern Munich: Feb 14, Mar 8
Club Brugge vs. Benfica: Feb 15, Mar 7
Borussia Dortmund vs. Chelsea: Feb 15, Mar 7
Liverpool vs. Real Madrid: Feb 21, Mar 15
Frankfurt vs. Napoli: Feb 21, Mar 15
Leipzig vs. Man City: Feb 22, Mar 14
Inter vs. Porto: Feb 22, Mar 14
Dates for draws and later rounds

Once the last 16 is complete and the final eight teams are confirmed, the draws for the quarter-final, semi-final and final will swiftly follow on March 17 at 11am (GMT).
There are no seedings or country protection at any of these stages, which take place on:
Quarter-finals: April 11/12 and 18/19
Semi-finals: May 9/10 and 16/17
Final: June 10 (Ataturk Olympic Stadium, Istanbul)