Cody Gakpo opened his Liverpool account with a goal in Monday's Merseyside derby, and Darwin Nunez is in no doubt about the Dutchman's quality.
Having joined the club from PSV at the beginning of the January transfer window, Gakpo failed to score in any of his first six matches for the Reds.
But with Liverpool producing a much-improved performance against Everton earlier this week, Gakpo got off the mark after tapping in Trent Alexander-Arnold's cross in the second half.
The attack were a constant threat throughout, with Nunez and Mo Salah combining for Liverpool's opener, and the Uruguayan believes Gakpo will eventually go on to prove he is "a quality player" with "a lot of class."
"Here at Liverpool I have teammates who are all high-quality footballers," Nunez was quoted as saying on the club's website.

"I need to be able to understand how they play a little more and it's the same for them with me. It's what settling into each other's games is all about.
"They get used to how I play and, in turn, I grow accustomed to how they play. I think that in time we'll start to see some good and positive results.
"For example, Gakpo is a quality player and has a lot of class. He's physically strong too. I think he'll be able to make people very happy at Liverpool.
"You have to also understand that he's come here at a time when we're not in the best of form and he will need time to settle in too.
"I think he's done well in the games he's featured in so far. I hope that with time I'll develop a great understanding and then go on to bring some joy to the Liverpool fans."
It's been a mixed start to life at Liverpool for Nunez, who is still in the early stages of his time at the club himself.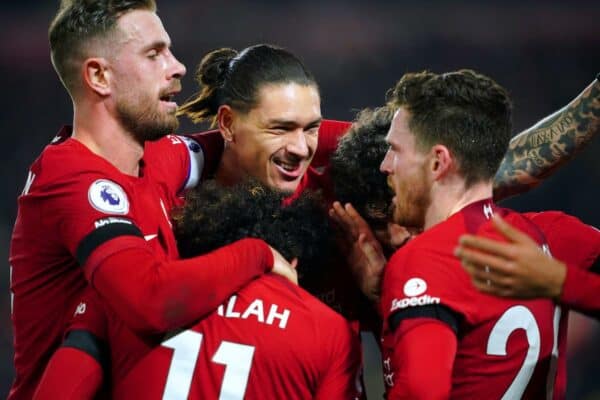 The team's struggle for form certainly hasn't made it easy for new players to settle, but Nunez is certain their fortunes will change for the better sooner rather than later.
"Liverpool is a massive club and we are aware of the consequences of what we're going through currently," he continued.
"We're going through a tough time but I'm confident that we will pick ourselves up and respond and rise up the table.
"I think we're going to respond because many people here know what Liverpool really is, and what the club stands for. Both the manager and the players, we all know that this is a big club and I believe that we're going to turn things around and come out of this bad run that we've been going through at the moment."