After Liverpool's 5-2 Champions League defeat to Real Madrid, Thierry Henry said he believes Jurgen Klopp's team have reached "the end of an era."
After a hugely encouraging start to the game against the European champions, which saw Darwin Nunez and Mohamed Salah put Liverpool into a two-goal lead, the hosts capitulated.
A quickfire Vinicius Jr. double levelled the scores before half-time, with a header from Eder Militao and two goals from Karim Benzema inflicting Liverpool to their worst-ever home defeat in Europe.
But the Reds' latest poor defensive showing came as no real surprise to former Arsenal and Barcelona forward Henry, who believes "something needs to change" at Anfield.
"They conceded too many goals against Brentford for my liking, they conceded too many goals against Wolves for my liking, so let alone when they're going to play against Real Madrid," Henry said after the game on CBS Sports.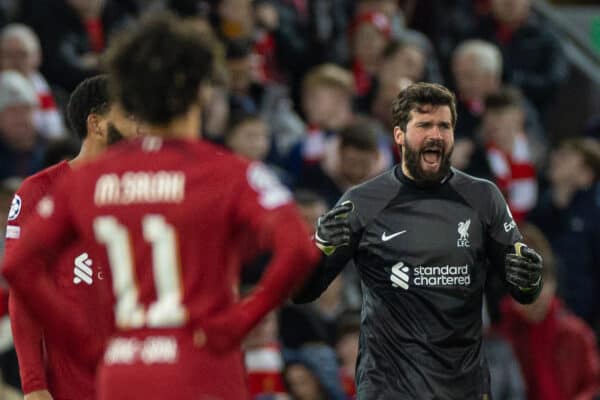 "I wanted to know where they were, and I saw a fragile team, more than fragile.
"I tell you why – they were two-nil up. That's exactly the start that you'd like to have against a Madrid team, against any team in Europe at Anfield, and they couldn't even keep that.
"Yes, Alisson made the mistake, but they didn't bail him out. Thibaut Courtois makes a mistake, that's a big team, they bail him out.
"They are fragile, something needs to change. And I don't think Klopp needs to go, that's not what I'm saying, but some of the players don't have the level to play for Liverpool anymore."
Liverpool are expected to be very active in the upcoming summer transfer window, with the midfield particularly in need of a refresh.
Were Liverpool poor or Real just outstanding? ?

Thierry: "It's the end of an era for Liverpool"@Carra23: "To see the gulf today at Anfield…"@MicahRichards: "Sometimes you have to change your principles to win" pic.twitter.com/UZJQG6oaYP

— CBS Sports Golazo ?? (@CBSSportsGolazo) February 21, 2023
And with a number of Klopp's senior players failing to reach the levels they have set in previous seasons this term, Henry feels the team have reached "the end of an era."
"I think it's the end of an era, and it has been like that for a little while," Henry continued.
"It happens, I'm not having a go at Liverpool, but you have to call it. They're not playing well, they're conceding a lot, we all love what they did recently but you also have to say when some things are not going right.
"It's a tough one, when I see Liverpool conceding five at home and getting outplayed, when I see a guy like Luka Modric at his age, getting the ball and bursting through the midfield like they were not there, passing the ball to Vinicius, Benzema toying with the goalkeeper, I just think that it's not good enough.
"That team gave us so much joy throughout the years but right now they're not, so they need to reinvent themselves and make sure they can keep their heads up until the end of the season."
Jamie Carragher, who was sat alongside Henry on the CBS Sports panel, hit out at Virgil van Dijk after the game.