Jurgen Klopp was more than happy to oblige to the demands of the fans after Liverpool's 2-0 win over Everton, a performance that "has to be the sign for us" moving forward.
Too often this season the Reds' work ethic and mentality have been questioned, a far cry from the mental fortitude that has long defined this team under Klopp.
In the derby, we saw signs of what has been missing: intent, confidence and fight – and Anfield was with the team every step of the way.
Mohamed Salah and Cody Gakpo were both on the scoresheet, two successful counter-attacks that left Klopp feeling relieved and with a performance from which to build on.
"The atmosphere was outstanding, I am in love with our crowd and what they did tonight, it was very special, to be honest, and was extremely helpful – the boys paid it back," Klopp told Sky Sports.
"I saw a real unit tonight, where everybody was fighting. Really, really fighting. And the goals we scored were two sensational counter-attacks.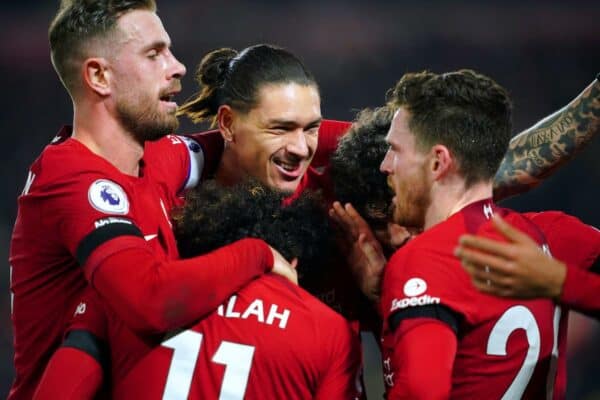 "Can you remember a situation we last had that many options in a counterattack for the guy that had the ball? I can't.
"Tonight they were there and that now has to be the sign for us for what we have to do. We were really dominant, think we had 70 percent of the ball but scored from two counter-attacks, that makes it really special.
"I really thought the performance for the full 95, 96 minutes was the best for a while, we would take wins when we don't play well, that happens, but it's much better to get three points when you deserve it."
The first victory at Anfield since December 30 meant only one thing, fist pumps from the boss.
"Massive relief. I didn't want to do it [the fist pumps], but you never know when you can do it next," Klopp laughingly said of his post-match fist pumps.
?? And just like that, it all feels better. ?? pic.twitter.com/9Wu8JId4BD

— This Is Anfield (@thisisanfield) February 13, 2023
"Whatever our crowd would've asked me for tonight I probably would've done, apart from getting rid of my clothes! It should be a thank you for them, not torture.
"I did it [fist pumps] because the people asked for it, it felt like a massive relief.
"I really think – and you don't want to be in a difficult situation – but the way you behave defines the future.
"This club has been through worse things but I think we are the club who can show how you can deal with difficult moments."