Speaking ahead of Liverpool's Premier League meeting with Wolves this weekend, Jurgen Klopp provided a fitness update on a number of players, with the Reds' injury situation "looking better."
Ibrahima Konate is the latest to have fallen to a muscle injury this season, with reports suggesting the Frenchman will be sidelined for up to three weeks.
But Klopp delivered more positive news on four players working their way back to fitness, with Diogo Jota, Virgil van Dijk and Roberto Firmino nearing a return to action.
Jota, who has been absent since sustaining a serious hamstring injury against Man City last October, is set to return to full training next week, while Luis Diaz is running again after undergoing knee surgery towards the end of last year.
"Generally, it's looking better," Klopp said.
"Diogo Jota had a full session with the team this week, but then the next day he had a rehab session. Not because of the session the day before, it was just part of the plan. I think he will be pretty much back in normal training next week.
"Bobby is getting closer, obviously, very good.
"Luis is running now. That will take a few weeks still, but he's now out running on the pitch as well, which is really good.
"Virgil is getting closer, but not ready for the game, obviously. Parts of training next week, I think.
"Nothing else so far, but there's still two hours of training, so a lot can happen."
When quizzed on how Konate's injury came about, not for the first time this season, Klopp said they didn't expect the problem to be anything serious.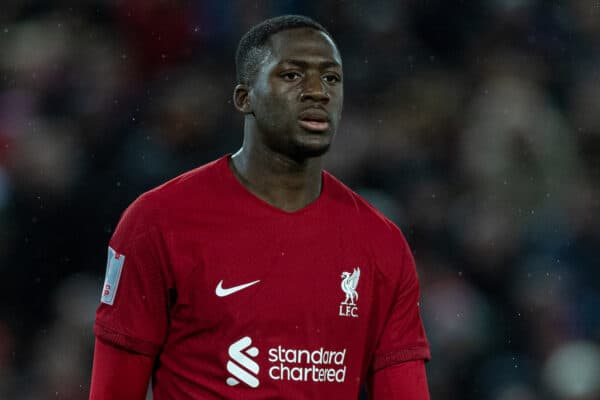 But with a scan confirming that Konate would need at least two weeks to recover, Joel Matip and Joe Gomez are set to be Liverpool's centre-back pairing against Wolves on Saturday, with injuries forcing Klopp into a number of changes in that position this season.
"Ibou has a muscle injury, and again, he didn't think it was massive," Klopp explained.
"It happened in the [Brighton] game. I asked him 'are you okay?', he said he was.
"After the game, he had treatment, a scan, and bam, he's out.
"It's not cool to have changes to the partnership, you don't want to have that. You want to make these changes when you rotate or bring people together in a perfect moment.
"Joey and Joel obviously played together before, so it's not a massive problem, but it's not perfect, that's clear."