The Premier League's TV selections for April fixtures have been confirmed, including the rearranged Chelsea vs. Liverpool clash from September.
April is a busy month for Jurgen Klopp's side with seven league games to navigate, and hopefully a Champions League quarter-final too.
It is still some time away but you can now pencil dates into your diary after BT Sport and Sky Sports made their selections, which resulted in five Liverpool games being moved.
Furthermore, the trip to Chelsea, originally postponed in September, has also been locked in, now taking place on Tuesday, April 4, at 8pm.
First up, though, is the Reds' trip to Man City, which will be an early kickoff shown live by BT Sport in the UK on Saturday, April 1, starting at 12.30pm.
After the Chelsea game comes the visit of Arsenal on Sunday, April 9, with an 8pm start.

That means Liverpool are due to play Man City, Chelsea and Arsenal within the space of nine days – though the latter could still be moved pending Champions League progress.
Also subject to change is Leeds vs. Liverpool, which is now an 8pm kickoff on Monday, April 17.
The visit of Nottingham Forest is the only fixture unchanged, while West Ham host Liverpool on Wednesday, April 26.
The final match of the month, against Tottenham, has been moved to a 4.30pm kickoff on Sunday, April 30, live on Sky Sports.
---
Liverpool's April fixtures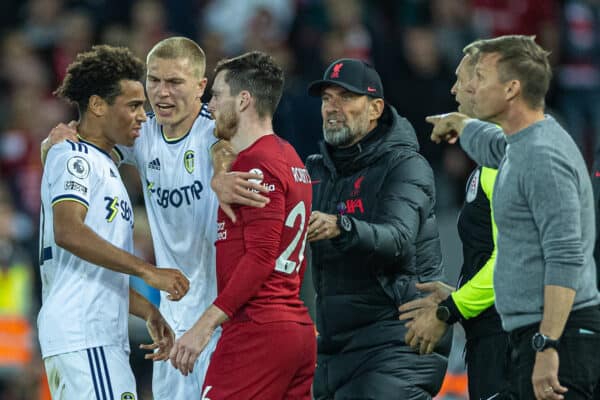 * Subject to change if Liverpool progress in Champions League.