Speaking after scoring in Liverpool's 2-0 Merseyside derby victory over Everton on Monday, Mo Salah made an exciting prediction about strike partner Darwin Nunez.
Both forwards were key as the Reds registered their first Premier League victory of 2023, combining to put Liverpool in front in the first half.
15 seconds after Everton's James Tarkowski hit the post at one end, having carried the ball into the Toffees' half, Nunez played in Salah as the Egyptian finished off a brilliant counter-attacking goal.
Despite Liverpool's poor form this season, Salah claims to have developed a strong understanding with Nunez on the training pitch, and has seen enough to predict that the Uruguayan "will score a lot of goals" for the club.
"I train with Darwin and I know his style, I know how we like to play, and when we have a counter-attack we just go," he told Sky Sports after the victory.

"We did it a few times, against Napoli, against City.
"I know how we play, and how he is as a player, and I'm sure this guy is going to score a lot of goals, trust me, he will score a lot of goals."
Liverpool's No. 11 highlighted Nunez's blistering pace more than once, evident as the pair combined to put the Reds in front.
"I know that Darwin is really fast," he said.
"They had a corner, and we managed to play a one-two, and I knew that he was going to play the ball into the space, so I was running as much as I could, because he's so fast."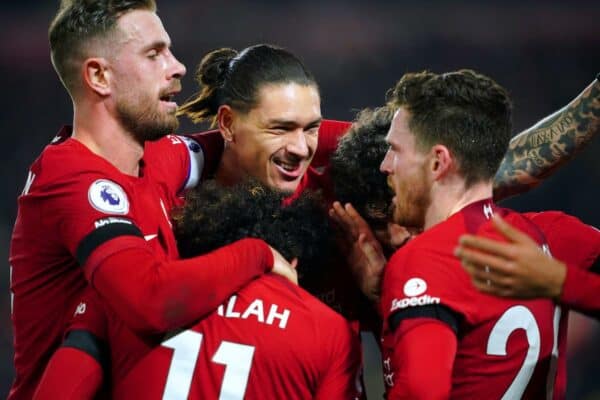 Salah also went on to reveal how team talks from the likes of Jordan Henderson and James Milner inspired a performance that saw the team perform "like the old Liverpool."
"It's big, it's huge for us," he said when reflecting on the victory.
"I think we had a perfect week to train, and the players were so excited. We couldn't wait for this game to turn everything around, and hopefully this is the start.
"Hendo and Milly were speaking last week and they spoke again yesterday and said 'Guys, we have to play our football. We just need to enjoy it…'
"I think we managed to play good and it looked like the old Liverpool, but in my opinion that all started last week."