Liverpool put in a horrific 45 minutes, an improved 30 and an irrelevant last 20. The sum total was a 3-0 defeat to Wolves which leaves us winless in four and 10th.
Wolves 3-0 Liverpool
Premier League (20), Molineux
February 4, 2023
Goals: Matip OG 6′, Dawson 11′, Neves 71′
---
Midfield on merit and proper positions

No doubt the temptation must have been there for Jurgen Klopp to revert to the midfield which has played most of this season, and done so poorly.
However, Fabinho turned out not to be in the squad at all and Jordan Henderson was left on the bench with Harvey Elliott alongside him – two who have been in the centre and underperformed this term.
That meant the recent trio of Stefan Bajcetic, Thiago and Naby Keita were in place – and while far from perfect, they had been performing better of late than the Reds' middle options either side of the World Cup.
Elsewhere, it was notable that with Darwin Nunez coming back into the lineup, the Uruguayan went centre-forward and Cody Gakpo finally got a start from the left side of the attack, the role he had shone in for PSV in the first half of the campaign.
It will take time for new partnerships to be established after a big turnaround of names in that front six, but getting personnel into their preferred roles is the first step to achieving that.
An utter shambles

Good, so those are the positives out of the way.
And of course, the positives are tinged by the fact that injuries have occurred everywhere, which is a negative, but let's leave that to one side.
Onto the match itself.
After less than a quarter of an hour, the points were basically wrapped up, the Reds two goals down and incapable of defending against the most rudimentary of buildups: a hoisted pass into the channel and a set-piece.
Klopp fumed on the sidelines after the second went in – to Henderson and James Milner, for some reason, rather than his actual coaches – but this is nothing new this term and he cannot have been surprised.
We, as fans, certainly aren't.
Second to deliveries, second to second balls and absolutely nowhere at all if your name is Joel Matip, other than where he shouldn't have been.
There was no cohesion, no organisation, very little fight and even less goal threat in a desperate first 45 minutes.
Form off a cliff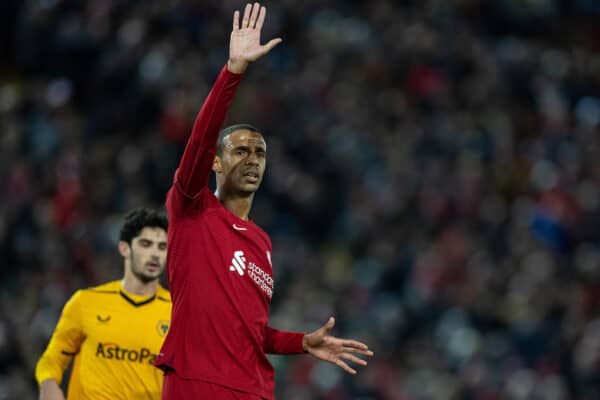 The No. 32 is in the most horrible form of his Anfield career, but even so this first half was wildly poor.
Matip first didn't anticipate the ball behind him down the right channel, then opted to do absolutely nothing with it, bizarrely stepping off Hwang Hee-chan as the forward brought the ball down.
Just to compound matters, he then followed the runner late and got his feet in a muddle, deflecting the cutback straight into the net.
If an element of misfortune could be applied to the goal, none could be when he almost cost a third before the half-hour mark.
Allowing the ball to bounce twice before attempting a pass back to Alisson, Matip was run off the ball by Matheus Nunes and only Ali came to the rescue.
For the third, both he and not-so-super sub Henderson can share blame equally.

Matip stood flat-footed while he could clearly see the onrushing Ruben Neves bursting into the space in front of him, not anticipating or fighting to block, while our captain both didn't pay attention and then was outpaced by someone who had played an hour more than him.
It is, of course, remiss to even partially make the suggestion that the entire defeat falls on Matip's shoulders.
Trent Alexander-Arnold lost Craig Dawson for 2-0, and did so again for another header over; the creativity was woeful in the opposite direction and once more Liverpool were outfought from the first whistle.
Robbo almost gifted a goal, too.
But Matip's form has seen him sink to fourth-choice centre-back and, on this evidence, perhaps he shouldn't even be that right now.
Missed opportunities

It couldn't have been much worse, of course, but the second half was a massive improvement on the first and the reaction should be noted.
A few players deserve praise for that – Joe Gomez for recirculations, Bajcetic winning back possession, Trent's delivery and Gakpo finding spaces to link and try cutbacks.
It was all a lot quicker, a lot sharper, a lot more like a team of players actually wanted to win the game.
Ultimately, technical quality remained horribly lacking, particularly when chances did come along inside the penalty box.

The biggest culprit in terms of volume was Mo Salah, whose finishing looks hurried, off-balance and uncertain right now, but the biggest waste in terms of high-quality chances was Nunez.
Our big Uruguayan raced in behind the defence just once – and with enough time on the clock to really put the Reds in with a fighting chance of going for a draw at least – but blasted his shot straight at Jose Sa.
Add in Keita's scuffed efforts when running in from deep and our total lack of threat off set-plays these days, and Liverpool could have been out there for a week and not scored.
Next up? Only the derby

Eight days without a game. That's what Liverpool have coming up now, ahead of a Monday night match next time out – just the small matter of the Merseyside derby.
The 0-0 at Goodison in September was dismal and, as it turns out, a glimpse into the future.
Right now, with the noise and boisterousness and three points they had in Sean Dyche's first game in charge early on Saturday, they will absolutely feel they can come to Anfield and turn Liverpool over.
And why not? The Reds are desperate. The plan is hardly visible, and certainly not working.
Beyond that, it's top-four hopefuls Newcastle and then Real Madrid. This could be just the tip of a very distressing iceberg as far as results are concerned.
Liverpool are 10th. Mid-table. As completely irrelevant as could be.
We haven't won in four in the league, have won once in six in all competitions and have scored more than one in a game just once in the last seven, conceding 13 in that time.
A massive week of hard work you would think lies ahead.