Liverpool are arguably playing Wembley-bound Newcastle at a good time this weekend, with Magpies supporters not confident of victory in the Premier League.
The Reds secured a vital 2-0 win over Everton on Monday night, but it is now essential that they build on those three points.
On Saturday, they head to St James' Park for a massive game in the top-four battle, with victory taking them to within six points of their opponents, with a game in hand.
This will be a far greater test than Everton provided and we will know a lot more about Liverpool's potential turnaround once the final whistle is blown.
With kickoff now fast approaching, we spoke to Newcastle fan and writer Dave Black (@cm9798) to hear about the Magpies' form, the Reds' season and much more.
How happy are you with Newcastle's season so far?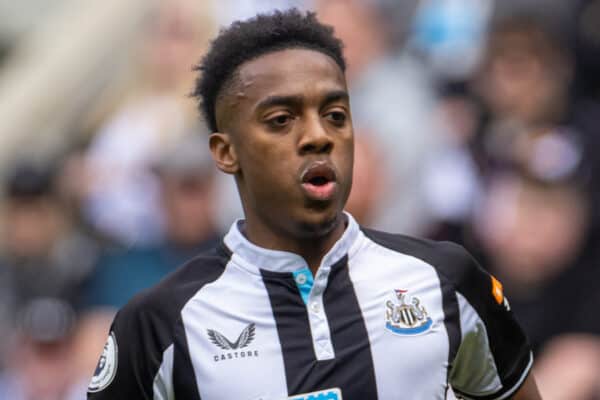 Delighted!
Newcastle are fighting for a top-four finish and are in the League Cup final, which is way beyond my expectations at the start of the season.
It's just one win in six in the league – why is that?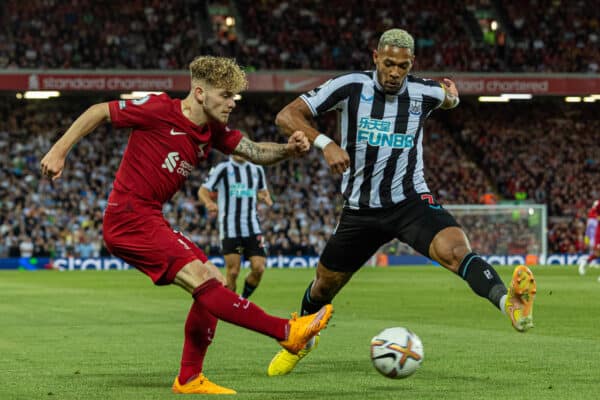 There are a few reasons really.
There's definitely an element of teams working us out, plus the carrot of a Wembley final which is certainly distracting a few.
Bruno Guimarares' suspension and a growing injury list has also not helped matters, having been such a key player this season.
Meanwhile, some players are also simply not in the form they were in three months ago.
Which players have shone, or been poor, this season?

I'm not exaggerating when I say all of our "typical" starting XI have been absolutely superb.
Nick Pope, Kieran Trippier, Bruno, Joelinton and Miguel Almiron are probably the absolute standouts, but Dan Burn, Sven Botman and Fabian Schar complete a backline that has conceded just 13 league goals this season.
On the flip side, Allan Saint-Maximin has gone from carrying the team to not being in our best XI.
His maverick style can never be ignored, but Eddie Howe has made a team that is greater than the sum of its parts and it cannot carry passengers.
As for Liverpool, how do you assess their campaign to date?

Woeful really – I'm sure you don't need me to tell you that.
The manner of the defeats is what I find most alarming and there doesn't seem to be much resolve in the team anymore.
That being said, things looked rosier on Monday night, even if Everton were poor, and the season is salvageable, especially now players look to be returning to fitness.
Where do you think both sides will finish this season?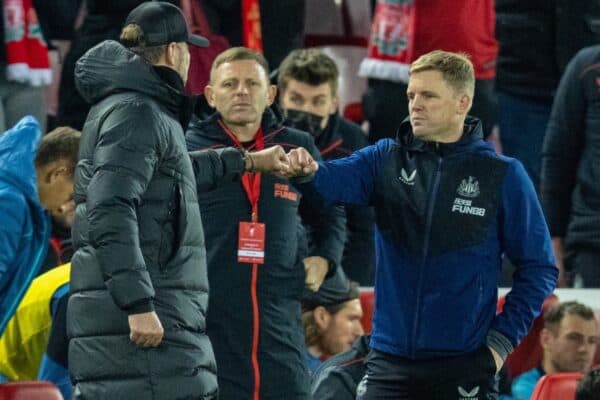 Fourth and fifth – ask me in which order after Saturday!
What is your favourite and worst memory of Newcastle vs. Liverpool games?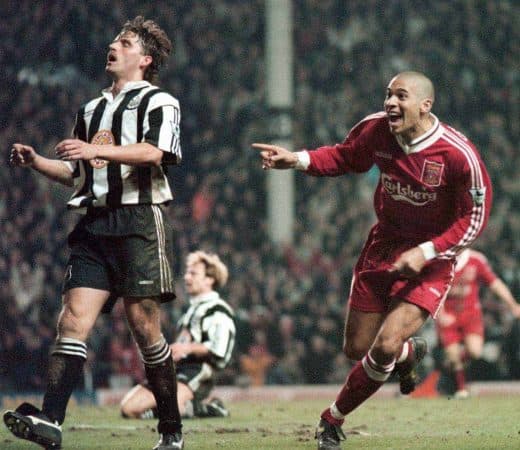 Urgh, do we have to?
The first 4-3 when Stan Collymore scored and Kevin Keegan slumped over the advertising hoardings is definitely the worst.
In terms of the best, I would probably say the 2-0 win in 2011/12. Everything went for us that day and Jose Enrique ended up in goal a few months after leaving us.
I actually really like Jose as well, but it was good fun for the crowd.
Which Liverpool player would you most like to see the Magpies sign?

Well, I'll have Mo Salah if he's going or Andy Robertson would do nicely at left-back.
We already have the next Virgil van Dijk in Botman, though.
Looking ahead to Saturday, where are the key battles?

Our success is based on a solid defence and quick counter-attacks.
I wish Bruno was available, as your central midfield has become a bit of a weakness depending on which personnel are playing.
Can Joelinton control things in there in his absence?
In recent weeks, teams seem to have taken to playing on Burn at left-back, and with Salah and Trent Alexander-Arnold down that wing, it's a worry.
Finally, what's your prediction?

I think it will be a draw.
We can't win at the minute but we are hard to beat, having only lost one league game and that was to Liverpool back in August.
Although you have had some awful away days recently, we will have one eye on our first cup final in 24 years and a number of players are carrying knocks.
If we lose, I think it really brings you into the top-four picture, so given all of the above, a draw wouldn't be the worst result.