Jurgen Klopp's attention is now firmly on the visit of Man United on Sunday, before then, though, he had positive words about Fabinho and a positive squad update.
Here are the key points from Klopp's pre-match media duties…
No new injuries – hallelujah
Liverpool still have a handful of players sidelined, including Thiago and Luis Diaz, but there are no new injuries to report from midweek.
Joe Gomez is "closer but not close enough" to return to the squad against Man United, and those involved against Wolves were "physically and mentally fine" when he last met up with them.
No new issues, it makes for a welcome change!
"So happy" about Fabinho
Fabinho has endured a tough season to date, almost unrecognisable from the lighthouse that proved a key cog in the machine. Against Wolves, though, we saw a different Fabinho.
"When I say Fabinho is not at his best, it's 'oh, he said it'," Klopp said. "Everybody could see it, why should I not say the obvious stuff?
"Now everyone can see Fab is getting back [to form], that's what we need. I was so happy about his last game, so many things were like we needed him."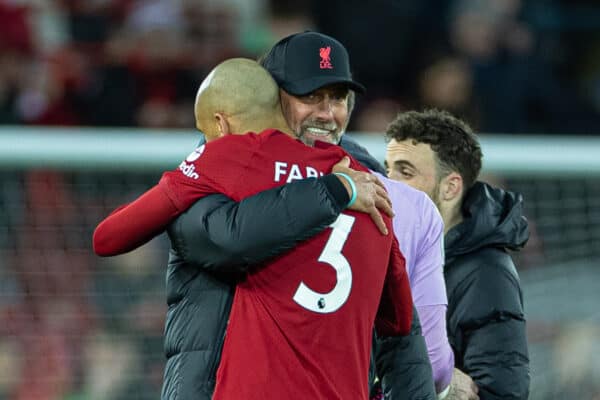 The 32-game penalty drought
Liverpool have gone 32 Premier League games without a penalty, a run dating back to April of last year and when asked if it was strange, the manager said "yes" without hesitation.
"I have no clue how that can happen," Klopp said of the drought. "Not getting a penalty for that long [of a time] is funny."
Funny is one word for it, that's for sure!
Praise for Rashford
Marcus Rashford is in a rich vein of form this season, scoring 25 goals in 39 appearances and ahead of the match, Klopp singled out the striker for praise.
"I must say it's difficult, pretty much impossible, to be happy about something positive at Manchester United when you are the manager of Liverpool, but I am happy for Rashford," Klopp said.
"Now he's playing incredible. His speed, technique, how calm he is in front of goal."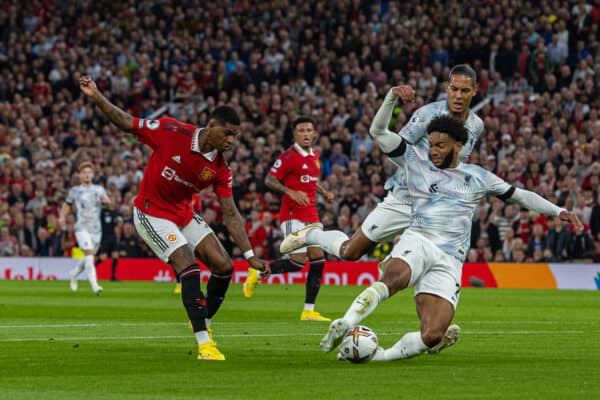 The push continues
Three points in midweek has again changed the mood for the better and with Man United next up, there's no better time to show we're "still incredibly difficult to play against."
"This is a week where we'd like to give the season a proper push and now we have to make the next step," Klopp said. "Nothing is done yet, that's good for us.
"We have to make sure we really show it's still incredibly difficult to play against us because when we played there it looked incredibly difficult to play against them."