The weekend is nearly here and the big LFC talking points include progress with the new Anfield Road stand as well as the build-up to tonight's women's derby at Goodison.
First seats installed in new Anfield Road Stand
The Anfield Road End expansion continues to move at speed and the first seats have now been installed in the new stand.
It's the latest milestone ahead of its unveiling prior to next season, with a group of primary school children from Anfield having the honours to see the new seats first.
Thankfully, there looks to be decent leg room and the view will certainly improve once the roof on the existing stand is removed!

The new stand will add 7,000 extra seats, although the distribution of those tickets was subject to plenty of disappointment, with the number of hospitality seats increasing from the initial plans.
Goodison derby build-up & Alonso making waves
Gemma Bonner has described tonight's Merseyside derby at Goodison as a "huge honour" to be involved in
Erling Haaland is reportedly "touch and go" for a return to face Liverpool – but we're still expecting him to start!
Xabi Alonso inflicted the final defeat of Julian Nagelsmann's Bayern Munich reign, with the German side dismissing their manager
International watch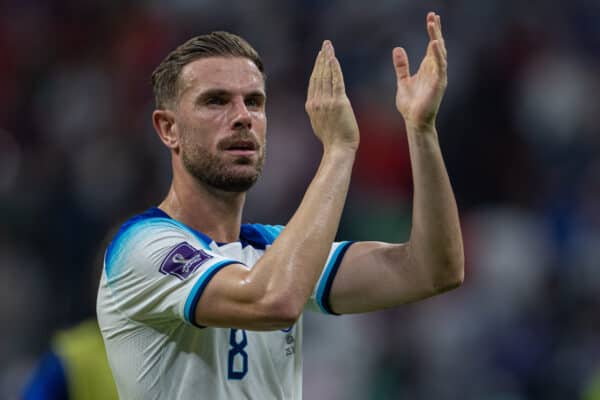 Oh, Everton

Thomas Tuchel has replaced the departing Nagelsmann as Bayern Munich manager – it means Sadio Mane has a new manager (Bayern)
Harry Kane overtook Wayne Rooney as England's highest-ever goalscorer with a penalty in a 2-1 win over Italy (Sky Sports)
Tweet of the day and match of the night
This is pure art.
https://t.co/jMNQRbZURR pic.twitter.com/SRltEWxZ7S

— Jonny Sharples (@JonnyGabriel) March 23, 2023
Tonight's big game is, of course, the showdown at Goodison Park between Everton Women and Liverpool Women! You can watch full coverage on Sky Sports Football and Main Event from 7pm (GMT).