There was no hiding the disappointment and frustration after Stefan Bajcetic confirmed his season was over, with injury again striking at the most inopportune time.
It's been the story of Liverpool's season, with it more unusual if we don't hear of any new injuries rather than the other way around.
Bajcetic has just been added to the long-term list with an adductor injury, forcing him to announce that he has already played his last game in 2022/23.
"Unfortunately, I've picked up an injury that will keep me out until the end of the season," Bajcetic penned in an Instagram post.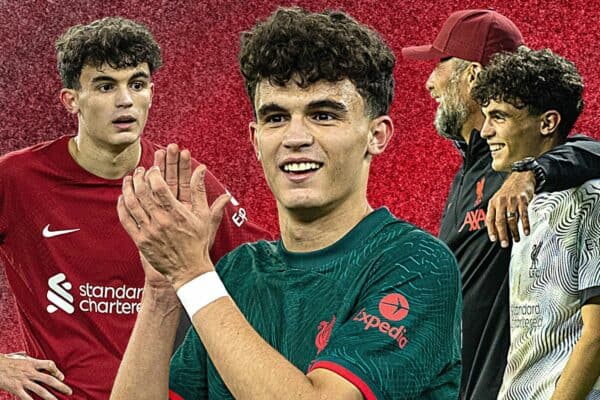 "It's very sad to say goodbye to this amazing season for me but I understand this is part of football and will only make me stronger physically and mentally."
As you'd expect, as the feeling will be mutual, fans were gutted by the news that one of the shining lights of the campaign will no longer feature:
Of course this would happen to one of the very few bright sparks of this dreadful season. Rotten luck. https://t.co/732c3HsFPn

— Joel Rabinowitz (@joel_archie) March 16, 2023
Bajcetic out for the season gives Klopp some serious negotiation rope with FSG. Forced to promote a youngster, who took his chance, but has broke down after 20 senior matches. Big summer spend required at Anfield.

— Danny Gallagher (@Danny7Gallagher) March 16, 2023
Yet again, another major injury to a key player at Liverpool. A running problem for years now. https://t.co/Vj3n3HtwbK

— LFC Stats (@LFCData) March 16, 2023
? In a seemingly never-ending pattern for #LFC, a player who came in to help ease an injury crisis is now injured himself.

A cruel way to finish a breakout season for Stefan Bajcetic. https://t.co/dex8mTdOF2

— Matt Addison (@MattAddison97) March 16, 2023
The one positive from this season and now this lol https://t.co/gBBGHFR1lj

— Jimmy (@EntireDesign_) March 16, 2023
Bajcetic is the only modfielder I looked forward to watching the rest of the season. Really feel for him. Could be a very long end to the 22/23 campaign for Liverpool.

— Matt Thielen (@MattThielen) March 16, 2023
This is now becoming a serious issue at Liverpool, above and beyond any normal level of expectation – this is before you add on Bajcetic's missed games as well. pic.twitter.com/J0LPIgCaZJ

— Chris Williams (@Chris78Williams) March 16, 2023
Gutted For Stefan Bajcetic, he's been brilliant in what's been an awful season.

Hoping he comes back better & stronger for next season. #LFC pic.twitter.com/HmMrmh1i03

— The Kop Council (@TheKopCouncil) March 16, 2023
"That is classic Liverpool way. Get well soon mate. We are going to miss you badly. I'm sure he will be back with a bang."

– Ankit_JFT97 in the TIA comments.
"This is always the risk that comes with over playing a youngster while his body is still growing. It's a situation we wouldn't be in if we'd had other fit and available in form midfield options but that's a separate debate for another day.

I'm gutted for the lad but he's shown us enough already this season to convince me we've got a future star in the making. Here's wishing him a speedy and full recovery and can't wait to see him playing again in preseason, alongside who remains to be seen."

– Steve in the TIA comments.
Bajcetic is out for the rest of the season with a thigh injury. If there's one thing that's come out of this season it him!

He probably wouldn't have got the opportunity he has if our team was firing on all cylinders.

Rest up Stefan! pic.twitter.com/08Obgw9HGz

— Top Of The Kop (@TOTKHQ) March 16, 2023
Bajcetic out for the season then. pic.twitter.com/eIqUO0Rnpu

— Sam McGuire (@SamMcGuire90) March 16, 2023
Stefan Bajcetic out for the rest of the season through injury. Huge blow for the Reds, which says a lot about the impact he's had since making his way into the starting XI for #LFC. https://t.co/V53Dkyj6aE

— Jim Boardman (@JimBoardman) March 16, 2023
We definitely made a deal with the devil. Gutted for Bajcetic

— Phil (@1989Phil) March 16, 2023
---
A benefactor himself of the injury woes and general malaise, Bajcetic took his chance and ran with it – making the most of featuring in every competition across his 19 appearances.
With the injury described as a "stress response," there will be no definitive timeline on the 18-year-old's return, as seen by the troubles of fellow youngsters Calvin Ramsay and Kaide Gordon.
The Athletic's James Pearce notably reports that Bajcetic is "not expected to need any surgery," but it is an issue that will require patience and time.
The 18-year-old joins Ramsay on the long-term injury list, but the hope is both Thiago and Luis Diaz are back in contention swiftly after the international break. We need the boost.