Liverpool's 7-0 demolition of Man United left Liverpool fans jubilant after their biggest-ever win over the Red Devils.
On a night when records were broken and markers were placed, there was a feeling of joy in the stands after a season of general disappointment for Liverpool supporters.
Each goal was celebrated with as much jubilation as the last, and Roberto Firmino's late seventh brought arguably more joy than Cody Gakpo's opener.
Here, Sam Millne (@sam_millne), Patrick Allen (@P_Allen21) and Adam Beattie (@beatts94) discuss Gakpo's increasing importance and whether this performance can be the catalyst for a run in the league.
How did you feel going into the match?

ADAM: Four consecutive clean sheets and three wins felt like something we could build from, but I still had this as United's best chance of getting a result at Anfield in the last few years.
They were starting to look like the first Man United side since Ferguson that posed a genuine threat to the major honours, and all the quadruple talk was sending shivers down my spine.
I'll always back Liverpool to do the business no matter who we're up against, but anyone who says they saw that scoreline coming is a liar!
PATRICK: I was quietly confident yet apprehensive.
The game could've gone either way beforehand; we've looked a lot tighter and sturdier in the last few weeks.
Onto the first half and Gary Neville thought Man United had the better of it. Would you agree?

ADAM: I definitely wouldn't go as far as that, but the first goal did change everything.
Up until that point, there was definitely a threat there and more than a couple of hairy moments, but the way in which we weathered that storm was auspicious.
PATRICK: It felt like we had the first 20 or 25 minutes without doing much at all and then it swung to them.
They probably should've gone ahead before the opener as they absolutely had the better of the chances, Fernandes' header being the pick of them.
Do you think Gakpo can maintain his place as a starter in Firmino's position?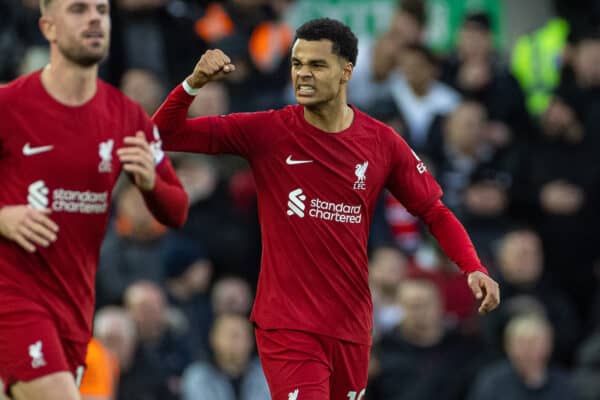 PATRICK: Though the announcement has only really just come out, I think the club might have had an inkling earlier and that's exactly why he was signed.
You only need to watch him play in order to see he shares a lot of characteristics with Bobby.
SAM: It's certainly clear to see that he's Klopp's first pick to fill that role, but I think it's important to remember that Liverpool have bought attackers so they don't have to play the same front three every week.
In a way, I think we want to get to a point where there isn't a first-choice attacking trio and they're all interchangeable.
ADAM: As you've alluded to there Sam, we're going to end up with some serious options on our hands when Luis Diaz comes back, but in the immediate future, Gakpo's going to take some shifting in that front three.
Can we go on a run now?

ADAM: It feels like we've said this a lot this season, but if a 7-0 against Man United isn't the turning point then I'm not sure when it comes.
It's as close to the Liverpool of old that we have seen all season, at times it actually looked even better than that.
The cutting edge was perhaps the most pleasing thing about the performance, the confidence became infectious and it oozed out of every player on the pitch.
PATRICK: I think we're already in the 'run.' It's clear something has changed, whether that be the mindset, something small tactically or just the simple fact we've got our confidence back.
SAM: I'd agree that something turned a few weeks ago.
There seems to be more energy and intensity in the Liverpool team at the moment. It's also far less easy to get in on the back four.
Having Van Dijk and Konate back makes a massive difference too for when teams do break us down.
Let's have the last word on Salah. Where is he now for you in Liverpool's pantheon of great forwards?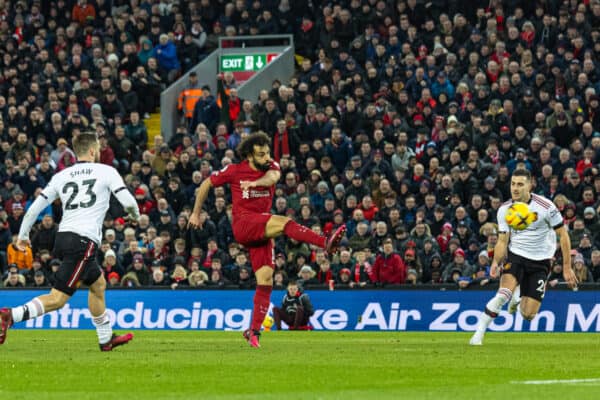 ADAM: I think in my lifetime he's number one.
We have been blessed with some incredible forwards but I don't think we'll truly appreciate how good Mo Salah is until he's no longer ours – the consistency required to keep hitting these numbers year on year is out of this world.
PATRICK: I think Mo transcends the conversation of 'best attacker'.
He's up there in the 'best ever player' talks for me.
Different generations will have different favourites – my grandad's will have been Billy Liddell and my dad's will have been Kenny – but without a doubt, Mo is the best attacker I've ever seen play for Liverpool.