He is by no means the only player out of form, but Trent Alexander-Arnold hasn't performed to the level Liverpool expect this season.
Vinicius Jr. made light work of Liverpool's right-back across two legs in the Champions League, and Alexander-Arnold came in for some criticism.
After the Real Madrid match, Jamie Carragher said that his fellow Scouser "needs to, at the end of this season, have a long think about where he is as a right-back."
But is Alexander-Arnold really a liability in defence or is the debate over a change of position overblown?
Here, Liverpool fans Henry Jackson (@HenryJackson87), Tom Eves (@TomEvesJourno) and Adam Beattie (@beatts94) assess where the 24-year-old is up to in his career and if something needs to change at right-back.
First off, how would you assess his season so far?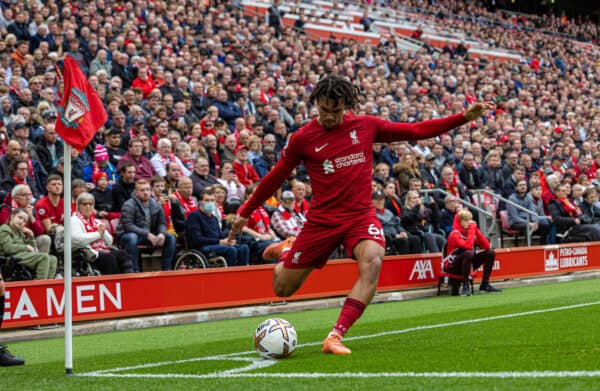 Adam: It's one he'd rather forget, that's for sure, on a personal level as well as a collective.
Confidence has been hard to come by across the whole squad but he certainly seems to have felt it more than most.
Henry: It's been a disaster, let's face it.
He has arguably been Liverpool's most consistently poor player in a terrible season for so many individuals.
Defensively, he has switched off time and time again, being targeted by opposition wingers, and just two assists in the league show that he has also not been as effective in an attacking sense.
Tom: We're so used to celebrating Trent's assist tally, and what he offers going forward, yet, like Henry says, this season he only has two assists in the Premier League.
I think he, himself, will have wanted more than that at this stage.
Henry: Trent hasn't been helped out by Liverpool's struggles overall with the midfield not offering him any protection, but there is no denying that this has been a really poor season for him.
It doesn't help when the team's not playing well, do you think it's just a blip?

Adam: I remember similar conversations during the pandemic season and he certainly wasn't the only one.
I'm hopeful that new signings in midfield will help him because we're painfully short of legs there at the minute and, obviously, that leaves him somewhat exposed.
Tom: Yeah, it is definitely a blip.
We all know how good Trent can be and the talent he possesses, I think he just needs to get some confidence back.
Henry: All great players go through tough periods – look at Marcus Rashford last season compared to this one, for example, or Steven Gerrard in his younger years.
Trent will be back to his best after a break in the summer with new signings made.
Is his defending really that bad?

Henry: Is he a naturally great defender? Absolutely not.
He can sometimes switch off and doesn't have the same defensive reading of the game as Andy Robertson, but he is still absolutely fine in that area.
You can't play in a Liverpool team that has won so much recently and not be good in all facets of your game – look at his performance up against Leroy Sane in the Champions League back in 2018, he was magnificent defensively.
There is a witch-hunt with Trent now but it is becoming increasingly hyperbolic.
Tom: With our system over the years, the midfield has always protected the full-backs as they push upfield but, this season, our midfield hasn't been great so I think that's had a knock-on effect on Trent also.
Adam: I suppose it's a self-fulfilling prophecy because it felt like lazy criticism last year, whereas this season you'd have to admit it is accurate.
Could we see a move into midfield?

Adam: He'll be 25 years old in October and has been a permanent fixture within the starting XI since 2017/18.
For the majority of that time, he's been one of the best right-backs in the world in a system that has allowed him to showcase his capabilities.
If the switch were to eventually happen, I could envisage it being to a holding midfielder in the same move that the likes of Joshua Kimmich and Phillip Lahm made.
He'd still have space to dictate play and you could still feel the benefit of his passing range from back there.
Tom: I still expect to see him playing right-back, yes.
We have been very successful with Trent in that position, but I wouldn't be opposed to see how he would fare in a midfield role at some stage.
Henry: I think I'm in the minority, but I would certainly at least consider giving him a go in a right-sided No. 8 role in midfield.
He played in midfield during his youth-team days so it's not like he doesn't know the position, and the quality he possesses means he could shine in a similar manner to Kevin De Bruyne.
Do you agree he needs competition at right-back?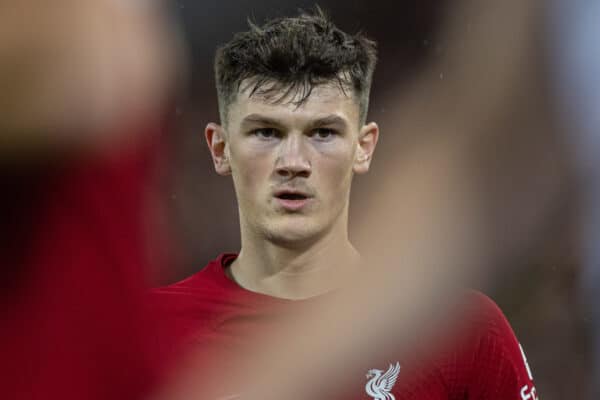 Henry: Absolutely.
The hope is that Calvin Ramsay is that man – he has looked great the few times we've seen him this season – but his injury problems are a concern and he is still a very young player who is learning.
I would consider bringing in another right-back to alleviate that issue – perhaps a fairly experienced head who is willing to be a squad player but can do a good job when required.
Basically, a right-back version of Kostas Tsimikas!
Tom: Just as Robbo and Tsimikas battle it out on the left I'd love to see adequate competition for Trent.
Adam: I think we were all hoping that would be Ramsay!
Obviously, it hasn't quite worked out for him this season, and even prior to the injury he was rarely making matchday squads.
So, if Klopp doesn't see a way in which this changes next season, then we absolutely need to be in the market for another one.