Liverpool fans have questioned claims Sadio Mane had a "bust-up" with Julian Nagelsmann, playing a part in Bayern Munich sacking the manager.
Nagelsmann was dismissed from his role as Bayern manager on Friday and immediately replaced by Thomas Tuchel, meaning Mane has a new coach at the Allianz Arena.
The 30-year-old has gone from a stable and successful six years under Jurgen Klopp at Liverpool to a turbulent start to life in the Bundesliga.
And according to German publication BILD, a "bust-up" between Mane and Nagelsmann, which left the young manager "intimidated," was influential in the decision to sack him.
It is described as a "scandal," with the forward said to have confronted his manager in front of the rest of the squad in the dressing room after the 2-0 win over Paris Saint-Germain this month.
The situation was "heated," with Mane "furious" at the decision to send him on with only eight minutes remaining and Bayern leading 3-0 on aggregate.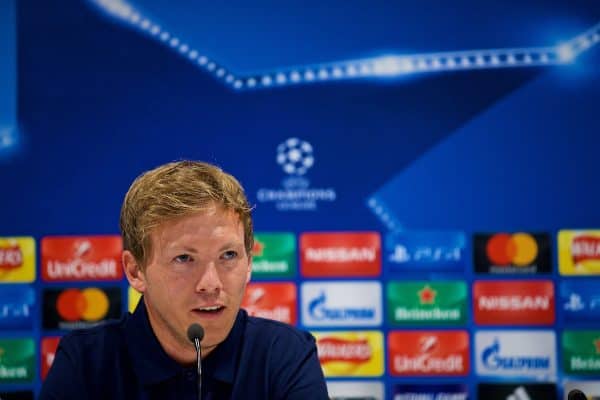 There are many reasons to doubt these claims, not least as BILD is far from the most reliable source, while the game in question came as he was building up his minutes after a long-term injury.
Bayern fan site Bavarian Football Works dismissed the report as "a little unbelievable," with Mane "nothing but professional since coming to Munich."
Bundesliga journalist Chris Williams saw the story as "a bit of Mane slander" as "this is not how [he] conducts his business."
Would be interesting to see the origin of this source, as this is not how Sadio Mané conducts his business, sounds like a bit of Mané slander if I'm being honest. https://t.co/fnLPooeUlu

— Chris Williams (@Chris78Williams) March 28, 2023
"Players get dissatisfied and I can imagine he wasn't best pleased with a lack of game time, but it would be out of character for him to turn a big team win into the Sadio Mane show in the changing rooms," Williams wrote on Twitter.
"Privately, yes absolutely, maybe even in earshot, but not in front.
"This seems a deliberate act to make a coach look weak, maybe even add an extra reason to why he was dismissed.
"A bust-up on that scale doesn't stay quiet for a couple of weeks, certainly not until – conveniently – it adds weight to a situation."
This was echoed by a number of Liverpool and Bayern fans, who doubted the validity of BILD's claim with regards Mane himself:
In all the time that he was at LFC, not for one instance was there a hint of any such attitude from Mane. Not saying the below didn't happen but would be VERY surprised by it. Totally out of charachter. https://t.co/uXd3NAn2fd

— Paul Grech (@paul_grech) March 29, 2023
Any player that got interviewed (Kimmich, Goretzka, De Ligt, Cancelo, …) was absolutely surprised about it and they mentioned he definitely didn't loose the squad. BILD is 100% lying.
This doesn't seem like Mané or Nagelsmann at all, and why is this info just coming out now? https://t.co/yflu0QExNE

— ynnxs? #thankyouJulian (@ynnxsFCB) March 28, 2023
Mane can be a hot head at times but is never someone who burst out in front of his team against his managers. Probably a hit piece against Nagelsmann to make the Bayern board decision some sense. https://t.co/bD8MdQFDhC

— Demon Cyborg 29 (@Demoncyborg29) March 29, 2023
quite odd considering Sadio was one of if not THE nicest dude at Liverpool.

definitely either exaggerated, false or plainly to justify Bayern's odd decision to fire JN + shift the blame. https://t.co/sLjRZYCbcR

— Kenn Leandre didn't pay for ?? (@kennleandre) March 29, 2023
Of course, it would be impossible to know the full story without being present in the Allianz dressing room that night, but it does seem unlikely Mane would have involved himself in the situation as claimed.
The Senegalese was not exactly a wallflower during his time at Liverpool, but BILD's story appears fanciful at best.