A reliable image of Liverpool's away kit for 2023/24 has now leaked online, with the green-and-white design a throwback to 1995/96 under Adidas.
Liverpool are set to wear green and white as their away kit again, for the first time since 2017/18.
Following a number of unreliable 'leaks' featuring designs similar to those worn by Celtic in years gone by, Footy Headlines have now provided a concrete update.
"Ending all speculations and wrong leaks," the reliable source reports, "we can show off the Nike Liverpool 2023/24 away kit."

The away shirt, then, is set to be predominantly white with blocks of green in the top left and bottom right of the torso, featuring various shades.
Officially, the colour is 'green spark', with an overlapping digital pattern offset against the overall white.
Black is used for the crew-neck collar and cuffs, along with the logos including the LFC badge, Nike swoosh, Standard Chartered sponsor and the Hillsborough tribute on the back of the neck.
The design is similar to that worn by Roy Evans' Liverpool on the road in 1995/96, with the away shirt pictured below becoming a cult favourite among fans.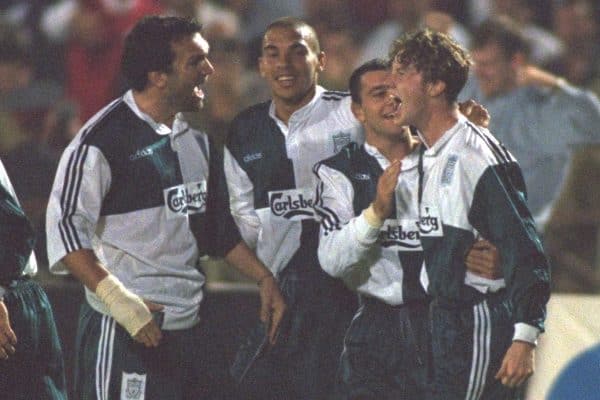 It is the latest in a series of throwbacks from Nike, with next season's home shirt also set to be similar to that worn in the club's first-ever FA Cup in 1965.
Footy Headlines report that next season's away kit is due for release in July, though no official date for the unveiling has been confirmed as of yet.
For their third kit, Liverpool's outfielders are expected to wear an abstract design in 'space purple', which is the colour used for this season's home goalkeeper kit.