Liverpool's second leg in Madrid was a waiting game for the inevitable and now they have more time on their hands, which hasn't always been a good thing.
Considering that our Champions League hopes were effectively ended three weeks ago, it seems like the spike of angst and frustration had been repressed by much of the social media arm of Liverpool's support, until our exit was officially confirmed on Wednesday night.
Granted, self-reflection can only be properly embraced once a dream is unequivocally over, but Liverpool were never going to be turning this one around.
We had three weeks to prepare for this, three weeks in which to consider where it all went wrong, and just where we direct ourselves next.
It was delusional to think that we could go to the Bernabeu and pull off some sort of Istanbul/Barcelona hybrid miracle. In some respects, it seems odd to lose your shit more emphatically now than you might have done after the first leg.
Frustration is totally understandable though, yet I'd suggest if you are angry, it's with the wider landscape of a dysfunctional season and the unhealed wounds of the final week of 2021/22, rather than 90 largely unimportant minutes of football in the Spanish capital.
Reality is different

Across our last four football playing days we have suffered back-to-back 1-0 reversals, defeats that came rolling off the back of putting seven past Man United.
That magnificent singular event was the bountiful fruit of a run of subtly better intermittent form when picking up ten from a possible 12 points in games against Everton, Newcastle, Crystal Palace, and Wolves – a quartet of fixtures in which we didn't concede a goal.
So yes, in many respects we should have seen the Man United performance coming, as the signs had been pointing in that direction, although the eventual scoreline was beyond all wildest dreams.
Take your fears of an Old Trafford resurgence out of the equation, and Erik ten Haag's side showed as many signs of being false prophets as they do of being the real deal.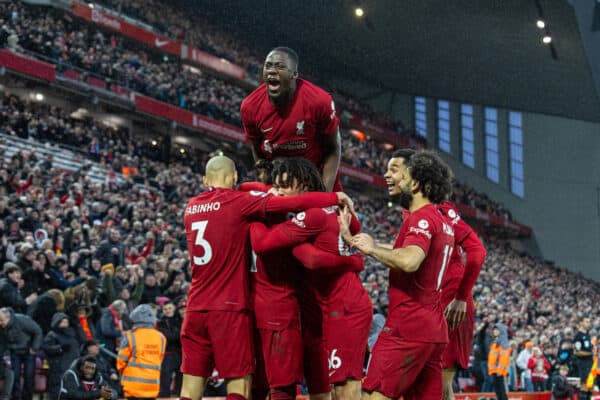 I walked into Anfield confident of a win and a good performance, and we got one. That wasn't just my glass-half-full view, Graeme Souness spent the pre-match chat on Sky saying something similar, much to the amusement of his colleagues, only for them to choke on their sentiment at full-time.
However, within the glow of that victory, I still threw in a line that we were more likely to have greater problems against an increasingly desperate Bournemouth than those that were posed to us by Man United.
Beat your biggest traditional out-of-town rivals by a massive scoreline and it's easy to buy into the concept that you just have to rock up at Bournemouth and be handed the points in a gift-wrapped box, rather than go out there and earn them. So yes, in many respects we should have seen the Bournemouth performance coming too.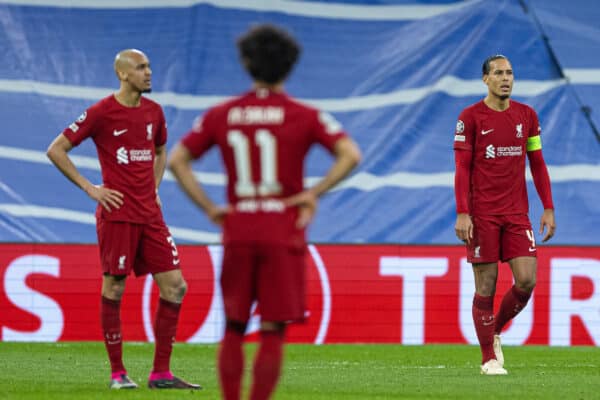 Football managers like to peddle the theory of "one game at a time," but the reality is very different.
We beat Man United the way we did because of what occurred in the four games that built toward it, confidence having quietly risen as the soft underbelly of mid-January and the beginning of February – that was hauntingly taken advantage of at the Amex and Molineux – began to firm up a bit; this was combined with our visitors arriving when believing in their own newly generated hype.
Their domestic response to the devastation of Anfield was to be held to a goalless draw at home to Southampton. Their own domino effect in motion.
In this respect, had we headed straight to Madrid after beating Man United, then we might have not looked as timid as we did when going there after losing at Bournemouth.
The fight to be back

At the Bernabeu, we were in a no-win situation.
Carlo Ancelotti's team rarely moved out of third gear, and when they did we had Alisson to thank for his agility; the goal our hosts eventually scored was a bit of a scruffy affair compared to some of the beauties they might have got had our Brazilian not been in the mood to paw away the ball all night.
Jurgen Klopp's team, meanwhile, rarely got out of second gear. We made a positive start and the tempo was raised here and there, but Thibaut Courtois never once made a save you felt he had no right to.
The Red siege never came and the game panned out within the aura of a pre-season friendly in which the beers or the coconut juices were going to be on the losing players.
The remaining mission for Liverpool is to salvage a Champions League spot, something that will be easier said than done.

We are 18 points down from where we were this time last season; we are three points worse off from two games extra compared to the team that sat in sixth position this time last season. That team was Arsenal, and they didn't gatecrash the top four at the season's end.
Now we sit idle for two and a half weeks, the domino effect halted by Fulham's continued presence in the FA Cup and an international break that probably neither helps nor hinders our current situation.
It is a stoppage that delays an unforgiving trio of Premier League fixtures against Man City, Chelsea and Arsenal, and it gives time for Klopp to come up with a plan to lead us to the top four.
But then again, given we don't exactly come out of the blocks of an international break so well, too much thinking time is rarely our ally.
The dominos will begin to topple again from April Fool's Day. Apt really.