There was no miraculous comeback in Madrid as a limp Liverpool exited the Champions League in the Spanish capital.
Real Madrid 1-0 Liverpool
Champions League last-16, second leg; Bernabeu
March 15, 2023
Goals: Benzema 78′
---
Alisson (out of 10) – 9 – Man of the Match
Real Madrid were likely to have chances, so the performance of the Brazilian would be as important as any heroics at the other end, and he was excellent when called upon.
He made a great save from Vinicius Junior at close range, showing good positioning as he came out to block the shot with a strong arm.
Went on to make a different kind of excellent save, getting a fingertip on Eduardo Camavinga's shot from distance which had been deflected, tipping it onto the bar.
Made another good block from Vinicius at the near post, and a good save with feet from Fede Valverde — the type of mis-hit shot that can often beat a keeper.
Though the team needed a good performance from Alisson, they needed one of the outfield players to be Man of the Match if they were to mount any kind of comeback.
As it transpired, Alisson was the best player on the pitch and this was a comeback too far for Klopp's side.
Trent Alexander-Arnold – 5

Defending against Vinicius is an impossible task, and Trent predictably had problems.
He remained an outlet in attack, and the thinking was probably that there's no point focusing too much on Vinicius as even if you do get back he'll take it around most defenders anyway.
That assignment was left to the supporting Konate, as Trent was regularly in the final third on the right, delivering crosses, one of which was a decent chance headed wide from Gakpo.
If they collected stats for overhit passes, Trent's would've been off the chart. That and poor set pieces.
Ibrahima Konate 8
An important player in such a game in support of Trent against one of the best dribblers in the world.
For the most part Konate was the point at which Vinicius's progress was halted and the winger's best chance came from a more opportunistic effort on the other side.
Konate is currently Liverpool's best centre back and was solid throughout in difficult circumstances
Virgil van Dijk – 5
Didn't really do much or have much to do. Won a couple of aerial duels and made some decent passes out from the back.
When called upon to deal with something he didn't, failing to clear having had two chances to do so, and Madrid scored.
Andy Robertson – 5
Was less involved than Trent on the other side, and it might have been interesting to see the full-backs switched, but Klopp is not for such experimentation.
Another player who wasn't quite composed enough in the final third and didn't look as much of a threat as he can be.
Fabinho – 5
His passing in attack wasn't very good, often overhitting things that could have put the team in a good position had they been more measured.
Has recovered some form to a certain extent, especially defensively, but didn't offer enough in possession in Madrid as one of two deeper midfielders.
James Milner – 6
Did a decent enough job and has looked more useful in the position than others who've played there at times this season. Did what was asked in the circumstances.
Cody Gakpo – 6
Was asked to play the attacking midfield role in the midfield three in which Elliott has often played this season.
He was sometimes ahead of Salah and at other times wider than Trent, but his most impressive moments were in defence, particularly a tackle on Benzema after a Real counter and a block on Vinicius in the second half.
Sent a glancing header wide of the far post, and saw a well hit shot saved fairly easily by Courtois.
Switched to the left wing after Nunez's exit and didn't offer much from the position, but there was little service.
Mohamed Salah – 6

Made some really good runs and looked like he could get into the position to set up chances, even if the shooting was done by others more often than not.
But in the moment when he had the opportunity to create Liverpool's biggest chance, he underhit a pass to Nunez.
There were a couple of similarly sloppy passes that meant he was never really a threat on the Madrid goal.
Diogo Jota – 5
Put in a typically hard working shift off the ball but wasn't dynamic enough to contribute to the attack.
He mis-hit a half chance after being set up by Salah but it was a difficult technique.
Hopefully the minutes, 57 of them, will have done him good, but has work to do to get back to his best.
Darwin Nunez – 6
Let off a couple of snapshots in the first half and was the most advanced player in the team despite playing from the left. As ever, the Reds' most dangerous attacking player.
There were a couple of careless moments from the Uruguayan, a few slack passes and needless fouls.
He was subbed before the hour mark as Klopp looked to try something different – presumably that different being having no attacking threat.
You see what he brings and how potentially dangerous he is in attack when he's not there.
Substitutes

Roberto Firmino (on for Nunez, 57′) – 6
Good defensively and showed signs of imagination in attack others hadn't, especially with one nice backheel to Salah that created a good opening.
Harvey Elliott (on for Jota, 57′) – 6
Technically he never looks out of place at any level, and that was the case on this stage too, but he couldn't get into this game off the bench.
Had a good chance to shoot but instead fed Robertson in a worse position.
Alex Oxlade-Chamberlain (on for Milner, 73′) – N/A
It's a bit mad that he's playing for Liverpool in the Champions League still isn't it. Made a couple of nice runs.
Kostas Tsimikas (on for Andy Robertson, 91′) – N/A
Fabio Carvalho (on for Gakpo, 91′) – N/A
Subs not used: Adrian, Caoimhin Kelleher, Joe Gomez, Naby Keita, Curtis Jones, Fabio Carvalho, Joel Matip, Rhys Williams.
Jurgen Klopp – 5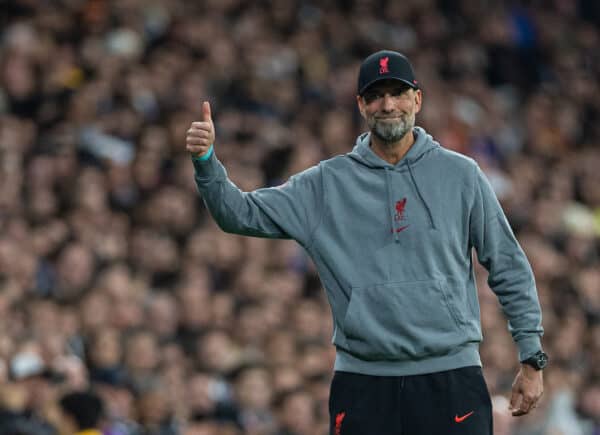 Probably the most enthusiastic of the Liverpool group but this didn't transfer to the pitch. Probably challenged the officials more than his players challenged Madrid.
The subs didn't change much, and if anything the withdrawal of Nunez ended Liverpool's attacking threat for the evening.
A couple of subs late on in injury time appeared pointless.
Booked.
Needs to have a good hard look at the problems this season and the reasons for them. Including his own.