Following the announcement of UEFA's plan to refund a portion of the fans after the 2022 Champions League final, Real Madrid have rejected the terms.
On Tuesday, UEFA confirmed plans for compensation to supporters who attended last year's Champions League final between Liverpool and Real Madrid.
The initiative, which covered those entering through gates A, B, C, X, Y, Z, will see Liverpool FC repaid funds in order to refund fans independently.
While the policy included all 19,618 Liverpool fans, fewer Real Madrid supporters qualified despite the clear, overall disruption to the event at the Stade de France.
In a statement released on Thursday afternoon, Real Madrid have rejected the terms laid out by UEFA, describing them as "insufficient" and suggesting all supporters should be compensated.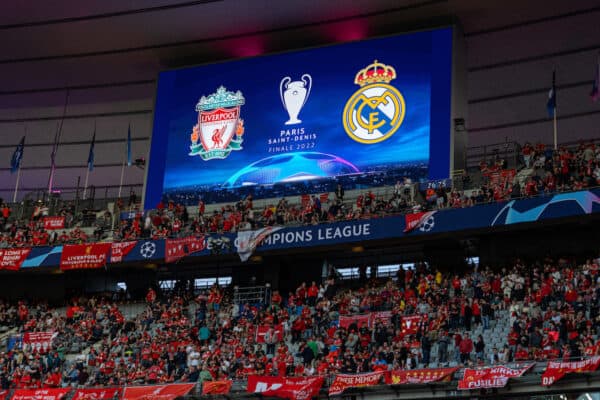 The statement explained:
"Given the forcefulness of the experts' conclusions [in an independent review finding UEFA primarily responsible] and the seriousness of the facts described, Real Madrid has been holding talks with UEFA in order to assess the compensation that would be offered to fans.

"Our club trusted at all times that these solutions would be commensurate with the seriousness of the facts, the scope of the damages caused and UEFA's responsibility for all of this.

"Unfortunately, our club considers the UEFA proposal insufficient, officially communicated last Tuesday and which consists exclusively of the reimbursement of the price of the tickets, which is also conditioned by the fulfilment of a series of requirements, among which is included demonstrate the time of access to the stadium."

Real Madrid add: "The reality is that all the fans suffered an inadmissible delay at the start of the match, in addition to the unacceptable insecurity both in accessing the stadium and in its evacuation, along with additional serious damage such as robberies, assaults and threats.
"For this reason, Real Madrid has decided not to collaborate in the limited compensation procedure promoted by UEFA, which we ask to rectify and assume full responsibility."
The Spanish club confirmed they will be setting up a service to allow their fans to communicate the "damages" they suffered on May 28.
In their own report on UEFA's proposal, Liverpool insisted: "This is a UEFA refund policy, not a Liverpool FC policy."