The watching media hailed a truly historic Liverpool win on Sunday, as the Reds beat arch-rivals Man United 7-0 at Anfield.
Jurgen Klopp's men were relentless in their Premier League clash at Anfield, producing a legendary display for the ages.
There was a brace each for Mohamed Salah, Darwin Nunez and Cody Gakpo, as well as a pleasing Roberto Firmino strike, as United were taken to pieces on Merseyside for their heaviest post-war defeat.
Here's how the media assessed Liverpool's unforgettable victory, on a huge day in the top-four battle.
It was one of the great Anfield occasions…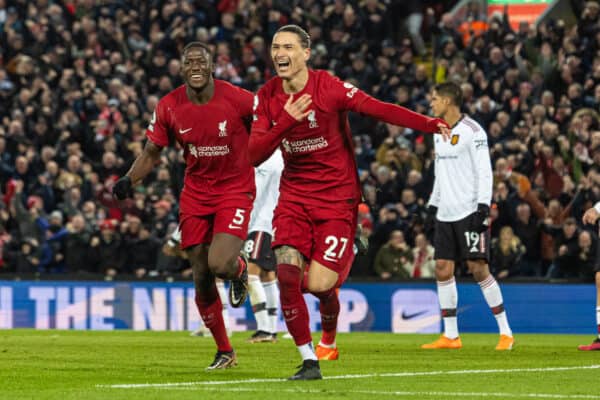 The Mail's Oliver Holt thought this was quite a response to suggestions that United have usurped Liverpool in the footballing pecking order:
"There was a fear that, after a decade in the doldrums, the wind was filling United's sails again. There was a fear that after so many vanity signings and bad coaching hires, United were finally getting it right. There was a fear United were about to overtake them again.

"Fear drove Liverpool as they went into this match. Fear, and the pent-up frustration of a season full of disappointments and defeats and doubts.

"And certainties replaced by uncertainties. Fear that the Jurgen Klopp era was over. Fear that all the glories of the last few years had come to an end and that others, including United, were lining up to grind them into the dirt.

[…]

"In 90 minutes of football, all that fear, all that rage, all that history between these two clubs, all their years of supplanting each other and mocking each other and loathing each other, came together and burst forth to produce the most astonishing and unexpected result in the history of the titanic clashes between the two most successful clubs in the English game."
David Hytner of the Guardian said Liverpool gave their rivals "nightmares" on an incredible afternoon:
"Manchester United's humiliations at the hands of their biggest rivals were supposed to have been confined to last season.

"But on an afternoon when Liverpool found something that has felt lost at times, sparking what they believe can be a successful push for a top-four finish, Erik ten Hag and his players were reacquainted with their worst nightmares.

"This was even worse than the horrors of the previous campaign, mainly because they had made the short journey to Liverpool on a high, having lost only once in 22 matches.

"The 5-0 and 4-0 drubbings of last season had come when the team were on their knees, almost expecting something terrible.

"The Liverpool fans demanded six, which they would get. Then seven, ditto. The craziest of occasions would finish with them asking, implausibly, for eight.

"That did not happen but by then United were broken, their second-half dereliction complete. This was their biggest ever competitive defeat to their historic rivals."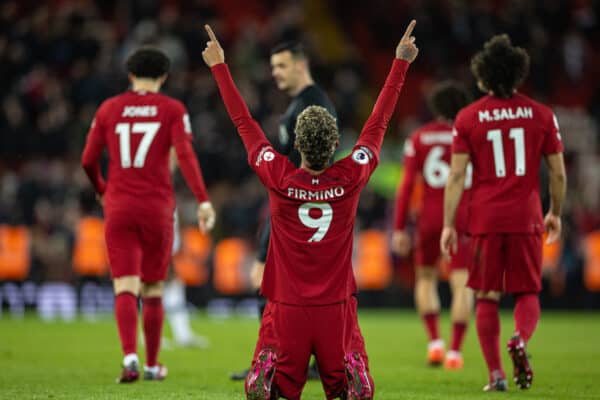 The Telegraph's Jason Burt echoed that sentiment, also choosing to focus on United's humiliation:
"There are some defeats that are so traumatic they eat into the fabric of a team; of a club; of an institution. Not just the margin or the manner but the opponent who inflicts it.

"The reality for Manchester United is that this humiliation was their worst nightmare being sent upon them. It could, if they are not careful, derail their season. It was that brutal. It was that embarrassing.

"They lost 9-0 on aggregate to Liverpool last season and that scoreline was almost – and could have been – repeated in one horror show of a 90 minutes.

"This will live long in the memory; this famous win will be rightly used by Liverpool to goad United for decades to come. T-shirts will be printed about this."
Phil McNulty of BBC Sport dissected a remarkable Reds victory:
"The second half was a tale of sheer joy for Liverpool and unrelenting misery for United, starting after 47 minutes when Darwin Nunez's header diverted Harvey Elliott's driven cross past goalkeeper David de Gea.

[…]

"This is the biggest win in the history of the fixture, passing Liverpool's 7-1 victory in the 1895-96 Second Division.

"Liverpool are now an ominous presence in the chase for the Champions League places, standing only three points behind Tottenham with a game in hand."
McNulty added that it "was as brutal as it gets" for United, while showing what "Klopp is building for the future" for Liverpool.
Many players came in for enormous praise…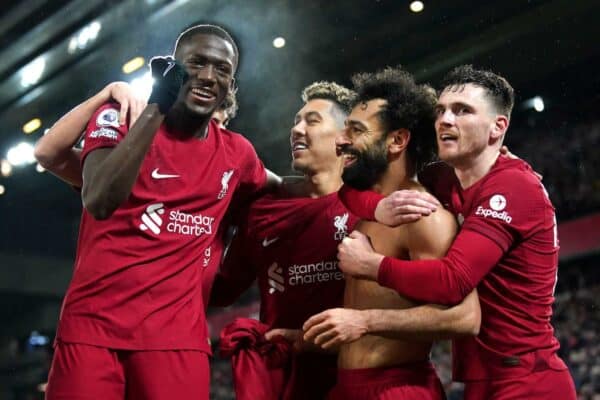 The Mirror's Tom Victor hailed the performance of Andy Robertson:
"Andy Robertson hasn't consistently been at his best this season, but a night off against Wolves appeared to reinvigorate the Scotland international. He returned to the starting XI after making way for Kostas Tsimikas in midweek, and regularly got forward to suppot Liverpool's attack in the first half.

"While a weak and easily blocked shot wasn't an example of him playing to his strengths, a burst down the left was, and United's defenders needed to be alert to stop Darwin Nunez turning it into the back of the net.

"He was the stand-out player for the hosts in the first period, and an assist for Gakpo with a note-perfect through-ball was no less than he deserved.

"Liverpool still have work to do to claw their way back into the top four, but performances like this from their left-back could be key."
On Twitter, Dominic King was equally gushing with praise for the left-back:
There are reasons to say that was Andy Robertson's best performance for Liverpool. It's absolutely his best of the season but it's a challenge to think of one better. Perhaps City (Jan 2018) and United (Dec 2018) but that 90 minutes was quite exceptional ?

— Dominic King (@DominicKing_DM) March 5, 2023
This Is Anfield's Mark Delgado loved what he saw from Gakpo:
"Against United, he once more started as the nominal No. 9, but his big impact came from the flank.

"A signature move at PSV saw the Dutchman pick up play in the channel, cut inside a defender and beat the 'keeper with a bending shot into the far corner – the inverse Salah if you like, and a big glimpse of why he had such a good strike rate playing in the Eredivisie.

"That was goal number one to a tee. But his second was pure confidence and quality. Just outside his own area he showed control and composure in the pass, then made up 70 yards to get on the end of Salah's pass and scoop a delicious finish past De Gea.

"That's four goals in the last five league games now for Gakpo, having earlier netted against Everton and Newcastle in February, a very decent recent return after a slow start in a bad team.

"Add in his link play, clever running in deep areas and the amount of trouble he gave some of the United defenders and this was his best showing in red by a mile."

Richard Jolly of the Independent highlighted the impact of the Dutchman, too:
"There are those who thought his January funds should have been spent on a midfielder but the German was impressed with Gakpo's willingness to hop onboard in troubled times.

"'He is obviously a guy who doesn't want to jump on a running train, he wants to push the train.' Klopp said then.

"And now, with 13 points from five games, with seven goals against United, that train has gathered steam. Its destination may well be the Champions League.

"Perhaps Cody Gakpo did not take the wrong option after all."

GOAL's Neil Jones had to pay special attention to the unrivalled and record-breaking Salah:
"When he plays like this, who can live with the Reds' Egyptian King?

"We keep hearing that Salah is having a quiet season, but he now has 22 goals in all competitions, and this was a performance of quite stunning quality from the 30-year-old superstar.

"Dangerous from the off, Salah, like Liverpool, exploded into life after half time, cutting a bewildered United defence apart like an adult dropped into an Under-9s game and told to rattle some cages.

"His assist for Gakpo's second (Liverpool's third) was sublime, and he was there himself to make it four, lamping a shot home via the underside of the bar with his right foot.

"That goal moved him level with Robbie Fowler as the Reds' all-time leading Premier League goalscorer, and 17 minutes later, he'd moved past him, reacting quickest in the six-yard box to make it 6-0.

"There was still time for another assist, a pass rolled beautifully into Roberto Firmino's feet, with the smiling Brazilian doing the rest.

"Seventh heaven for Liverpool, but just another day at the office for their incredible No.11."
Liverpool suddenly feel like top-four favourites over Newcastle and Tottenham…

Delgado was in confident spirits about the race for Champions League football:
"Somehow, incredibly, Liverpool – after the season we've had and the performances we've put in – are now just three points off Spurs in fourth.

"We sit fifth, with a game in hand on Antonio Conte's team, with Fulham, Brighton and Newcastle all just behind us on either goal difference or points.

"We're only six off United too for what that's worth – and our goal difference has been given a massive boost too.

"There's still a huge battle to come and consistency will be everything for the Reds. But no more can be asked of Klopp's side than what they gave today – except to do it again. And again. And again.

"We've reminded ourselves we're capable, now we simply must get back to doing it on a consistent basis."
And Holt also sees Liverpool securing a place in the top four come May:
"The victory breathed new life into Liverpool's new season, restored their pride and gave them renewed hope that they could salvage qualification for the Champions League from what has been a miserable campaign.

"The defeat defrocked United. The talk of a rebirth may have to be put back on hold after this.

"The players who have driven their resurgence this season, especially Casemiro, disappeared last night."