Mohamed Salah missed his fourth Liverpool penalty as the Reds fell to Bournemouth, but why did the No. 11 take the spot kick over James Milner?
If you had to pick one current Liverpool player to take a penalty to save your life, the majority would likely choose Milner.
The 37-year-old was once the Reds' go-to man from the spot, scoring 19 and missing two. But with his role in the side changing, the responsibility has switched.
Since 2019, Salah has instead taken on the role. In total, he has converted 24 times from 28 efforts, with his fourth miss coming while Milner was also on the pitch at Bournemouth.
So why didn't the vice-captain take the penalty on Saturday? Salah explained how the penalty hierarchy changed in LFCTV's 'When Stevie Met Salah'.
"We spoke together and he [Milner] told me [it's me]," Salah said.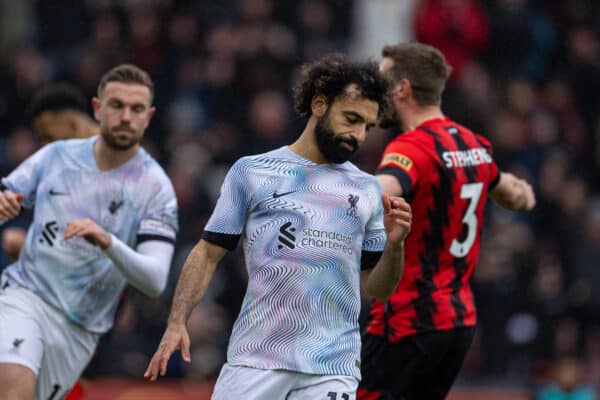 "He spoke to me, he's a really cool guy, to be fair. He came to me and said, look it's working really well so you stay [on penalties even if Milner's on].
"I think that was two years ago."
He also noted that "I always hate the pens, I don't like the feeling," as he and Gerrard discussed his Champions League final penalty in 2019.
After a 343-day wait for a league penalty and Jurgen Klopp's side chasing the game, the miss was an untimely blow as the Reds otherwise did not look like scoring.
Huge moment as Mohamed Salah misfires from the spot ? pic.twitter.com/EyaJ2paKO2

— Football on BT Sport (@btsportfootball) March 11, 2023
Reflecting post-match on the miss, Klopp said: "It's completely hypothetical, but I think if we score there the game could turn.
"It doesn't make the performance better, but it changes the result at least. He scores a lot of goals but now he missed the penalty. That's life."