Two Liverpool legends, Steven Gerrard and Mohamed Salah sat down to talk about their careers and relive some of their best moments recently.
Gerrard, perhaps the most iconic player to wear a Liverpool shirt in the 21st century, filmed an LFC Original with Salah where the pair sat in front of a television screen and were shown some of their most famous moments in red.
It was something of a love-in, to say the least. Both men were extremely complimentary of each other and it provided a fascinating insight into the mindset of two of Liverpool's all-time greats.
Here, we take a look at some of our favourite moments from the chat and the quotes that made us smile. Enjoy!
You made the king cry!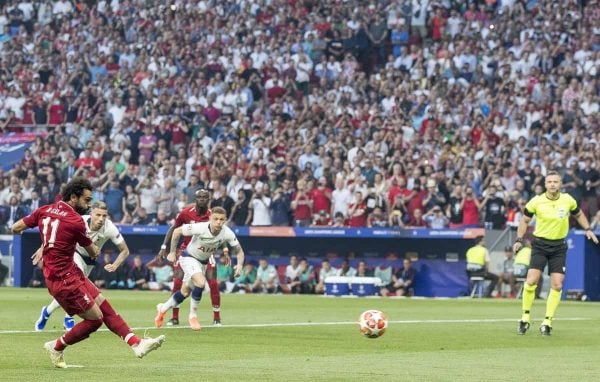 After being shown Mo's early penalty during the 2019 Champions League final win over Tottenham, Gerrard confessed that he saw Sir Kenny Dalglish tear up at that precise moment.
Gerrard attended the final in Madrid as a fan and a guest of the club, and he admitted that shortly after Salah slotted past Hugo Lloris from 12 yards he saw the great man cry.
Gerrard divulged: "I was at the game as a fan, I wasn't doing the TV I just went to enjoy the game to enjoy it. The club invited me and that goal made Kenny Dalglish cry.
"So always remember that, you made the king cry. The king made the king cry!"
The clip also featured an interesting bit of insight from the Egyptian, who revealed that he changed his mind during the run-up to that spot kick.
"I don't want to lie, I changed my mind in the last second before hitting the ball," he revealed.
"I was practising all week at the other side, and I changed my mind as I was running to hit the ball because I thought I'd gone that way too many times."
Mo asks Stevie a question we all want an answer to!

It is a debate that will rumble on for years among Liverpool supporters, and Mo wasted no time in getting Gerrard's take on the topic, refusing to allow Stevie to sit on the fence!
"I would like to ask a question," Salah said. "If you could only choose one between Suarez and Torres who would it be? I heard you answering this before but you weren't clear in choosing one!"
Gerrard responded: "For 18 months Torres was as good as any striker, but Suarez did it for a long period and he was an animal.
"Out of possession and in training he was an animal, he would intimidate and bully defenders and he could work a whole back four on his own.
"But don't worry, you're as good as them all if not better!"
Not quite the decisive answer Mo was looking for, but it sounds as though he's just about leaning towards Suarez to us!
"You're my favourite player!"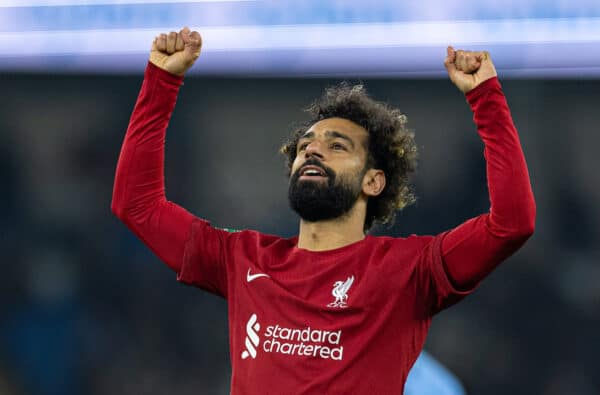 There is something comforting about the fact that Gerrard, a Liverpool legend, still has a favourite player like the rest of us.
Now that he is no longer directly affiliated with the club, Gerrard is a Liverpool fan. The way in which he speaks in this conversation really reinforces that, and he was glowing in his praise for the Egyptian king.
When asked about his favourite player growing up, Stevie said: "John Barnes. He was like yourself, a dribbler and exciting. He could score goals that would change a game and he could win you a game.
"Now my favourite is you! It has to be you because Lio (Gerrard's son) is obsessed, he loves you more than me."
Mo "couldn't handle" Carra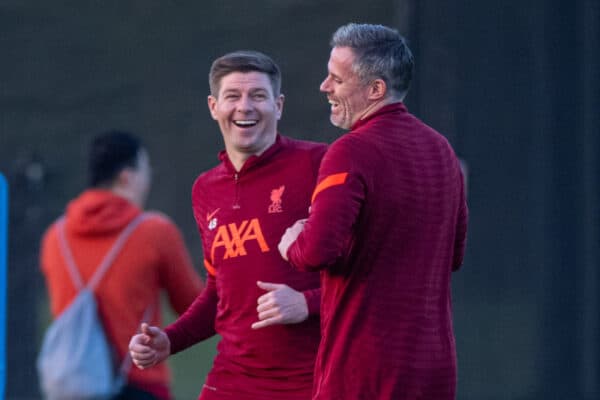 In describing former teammate Jamie Carragher, Gerrard explained to Mo how vocal the former vice-captain was in the heart of the defence, and used current skipper Jordan Henderson as a reference point.
Gerrard had been asked to compare Carragher to Salah's current colleague Virgil van Dijk, to which the former captain explained that while Van Dijk is perhaps the greatest defender of his generation, Carragher's importance matched him from a leadership standpoint.
"If you think Henderson's loud, times 10. That's Carragher," Gerrard explained.
The Egyptian was stunned by the comparison and jokingly admitted that he would struggle to have coped with the wrath of Carragher.
"Really? Wow! I couldn't handle him," laughed Salah.
Salah visibly enjoyed comparing the current crop of Liverpool stars to that of Gerrard's era and wanted to find out as much as possible about those who went before him.
The winger also asked Gerrard about his favourite midfielder, to which he received a fairly emphatic answer.
"If we're talking about an individual player that I used to love, it was Xabi Alonso," said Gerrard.
"The way you hit the ball is unbelievable!"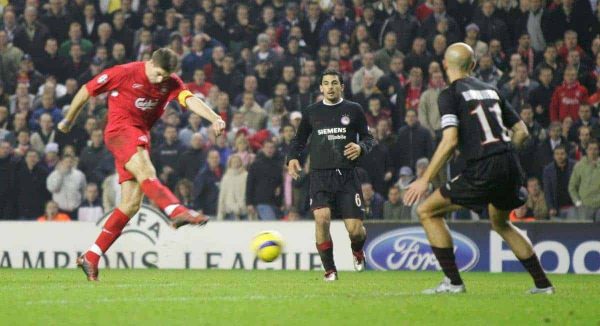 Given the heights that Salah has reached both individually and collectively throughout his career, it was warming to see the 30-year-old so in awe of some of the Gerrard clips he was being shown.
Throughout the video, Mo continually makes reference to the way in which Gerrard used to strike the ball. He comments on numerous occasions and even goes as far as asking the former skipper how he did it.
Both players clearly have immeasurable respect for each other, and there is no better demonstration than when the pair are shown Gerrard's famous half-volley against Olympiakos in 2004.
Mo simply responds: "That goal, unbelievable! The way you hit the ball, and it just goes straight."
The smile on Mo's face as he takes in the footage is a joy to behold, it is reminiscent of a child being shown something spectacular for the first time.
It is also clear that Salah is constantly learning and striving to improve, taking the time to ask Gerrard for advice and finding out more about his processes.
"Would you practice that in training? So like always trying to get the ball outside the box and keep shooting?" Salah enquired.
Gerrard replied: "Most days, unless it was the day before a game, I'd always work on long-range shooting, different types."
How to watch
You can watch the exclusive LFC Original 'When Stevie met Salah' on LFCTV GO.