With Liverpool's pursuit of Jude Bellingham said to be over, one midfield target has been identified as the most stylistically similar alternative.
If reports on Merseyside are to be believed, the Reds have pulled the plug on their interest in Bellingham as the finances involved "stopped making sense."
The Dortmund midfielder is likely to move for upwards of £100 million, with a sizeable salary and bonuses also factored into the deal, which comes at a time when Liverpool need to spread their outlay.
With Naby Keita, Arthur and Alex Oxlade-Chamberlain set to depart this summer at the very least, there is a chance three new midfielders are brought in.
It does not numb the disappointment among fans when it comes to the U-turn on Bellingham, but it may make more sense in the long run.

Finding an alternative to the 19-year-old, however, could prove a difficult task – though statistics via FBref suggest that a player already on the radar is the best possible option.
That, perhaps surprisingly, is Chelsea midfielder Conor Gallagher, who according to football.london is attracting "serious interest" from Anfield.
FBref's comparison is based on 19 different metrics, with Bellingham's output then held up against other midfielders across Europe's top five leagues over the past 365 days.

Bellingham is in the high percentile for almost every statistic, while Gallagher compares surprisingly well, if not as convincingly.
The key attributes appear to be: shot volume, expected non-penalty goals and assists, successful take-ons, progressive passes received and touches in the opposition penalty area.
And though it should be noted that Bellingham's actual output when it comes to goals and assists is significantly higher than Gallagher's, the underlying figures suggest the Chelsea midfielder has the potential to hit that level.
One area that Bellingham is significantly better is in progressive carries – in other words, moving the ball up the pitch – which could be a cause for concern.
However, their defensive attributes map out relatively similar, with Bellingham and Gallagher both performing well in their roles.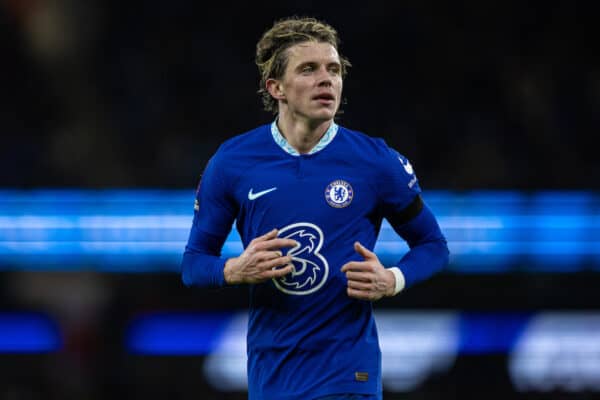 It may be an underwhelming switch, but there appears to be some sense in Liverpool targeting a player Chelsea are likely to move on this summer.
Gallagher has already proven a divisive name among supporters ahead of the summer transfer window, of course, but he could seemingly operate well in the position Jurgen Klopp is looking to reinforce.
The other nine names FBref's comparison presented were: Leon Goretzka, Lovro Majer, Enzo Le Fee, Joelinton, Federico Valverde, Aleksandr Golovin, Harvey Elliott, Ederson and another rumoured target, Khephren Thuram.