Jurgen Klopp has revealed the "ticket" to earn, and keep, a place in his Liverpool attack – with Darwin Nunez now left out for two games in a row.
Nunez has been a regular for the Reds since his £85 million move from Benfica last summer: only five players have made more appearances and only six have clocked more minutes.
But with Klopp's attacking options increasing of late with the signing of Cody Gakpo and the return of Diogo Jota and Luis Diaz, the Uruguayan has had fewer opportunities.
Injuries have not aided his situation, but three of his last four outings have come as a substitute, including each of the last two games.
The manager is looking to build on that draw with Arsenal and win over Leeds in particular as he works on his new system, and speaking ahead of the visit of Nottingham Forest, he maintained that counter-pressing was key.

"The ticket into this team must be, and will definitely be again, counter-pressing. That's how everything started," he told reporters.
"I wouldn't say we lost it a little bit out of eyesight, but we have so many games from us that I didn't like that. That's a pretty strict thing.
"All five [attackers] now available can do that pretty well, but if you do it in the game you play, you have a good chance to start again. That's it."
Klopp added that while "everybody will play" as "everybody is super-important to us," fundamentally "the ticket will be the desire to win the ball back after we lost it."
During his pre-Forest press conference, Klopp spoke in depth about Nunez's first campaign on Merseyside and his time adapting to a struggling side.
The No. 27, he insists, is a "long-term project," and while acknowledging his frustration at losing a starting place the manager explained that "we have to find a way that really works for us again."
A shift in system has paid off so far, but Liverpool will play West Ham, Tottenham, Fulham and Brentford in the space of 11 days after Saturday, and he confirmed that Nunez will "definitely" start in that run.
However, as he continued, there were signs that Klopp feels the 23-year-old cannot yet offer the same level of counter-pressing that, say, Gakpo has.
"When he played on the left, he's a centre-forward who plays on the left. That's how it is," he said.

"It definitely needs a specific setup so he can play and defend in the centre.
"Playing in the centre is not a problem, he's a machine, but then we have to make sure that we understand [it] as a team.
"And again, we were not stable for a really long spell in the season.
"Then on top of all the problems you have, you have to adapt to a different defending striker up front as well.
"If football would be that easy, to just put the 11 players with the most potential together on the pitch then hope that it works out, you wouldn't need me or other managers."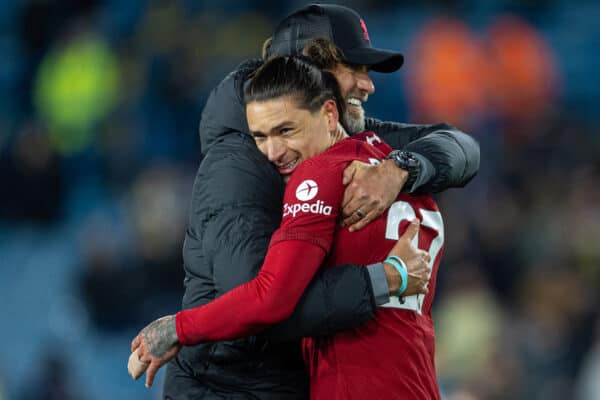 There is no indication that Klopp has given up on Liverpool's record signing, of course, and should be noted that Nunez was central to his moment of the match against Leeds as four players counter-pressed Georginio Rutter at 5-1 up.
But, along with brushing up on his English, it is clear that Nunez would benefit from adjusting further to the off-ball demands of life as a striker at Anfield.
It is not as simple as putting the hard yards in, in terms of running, but more doing so intelligently and cohesively with the rest of the team.