Liverpool's midfield has missing notices for an abundance of qualities, but it is seriously lacking players at their peak between the ages of 22 and 28.
The Reds currently have 10 midfielders in their ranks, two are aged 20 and under and five are older than 29.
The current squad includes James Milner (37), Jordan Henderson (32), Thiago (31), Alex Oxlade-Chamberlain (29), Fabinho (29), Naby Keita (28), Arthur (26), Curtis Jones (22), Harvey Elliott (20) and Stefan Bajcetic (18).
At first glance, that does not make for a well-balanced unit and it lays bare just how little Liverpool have invested in injecting the right age profile into midfield.
This is further exposed by Liverpool writer Andrew Beasley, who has assessed the minutes played by Premier League midfielders by their age.
Updated the midfield age profile stats. Sort it out, Liverpool. pic.twitter.com/4C23SmmuAd

— Andrew Beasley (@BassTunedToRed) April 5, 2023
For players aged 22-28, the Reds are found wanting at the bottom of the list having seen just seven percent of their midfield minutes come from this category.
That is 92.5 percent less than Newcastle at the top and 19.6 percent less than next best Brighton. There's no hiding from that.

7% of Liverpool's midfield minutes from players aged 22-28
Curtis Jones and Naby Keita only two Reds in that category
Majority of minutes for players 29 and over (5,200)
Newcastle at the top with 99.5%
The two players who account for those minutes are Jones (22) and Keita (28), who have combined for 566 league minutes.
The latter is out of contract at the end of the season and the former's future is up in the air after a troublesome campaign with injury.
It is no wonder then when you take a look at the abovementioned figures that Liverpool are desperately lacking in midfield, with little to no presence of peak-aged players.
The energy has been sapped for the veterans and the lack of investment since signing Thiago in 2020 has taken its toll, one only has to look at Newcastle for what a prime-aged midfield can offer.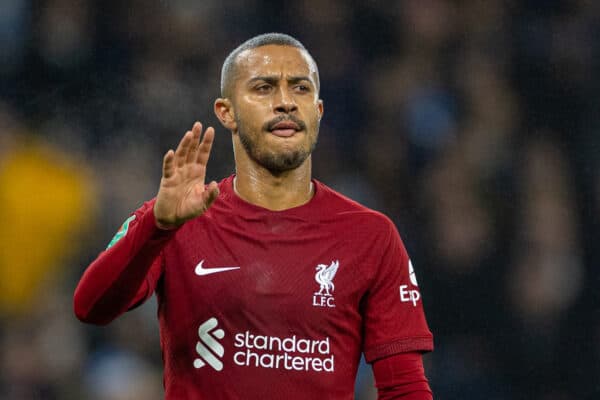 With Mason Mount (24), Matheus Nunes (24) and Conor Gallagher (23) all linked to a summer move, among others, there is an obvious desire to address the issue.
The lack of action in years previous has already seen Liverpool pay the price, irrespective of if they had anticipated an impending decline or not.
There is a gaping hole in Liverpool's squad and it needs addressing, with urgency.