Liverpool were somehow unable to score the winning goal against Arsenal having looked all but out for the count, but fans appreciated the fight shown in the 2-2 draw.
Anfield has been a source of comfort for Liverpool this season but it was far from the case on Sunday. Arsenal smelt blood and reminded the Reds of what they used to be.
Jurgen Klopp's side rolled out the red carpet for two quick-fire goals for the Gunners before Mohamed Salah pegged one back to fire up the home crowd.
That intensity continued into the second half, although a missed penalty from Salah denied Liverpool the chance to level the scores.
It was not the only chance Klopp's men had, and their finishing continually let them down until Roberto Firmino once again proved a nightmare for Arsenal to take a point.
Here's how fans reacted to the result and the performance…
That's the acceptable show of fight…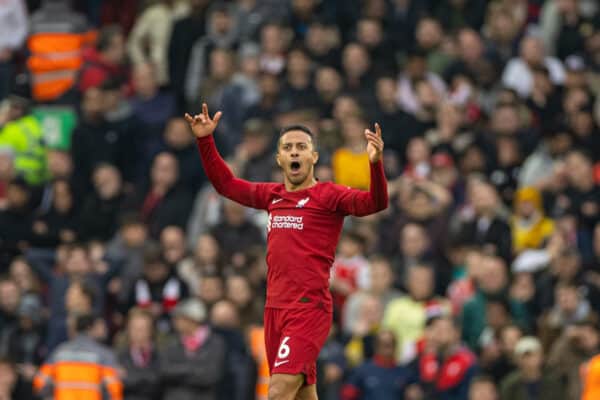 There was an obvious lack of intensity from Liverpool up until Granit Xhaka and Alexander-Arnold came together, but the difference it made was not lost on fans:
Can we just get all the lads pissed off before every game? There's dark arts against us every week and we're too nice. Fucking fight for the shirt.

— Mick Moran (@Mick_Moran_) April 9, 2023
Amazing how much the landscape can change once a little bit of intensity is introduced into your game.

— Josh Williams (@DistanceCovered) April 9, 2023
WHEN WE FIGHT THEM, WE SCARE THEM. MORE FUCKING FIGHT LIVERPOOL!!!!

— Paul (Maych) Machin (@ThePaulMachin) April 9, 2023
Good to see some fight, heart and character. It's been sadly missing. Up The Reds.

— Gareth Roberts (@robbohuyton) April 9, 2023
Whatever ultimately happens here, where has this drive, desire and commitment been all year? More please, Reds.

— Andrew Beasley (@BassTunedToRed) April 9, 2023
Have been crying out for this sort of response from Liverpool for weeks and they showed it today. From a shambolic first half to being unlucky not to win. Remarkable what a bit of intensity can do. Firmino a game-changer. A mad, mad game.

— Leanne Prescott (@_lfcleanne) April 9, 2023
Should have won it, but I'm so pleased with the effort.

— Rory Greenfield (@RoryGreenfield) April 9, 2023
What a reaction in that second half by #LFC! Should have won bar for bad misses and Ramsdale. Still good to see team play so well.

— Paul Grech (@paul_grech) April 9, 2023
2-0 down and finally showed the fight required and should've nicked it. Up the Reds. ?

— Mick Moran (@Mick_Moran_) April 9, 2023
Good to see them show some fight after too many times of rolling over this season.

— Ste Hoare (@stehoare) April 9, 2023
Christ it's been a tough season but hugely proud of #LFC today. Should have won it in the end through sheer bloody mindedness. That's a great attribute to build on.

— Si Steers (@sisteers) April 9, 2023
Dreadful early on but tremendous fightback and should have won it in the end. Anfield, as always, is special

— keith costigan (@KeithCostigan) April 9, 2023
But what could've been with better finishing…

Liverpool could and should have won the match, but it was their finishing that let them down:
#LIV 1-2 #ARS (via @StatsZone): 83 mins – Liverpool have now missed four big chances.

Only City (6) have had as many as five in a league game against Arsenal this season. pic.twitter.com/KslMzh2J1O

— Andrew Beasley (@BassTunedToRed) April 9, 2023
Darwin's gonna create 73 billion clear cut chances in his career and miss 72 billion of them making him simultaneously the best and worst striker in the history of football.

— The Legacy Fan Offside (@LFCOffside) April 9, 2023
Salah's had 11 shots

— Andrew Beasley (@BassTunedToRed) April 9, 2023
We had the better chances.

— Erin Mc Asterisk (@ErinNYC75) April 9, 2023
I can't believe Konate didn't score. How? Just how?

— Cameron Hogwood (@ch_skysports) April 9, 2023
Ffs we should have won that

— Jimmy (@EntireDesign_) April 9, 2023
Just the eight big chances for Liverpool today ? pic.twitter.com/UydYhXABou

— Sam McGuire (@SamMcGuire90) April 9, 2023
And Firmino was shown plenty of love…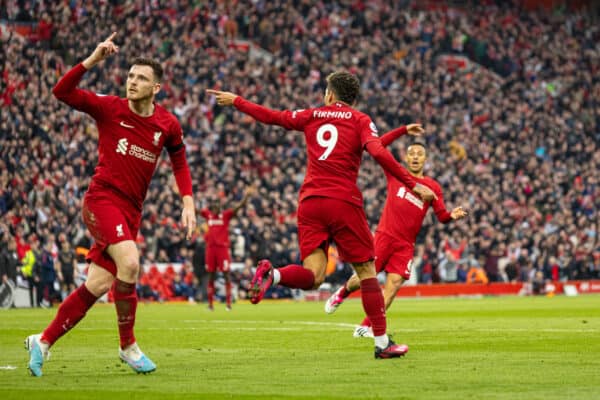 There was one player immune from the poor finishing at the death, and we will take any chance to appreciate Firmino while he is still a Red:
10 – No player has scored more non-penalty goals against Arsenal in Premier League history than Roberto Firmino (10). Inevitable. pic.twitter.com/cRj4QoJDrJ

— OptaJoe (@OptaJoe) April 9, 2023
Roberto Firmino has scored 11 goals in 15 league appearances against Arsenal – no #LFC player has scored more against the Gunners in league history.

— James Pearce (@JamesPearceLFC) April 9, 2023
Roberto Firmino, what an absolute gem of a footballer.

— Leanne Prescott (@_lfcleanne) April 9, 2023
That is brilliant from Alexander-Arnold. Terrific header by Firmino, too. Some game, this.

— Samuel Luckhurst (@samuelluckhurst) April 9, 2023
If that's Bobby Firmino's last goal for Liverpool, it's a perfect encapsulation of him; he won the ball at the left-back position at the very start of the phase.

— Lewis Bower (@LewisBower2021) April 9, 2023
I genuinely think I might shed a tear when Bobby goes. I said to my Dad today he has a cameo to play. He will go down as one of our greatest ever – and most under rated. #LFC

— Si Steers (@sisteers) April 9, 2023
---
Woeful defending put Liverpool immediately on the back foot but we can all appreciate the show of fight to turn it around.
The Reds ought to have won, but that effort now has to be the minimum for the remaining nine games.