Liverpool's 2-1 victory at West Ham was lauded by the media, as the Reds once again showed that they have turned a corner late on this season.
The Reds are looking more like the team they once were, with Wednesday's triumph at the London Stadium their latest impressive result.
Goals from Cody Gakpo and Joel Matip saw Liverpool overturn a 1-0 deficit and their dominance was well worth all three points.
Jurgen Klopp's men are now up to sixth in the Premier League table and only one point behind fifth-place Aston Villa, with Champions League qualification not yet completely out of the question.
Here's how the media assessed Liverpool's well-deserved win.
Liverpool's performance and result was hailed…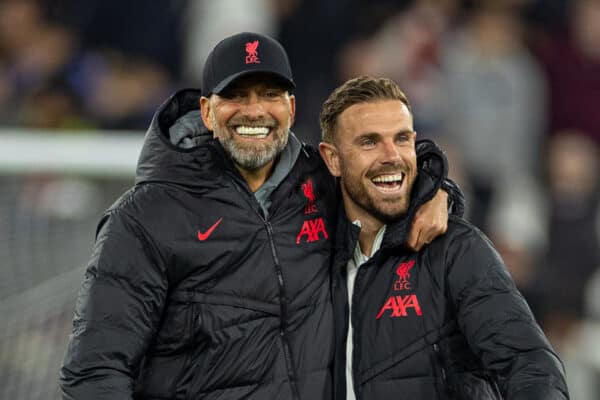 Goal's Neil Jones saw further signs of a recovery:
"Whisper it quietly, but Liverpool might just be on the road to recovery.

"That's three Premier League wins in a row now for Jurgen Klopp's side, the latest of which came with this 2-1 triumph over West Ham at the London Stadium.

[…]

"The result lifts Klopp's men up to sixth, and within six points of fourth-placed Manchester United, who play Tottenham on Thursday night."
Kieran Gill of the Daily Mail focused on Liverpool banishing their white shit hoodoo:
"According to Stylist magazine, white shirts are in vogue this season and anyone who's anyone is wearing one.

"Try telling that to Liverpool, who have been more tempted to toss theirs in the River Mersey in the hope they never resurface.

"Yet at the sixth attempt, Jurgen Klopp's men are finally winners in white. They banished the curse of their away strip here at the London Stadium, with West Ham unable to join the list of frustraters that included Manchester United, Arsenal, Nottingham Forest, Bournemouth and Crystal Palace."
A number of players caught the eye against the Hammers…

This Is Anfield's Mark Delgado enjoyed Trent Alexander-Arnold's performance in his new role:
"It was Joel Matip replacing Ibou Konate which was perhaps the surprise off the pre-match, given Joe Gomez can cover the full-back area better in this system.

"But without either of the speedier pair who are comfortable in the channel on the pitch, Trent Alexander-Arnold still played his more central role in possession – clearly, it's here to stay.

"In terms of the No66, he was excellent on the ball and aggressive defensively in those more forward areas, but still some work is needed from he and others in who fills the right-back area on transitions.

"Matip, meanwhile, fared well in physical battles with Antonio for the most part although the forward did escape for chances off set plays."
Meanwhile, Jones thinks Fabinho is in much-improved form:
"After a season moving backwards, this was a major step forward for Liverpool's midfield 'lighthouse'.

"Fabinho's form has been a source of serious concern for Klopp this term, but the Brazilian was much more recognisable here, delivering the kind of performance we have come to expect from the 29-year-old in recent years.

"Benefiting from Alexander-Arnold's on-ball presence next to him, Fabinho was able to get through all kinds of work out of possession, winning three tackles, making three interceptions, three clearances and winning possession back on half a dozen occasions.

"He used the ball well too, in fairness, completing more than 90 percent of his passes as Liverpool were able to dominate the game for long periods.

"Progress. Much-needed progress, as far as both the player and his manager are concerned."
Mark Jones of the Mirror liked what he saw from Curtis Jones:
"There was another Liverpool start for Curtis Jones, and another impressive one at that.

"After a season and frustration and fairly inconvenient and times downright odd injuries, Jones has returned to the side in recent weeks and provided the sparkle that his supporters know he can.

"With John W Henry in attendance at his first game since last year's Champions League final, the young Scouser might just have sent a reminder that the midfield rebuild doesn't have to be as large as many think."
What is possible for Liverpool this season?

Delgado believes some Reds "magic" could still happen this season:
"It's five without defeat now, three wins in a row and the gap closed to a few teams above us. We've moved above one, too: Tottenham – who we just happen to face next time out.

"There's no excuses left at home and wins are the only thing allowed, so keep the run going, keep the points accumulating and we'll see what magic might yet happen.

"Three home games in eight days next. Three wins there and who knows how this season may end."
Jones was of a similarly bullish mindset:
"So that's three wins win a row for Klopp's side, who have improved ever since their struggles in the opening 35 minutes or so against Arsenal earlier this month.

"Is it enough to gatercrash the Champions League places?

"The odds would still suggest no, but they are winning games they simply weren't doing earlier this season, with Matip's header also vanquishing the curse of their horrendous away kit this season. It now has its first win.

"That it has taken until the end of April is another, much longer, conversation."
Finally, Michael Emons of BBC Sport was less positive about their top-four chances, though:
"To miss out on European football altogether would be a massive setback for Jurgen Klopp's side.

"They may have to settle for the Europa League at best and will need to finish fifth or sixth to qualify for the second-tier European competition, while seventh would leave them in the play-offs for the third-tier Europa Conference League.

"This win takes them sixth and above Tottenham on goal difference, although Champions League football looks beyond the Reds as they are six points behind third-placed Newcastle and Manchester United in fourth, with both sides having at least one game in hand."