Liverpool played out yet another 0-0 draw with Chelsea on Tuesday night, with the Reds that coming away with the most to ponder after another uninspiring showing.
It finished goalless at Stamford Bridge as we reached 465 minutes without seeing either side find the net in this fixture.
Despite the scoreline being the same, Jurgen Klopp concluded that the quality of football was worlds apart from the domestic cup finals between Liverpool and Chelsea last season.
"I saw two of them [0-0 draws] Liverpool vs. Chelsea the two finals were absolutely insane," he told reporters in his post-match press conference.
"Very similar teams I would say, completely different level of football because of confidence for both teams."
It is difficult to argue, particularly as far as we are concerned.
Liverpool were fortunate to escape with a point after seeing two goals chalked off by VAR and being repeatedly exposed at the back.
Yet the bigger picture is that the Reds look lost, incapable of demonstrating the basic principles that helped them win it all.
Where do we go from here? Let's take a look at some of the trends and see if there is any hope of rescuing the situation.
CONCERN – The age profile of the midfield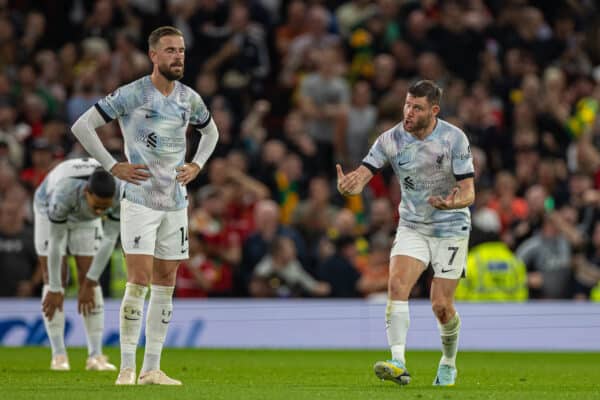 It is a tired conversation that simultaneously becomes more and more relevant with each passing week.
Injuries have plagued Liverpool in the middle of the park this season, but it is difficult to have a great deal of sympathy and only so much of that can be put down to luck.
The Reds completed 63 games in 2021/22 and every single one of them counted. It was blood and thunder from start to finish and the physical demands of doing that in a Liverpool system are immeasurable.
Updated the midfield age profile stats. Sort it out, Liverpool. pic.twitter.com/4C23SmmuAd

— Andrew Beasley (@BassTunedToRed) April 5, 2023
To then enter the following season with the same set of midfielders, plenty of whom have now passed their prime years, certainly looks negligible with and without the benefit of hindsight.
Just seven percent of Liverpool's midfield minutes have come from players aged 22-28, as per Liverpool writer Andrew Beasley, a staggering amount given that Newcastle's figure is 99.5 percent by the same metric.
There can be little excuse not to rectify that in the summer.
PRIORITY – Eliminate defensive lapses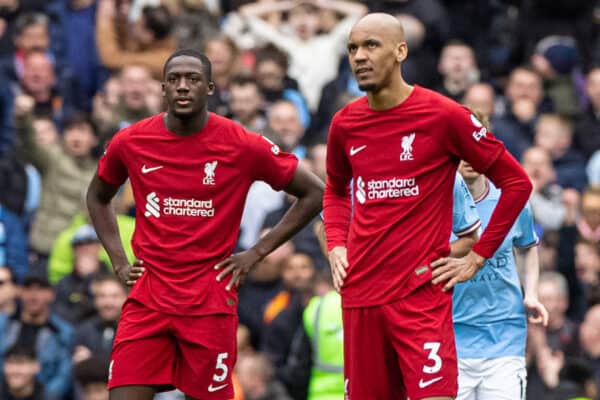 Mistakes are part and parcel of sport, but Liverpool are currently making it far too easy to be picked apart and would be in even worse shape had it not been for their goalkeeper.
Chelsea recorded an xG of 2.17 on Tuesday night, highlighting just how fortunate the Reds were to come away with a clean sheet.
On other occasions, the 4-1 thrashing at the Etihad being one example, the punishment will be more severe.
It was a much-changed back four at Stamford Bridge, but the persistent nature of the errors has been contagious throughout the squad this season and Liverpool must focus on being more difficult to break forward against.
The Reds have conceded 33 league goals so far this season, the same number as they shipped in the entirety of 2019/20.
CONCERN – The drop-off of our best players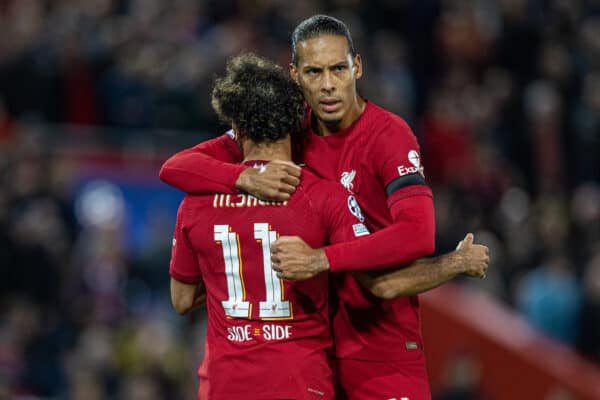 When Virgil van Dijk and Mohamed Salah come in for criticism, you know we're in a spot of bother.
Liverpool's previous ability to grind results out while not at their best stemmed largely from being able to count on the star men – Alisson aside, there doesn't appear to be many of those this season.
A football supporter's natural reaction to adversity is to seek out scapegoats, and in recent months it feels like there has been a new one after every game.
World-class footballers don't become bad overnight. Confidence is a fragile commodity and there is a visible lack of identity among the entire squad.
If beating Man United 7-0 isn't enough to inject fresh belief, it is difficult to see what else might solve it.
PRIORITY – Improve away form

Liverpool have picked up just 13 points from 15 games on the road this season, the same as relegation candidates Leicester and Southampton.
It is a far cry from the title-winning season of 2019/20 when the Reds amassed 44 points from a possible 57, with most of the dropped points coming after the league had already been sealed.
The Anfield record has been comparatively impressive, with nine wins from 13 demonstrating that Liverpool still have the capacity to control and win football matches against good sides.
If the Reds are to return to their best next season, finding a way to win on their travels again has to be a primary objective.
CONCERN – The implications of no Champions League

The final concern neatly links back around to the first.
Liverpool supporters will be unsettled at the prospect of the club's summer spending plans being curtailed by a failure to finish fourth.
In truth, missing out on Europe's elite club competition only heightens the need to strengthen for next season, particularly given the emergence of Arsenal and Newcastle as serious contenders.
The midfield will require major surgery and there have been calls for defensive reinforcements to accompany that
It will be no small job and missing out on a UEFA windfall will inevitably make that process more difficult whether we like it or not.
It is a big ask, but Liverpool have pulled far more unlikely rabbits from hats in recent years.
Let's just hope we have something worth shouting about in May!