Jamie Carragher offered his opinion on the reasons for Liverpool's struggles and suggested that Jurgen Klopp doesn't currently have the players he needs to implement his style.
The former Reds defender was asked to provide an explanation for the side's lack of impetus following a flat 0-0 draw at Stamford Bridge.
Liverpool's confidence appears to be low, but the physical demands of successful but busy seasons in a Klopp system also look to have caught up with the vast majority of the squad.
Carragher referenced those demands and argued that the manager needs to adapt to the circumstances if Liverpool are to perform anywhere near the levels they are capable of.
"They still play the same way, the same idea is there but they can't do it," Carragher told Sky Sports after Tuesday's match.
"It just fascinates me, as a manager do you always stick to your idea and your principles or do you adapt them?
"Even tonight Liverpool are still trying to play like the Liverpool from three years ago and they've got a 0-0 out of it, you're scratching your head how."
At the current rate, Liverpool are set to pick up just 58 points from their 2022/23 campaign.
It would represent the worst tally in 11 years and would prompt serious questions in the summer about whether or not the club can realistically hope to turn things around.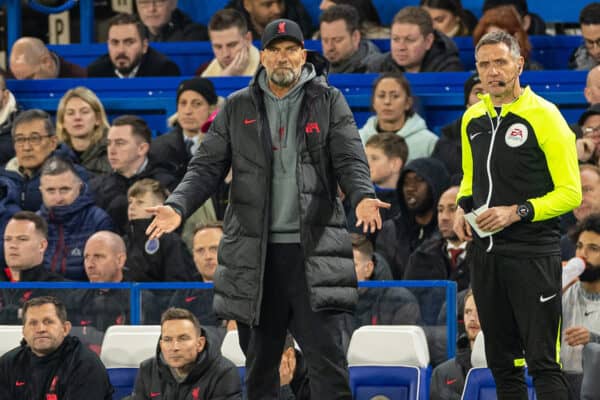 There is plenty to be concerned about and Carragher voiced some of those worries post-match.
"The big thing is how easy it is for the opposition to get chances, that's the big worry for me," he admitted.
"Jurgen Klopp has not taken a backwards step. At times this season he has tried to do different things, he's gone 4-4-2 and at times they've dropped off slightly.
"He's not going to change completely, he does what he does, but right now they don't have the players to do it and if they keep doing it they're just going to leave themselves open.
"You can go right through the season when Liverpool have been so open because they're still trying to play the same way with the players who can't do it right now.
"Whether it's the same players who have been doing it for four or five years and they basically need new players, I don't think there's anything more to look at it than that. They just need to attack the transfer market."