David Moyes was not impressed by Chris Kavanagh's decision not to award a late penalty after Thiago appeared to handle the ball in the area.
Liverpool needed to hang on to secure a 2-1 victory at the London Stadium, with the Hammers applying late pressure as they searched for an equaliser.
Thiago intercepted a Declan Rice pass before a challenge with Danny Ings led to the ball bouncing up onto the Spaniard's arm.
The West Ham boss voiced his frustration after the game as he bemoaned the decision not to give his side the chance of an injury-time equaliser.
"It's a penalty kick. The player lunges in the box which is different from a slip or trying to break your fall," Moyes told BT Sport in his post-match interview.
"When you're lunging in the box and you know your arm is out, it's a penalty kick, yeah."
Moyes was visibly unhappy with the officials at the final whistle, marching straight to Kavanagh at full time to remonstrate over the decision.
His frustration spilt over into his interview after the game, when the Hammers manager even questioned whether Liverpool would have received the same treatment had the incident happened at Anfield.

Using Anfield as an example was an interesting avenue to go down given that the Reds went 33 games without being awarded a spot-kick prior to Mohamed Salah's penalty miss away at Bournemouth last month.
Moyes asked the reporter: "Do you think that would have been given at Anfield, what do you think?"
The interviewer declined to give her opinion on the incident, but the 60-year-old was clearly agitated by the situation as he pointed to the "good fortune" sides need in order to flourish in the Premier League.
Later in his post-match press conference, he added that he felt a level of "disrespect" from the VAR after it was deduced that the referee's verdict would not be overturned.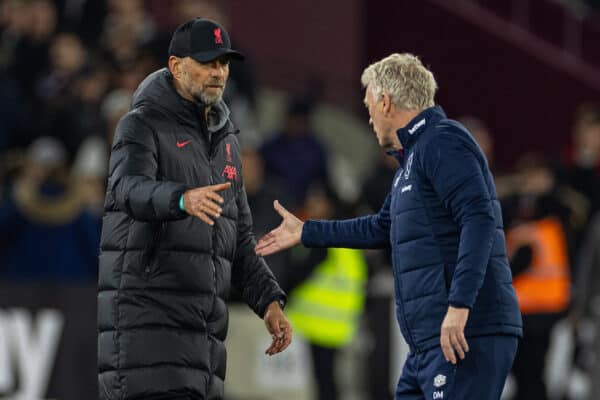 He told the media: "The hardest thing to take is the disrespect from VAR, that VAR wouldn't have at least said to the referee, 'this might be worth having a look'."
The victory was sweet enough, but seeing a former Everton and Man United manager react to a late decision in that manner was the icing on the cake following a big three points in the capital.
Liverpool will now move on to a game against Tottenham at Anfield this weekend as they look to continue their winning streak and chase the European spots.
The 2-1 victory gave the Reds a third successive win for the first time since November, with the side beginning to build some momentum heading into the remaining games of the season.